Meta analysis of 8 studies showing significantly lower mortality and mechanical ventilation with low dose aspirin.
Currently there are
69 aspirin for COVID-19 studies
, showing 11% lower mortality
[4‑17%]
, 5% lower ventilation
[-6‑14%]
, 4% lower ICU admission
[-13‑18%]
, 2% higher hospitalization
[-4‑8%]
, and 10% fewer cases
[-6‑24%]
.
risk of death,

49.0% lower

, RR 0.51, p < 0.001
.
risk of mechanical ventilation,

30.0% lower

, RR 0.70, p = 0.006
.
Effect extraction follows pre-specified rules prioritizing more serious outcomes. Submit updates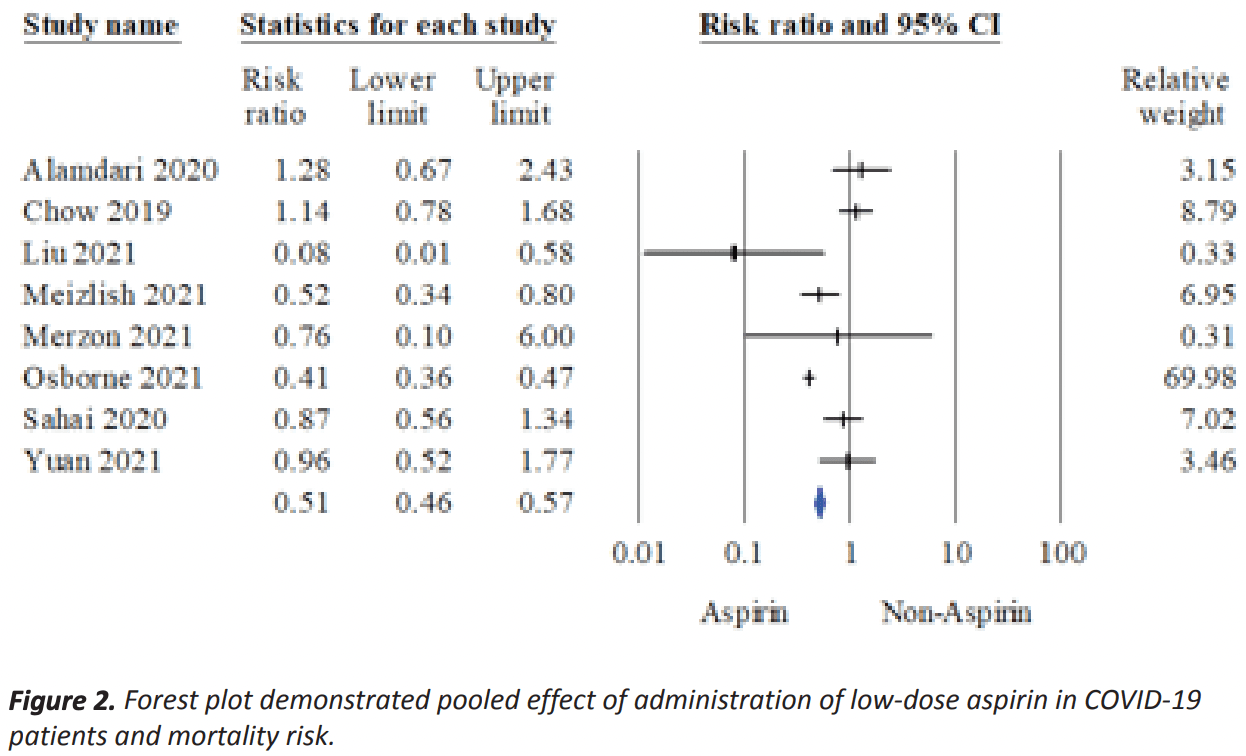 Banaser et al., 24 Dec 2021, peer-reviewed, 5 authors.
A systematic review and meta-analysis on efficacy of low dose aspirin on the management of COVID-19
International Journal of Medicine in Developing Countries, doi:10.24911/ijmdc.51-1640383699
COVID-19 pandemic has increased thrombotic risk by 35%. This pandemic led to millions of deaths due to various comorbidities and organ failure. Repurposing aspirin usage to manage COVID-19 hospitalized patients is a logical approach for preventing cardiovascular disease and comorbidities that increase mortality risk. However, several earlier investigations found inconsistent outcomes. This study aims to assess primary and secondary effects in COVID-19 patients with or without aspirin. We performed a multi-database electronic search including Cochrane, Embase, Scopus, and PubMed from date of inception to November 2021 using search terms: ("Coronavirus Disease 2019" OR "COVID-19" OR "SARS-CoV-2" OR "2019-nCoV") AND ("Acetylsalicylic acid" OR "acetylsalicylate" OR "aspirin" OR "antiplatelet") AND ("mortality" OR "severe" OR "severity"). Eight retrospective studies met the study criteria comprising 7,171 aspirin users and 8,327 non-aspirin users in COVID-19. Aspirin administration significantly reduces mortality risk (RR: 0.51, 95% CI: 0.46-0.57, I 2 = 85.05, p-value <0.001, τ 2 = 0.028, Z-value: -11.44, p-value <0.001). Aspirin used in COVID-19 patients demonstrated reduced bleeding risk (RR: 0.80, 95 CI%: 0.34-1.9) and reduced risk for the necessity of mechanical ventilation (RR: 0.70; 95% CI: 0.54-0.90, I 2 = 0%, p-value: 0.41, τ 2 = 0%) when compared with COVID-19 patients without aspirin use. The present review found administration of a low dose of aspirin in COVID-19 patients significantly reduced mortality risk.
Conflict of interest The authors declare that there is no conflict of interest regarding the publication of this article. Funding None. Consent to participate Not applicable. Ethical approval Not applicable. Author details Manal Banaser 1 , Mutaman Jarrar
References
Borenstein, Hedges, Higgins, Rothstein, Comprehensive meta-analysis