Prospective study of 155 COVID-19 patients in Saudi Arabia, showing that 68% of patients were vitamin D deficient (<20.05 μg/L). Vitamin D levels were not significantly different between the asymptomatic (mean 10.9 μg/L), mild (14.2 μg/L), moderate (15 μg/L) and severe (19.9 μg/L) COVID-19 groups. Low vitamin D levels were not associated with COVID-19 severity in regression models adjusted for risk factors. 15% of patients had high vitamin D levels (>30 μg/L), including some with severe symptoms. The study did not find evidence for an association between vitamin D status and COVID-19 progression or severity. In summary, vitamin D deficiency was very common among the COVID-19 patients, but vitamin D levels were not predictive of disease severity in this study of 151 patients. Authors provide results only for vitamin D levels as a continuous variable.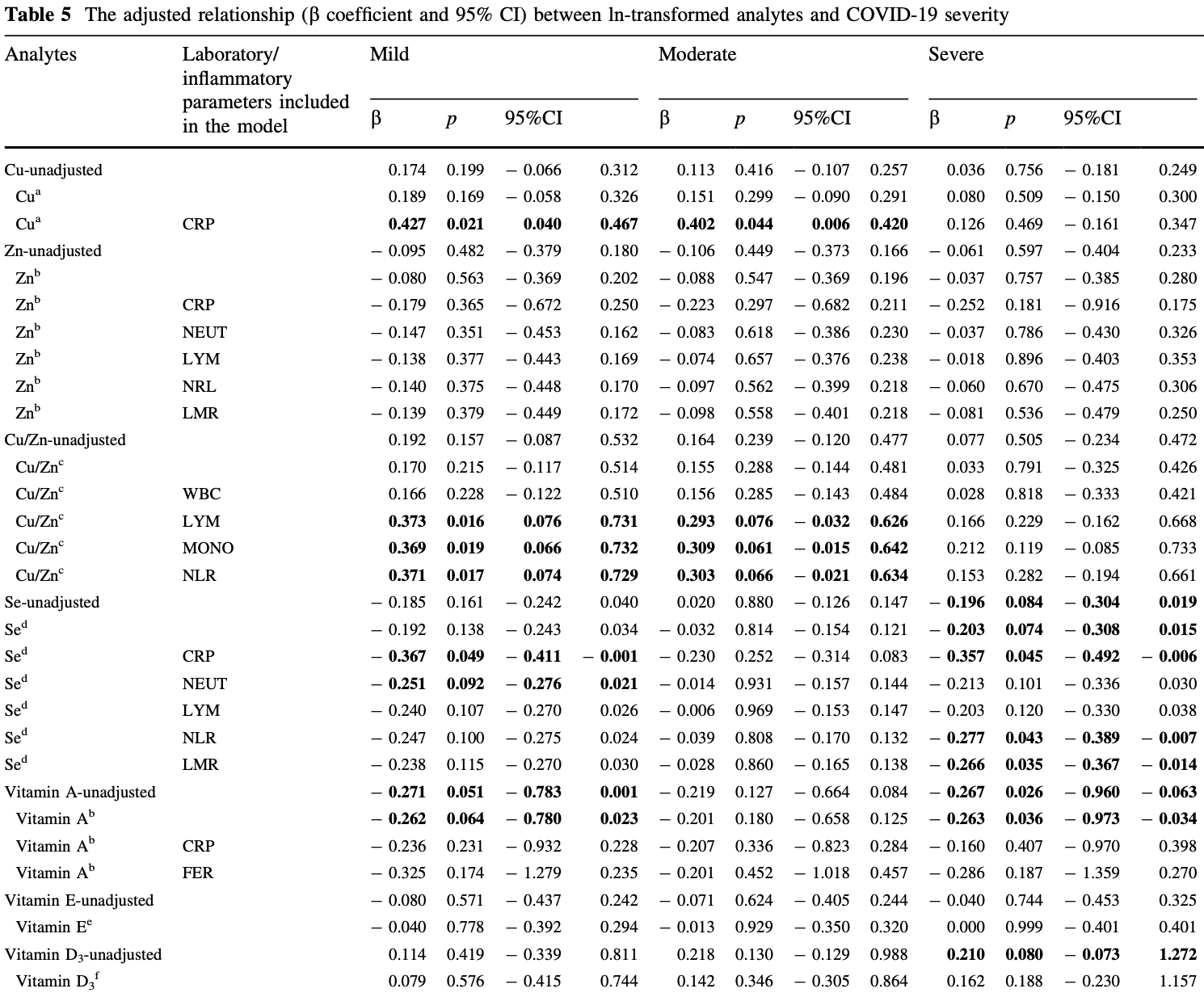 Al-Saleh et al., 7 Jan 2022, prospective, Saudi Arabia, peer-reviewed, median age 50.0, 8 authors, study period 3 June, 2020 - 11 July, 2020.
Contact: iman@kfshrc.edu.sa.
Essential metals, vitamins and antioxidant enzyme activities in COVID-19 patients and their potential associations with the disease severity
doi:10.1007/s10534-021-00355-4(
The role of micronutrient deficiency in the pathogenesis of COVID-19 has been reviewed in the literature; however, the data are limited and conflicting. This study investigated the association between the status of essential metals, vitamins, and antioxidant enzyme activities in COVID-19 patients and disease severity. We recruited 155 patients, who were grouped into four classes based on the Adults guideline for the Management of Coronavirus Disease 2019 at King Faisal Specialist & Research Centre (KFSH&RC): asymptomatic (N = 16), mild (N = 49), moderate (N = 68), and severe (N = 22). We measured serum levels of copper (Cu), zinc (Zn), selenium (Se), vitamin D 3 , vitamin A, vitamin E, total antioxidant capacity, and superoxide dismutase (SOD). Among the patients, 30%, 25%, 37%, and 68% were deficient in Se (\ 70.08 lg/L), Zn (\ 0.693 lg/mL), vitamin A (\ 0.343 lg/mL), and vitamin D 3 (\ 20.05 lg/L), respectively, and SOD activity was low. Among the patients, 28% had elevated Cu levels ([ 1.401 lg/mL, KFSH&RC upper reference limit). Multiple regression analysis revealed an 18% decrease in Se levels in patients with severe symptoms, which increased to 30% after adjusting the model for inflammatory markers. Regardless of inflammation, Se was independently associated with COVID-19 severity. In contrast, a 50% increase in Cu levels was associated with disease severity only after adjusting for C-reactive protein, reflecting its possible inflammatory and pro-oxidant role in COVID-19 pathogenesis. We noted an imbalance in the ratio between Cu and Zn, with * 83% of
Author contributions IAS-study design, data analysis, results interpretation and writing the manuscript. NA-collection of clinical data. HA-methodology/validation. REmethodology/validation. MS-sampling design. FA-samples provision. RB-methodology. MA-resources. Conflict of interest The authors reported no potential conflict of interest.
References
Beck, Nelson, Shi, Van Dael, Schiffrin et al., Selenium deficiency increases the pathology of an influenza virus infection, FASEB J
Li, Geng, Peng, Meng, Lu, Molecular immune pathogenesis and diagnosis of COVID-19
Nelson, Shi, Van Dael, Schiffrin, Blum et al., Host nutritional selenium status as a driving force for influenza virus mutations, FASEB J
Owen, Dewald, Vitamin E toxicity
Weitkunat, Wildner, Exploratory causal modeling in epidemiology: are all factors created equal?, J Clin Epidemiol
Wilhelm, Benjamin, Rainer, Interpretation of statistical significance-exploratory versus confirmative testing in clinical trials, epidemiological studies, metaanalyses and toxicological screening (using Ginkgo biloba as an example), J Clin Exp Pharmacol
Winbauer, Pingree, Nuttall, Evaluating serum alpha-tocopherol (vitamin E) in terms of a lipid ratio, Ann Clin Lab Sci
Wu, Meydani, Vitamin E, immune function, and protection against infection