Retrospective survey-based analysis of 738 COVID-19 patients in Saudi Arabia, showing lower hospitalization with vitamin C, turmeric, zinc, and nigella sativa, and higher hospitalization with vitamin D. For vitamin D, most patients continued prophylactic use. For vitamin C, the majority of patients continued prophylactic use. For nigella sativa, the majority of patients started use during infection. Authors do not specify the fraction of prophylactic use for turmeric and zinc.Although the 31% lower hospitalization is not statistically significant, it is consistent with the significant 27% lower hospitalization
[18‑35%]
from meta analysis of the
12 hospitalization results to date
.This is the
5th of 26 COVID-19 controlled studies
for curcumin, which collectively show efficacy with
p=0.000000046 (1 in 22 million)
.
20 studies are RCTs
, which show efficacy with
p=0.0000093
.
risk of hospitalization,

31.2% lower

, RR 0.69, p = 0.10
, treatment 30 of 144 (20.8%), control 207 of 594 (34.8%), NNT 7.1, adjusted per study, odds ratio converted to relative risk, multivariable.
Effect extraction follows pre-specified rules prioritizing more serious outcomes. Submit updates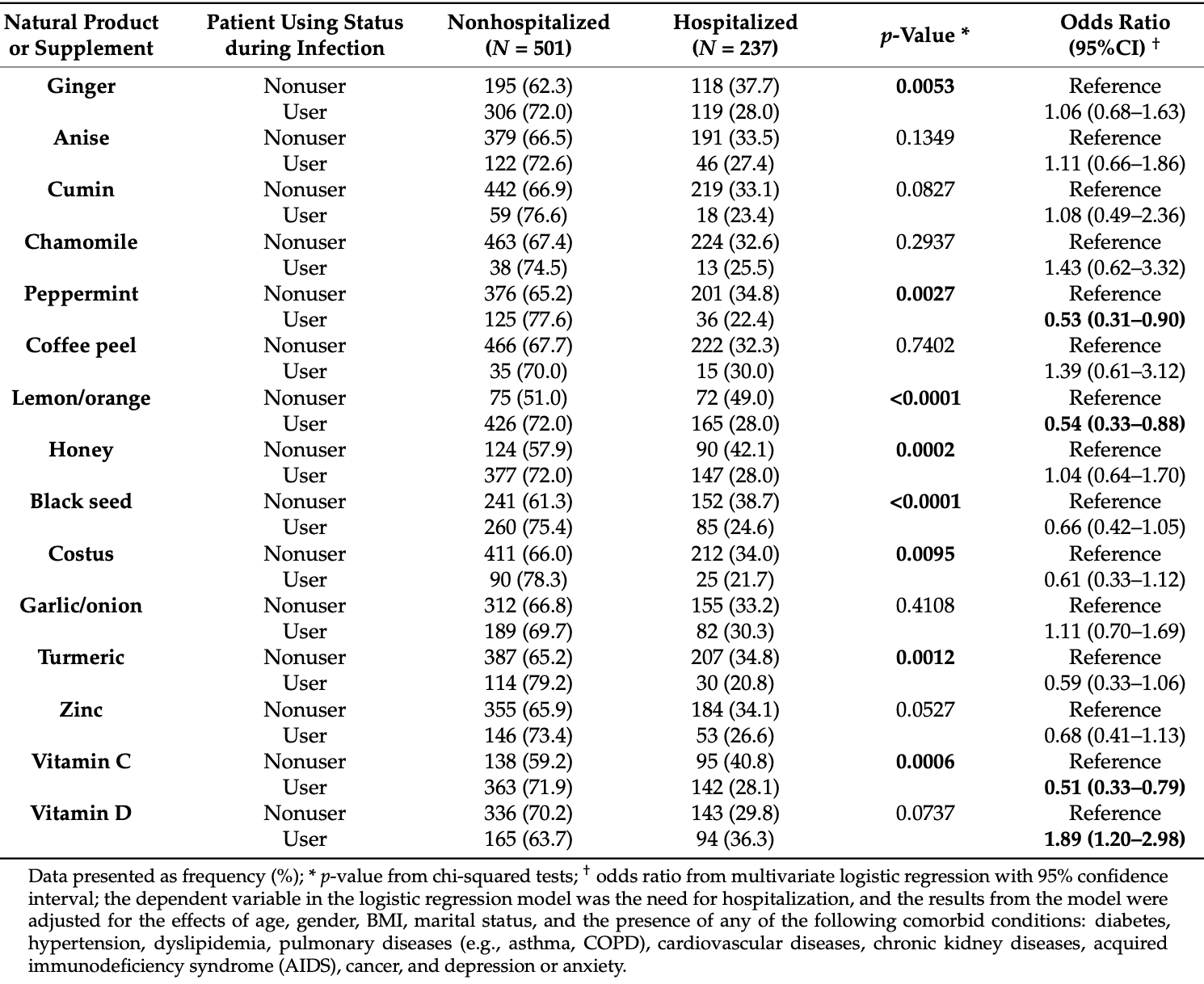 Aldwihi et al., 11 May 2021, retrospective, Saudi Arabia, peer-reviewed, survey, mean age 36.5, 8 authors, study period August 2020 - October 2020.
Contact: oalmohammed@ksu.edu.sa (corresponding author), 436202414@student.ksu.edu.sa, 441204353@student.ksu.edu.sa, yazeed@ksu.edu.sa, alamrif@ksau-hs.edu.sa, afaleh@ksu.edu.sa, ofantoukh@ksu.edu.sa, aasssiri@moh.gov.sa.
Patients' Behavior Regarding Dietary or Herbal Supplements before and during COVID-19 in Saudi Arabia
International Journal of Environmental Research and Public Health, doi:10.3390/ijerph18105086
The use of traditional medicinal plants in Saudi Arabia stems mainly from consumers' belief in prophetic medicine. This study was conducted to explore changes in patients' use of dietary or herbal supplements among individuals infected with COVID-19 before and during infection and the association between herbal or dietary supplements and hospitalization. A cross-sectional, questionnaire-based study was conducted enrolling symptomatic patients who had recently recovered from COVID-19. Data were collected through phone interviews, and McNemar's test was used to investigate changes to consumption of dietary or herbal supplements before and during infection. Multivariable logistic regression was used to investigate the association between supplements use during patients' infection and hospitalization. A total of 738 patients were included in this study, of whom 32.1% required hospitalization. About 57% of participants were male with a mean age of 36.5 (±11.9) years. The use of lemon/orange, honey, ginger, vitamin C, and black seed among participants significantly increased during their infection. In contrast, patients using anise, peppermint, and coffee peel before their infection were more likely to stop using them during their infection. In addition, using lemon/orange (p < 0.0001), honey (p = 0.0002), ginger (p = 0.0053), vitamin C (p = 0.0006), black seed (p < 0.0001), peppermint (p = 0.0027), costus (p = 0.0095), and turmeric (p = 0.0012) was significantly higher among nonhospitalized patients than hospitalized ones. However, in the multivariable logistic regression, only use of vitamin C (OR = 0.51; 95% CI 0.33-0.79), peppermint (OR = 0.53; 95% CI 0.31-0.90), and lemon/orange (OR = 0.54; 95% CI 0.33-0.88) was associated with significantly lower odds of hospitalization. The study reveals that patients' consumption of dietary or herbal supplements changed in response to their COVID-19 infection, with hospitalized patients having a lower likelihood of using these supplements. Because some supplements were associated with lower odds of hospitalization, these supplements or their bioactive components should be further investigated as feasible options for COVID-19 treatment.
Informed Consent Statement: Verbal informed consent was obtained from all subjects involved in the study during the phone interview. Conflicts of Interest: The authors declare no conflict of interest.
References
Banerjee, Srivastava, Giri, Possible nutritional approach to cope with COVID-19 in Indian perspective, Adv. Res. J. Med. Clin. Sci
Davies, Abbott, Barnard, Jarvis, Kucharski et al., Estimated transmissibility and impact of SARS-CoV-2 lineage B.1.1.7 in England, Science
Desam, Al-Rajab, Sharma, Mylabathula, Gowkanapalli et al., Chemical constituents, in vitro antibacterial and antifungal activity of Mentha × Piperita L. (peppermint) essential oils, J. King Saud Univ. Sci
Dorsch, Ring, Anti-inflammatory, anti-thrombotic and antiviral substances from Onions could be an option for the treatment of COVID-19: A hypothesis, J. Bacteriol. Parasitol
Forouzanfar, Bazzaz, Hosseinzadeh, Black cumin (Nigella sativa) and its constituent (thymoquinone): A review on antimicrobial effects, Iran. J. Basic Med. Sci
Gopinath, Karthikeyan, Turmeric: A condiment, cosmetic and cure, Indian J. Dermatol. Venereol. Leprol
Koca, Tasci, Garlic as a functional food
Morais, Aquino, Da Silva-Maia, Vale, Maciel et al., Nutritional status, diet and viral respiratory infections: Perspectives for severe acute respiratory syndrome coronavirus 2, Br. J. Nutr
Shariatpanahi, Taleban, Mokhtari, Shahbazi, Ginger extract reduces delayed gastric emptying and nosocomial pneumonia in adult respiratory distress syndrome patients hospitalized in an intensive care unit, J. Crit. Care