COVID-19 and sunlight: Impact on SARS-CoV-2 transmissibility, morbidity, and mortality
et al., Annals of Medicine and Surgery,
COVID-19 and sunlight: Impact on SARS-CoV-2 transmissibility, morbidity, and mortality
,
Annals of Medicine and Surgery, doi:10.1016/j.amsu.2021.102419 (Review)
,
Review of evidence for the benefits of sunlight exposure for COVID-19.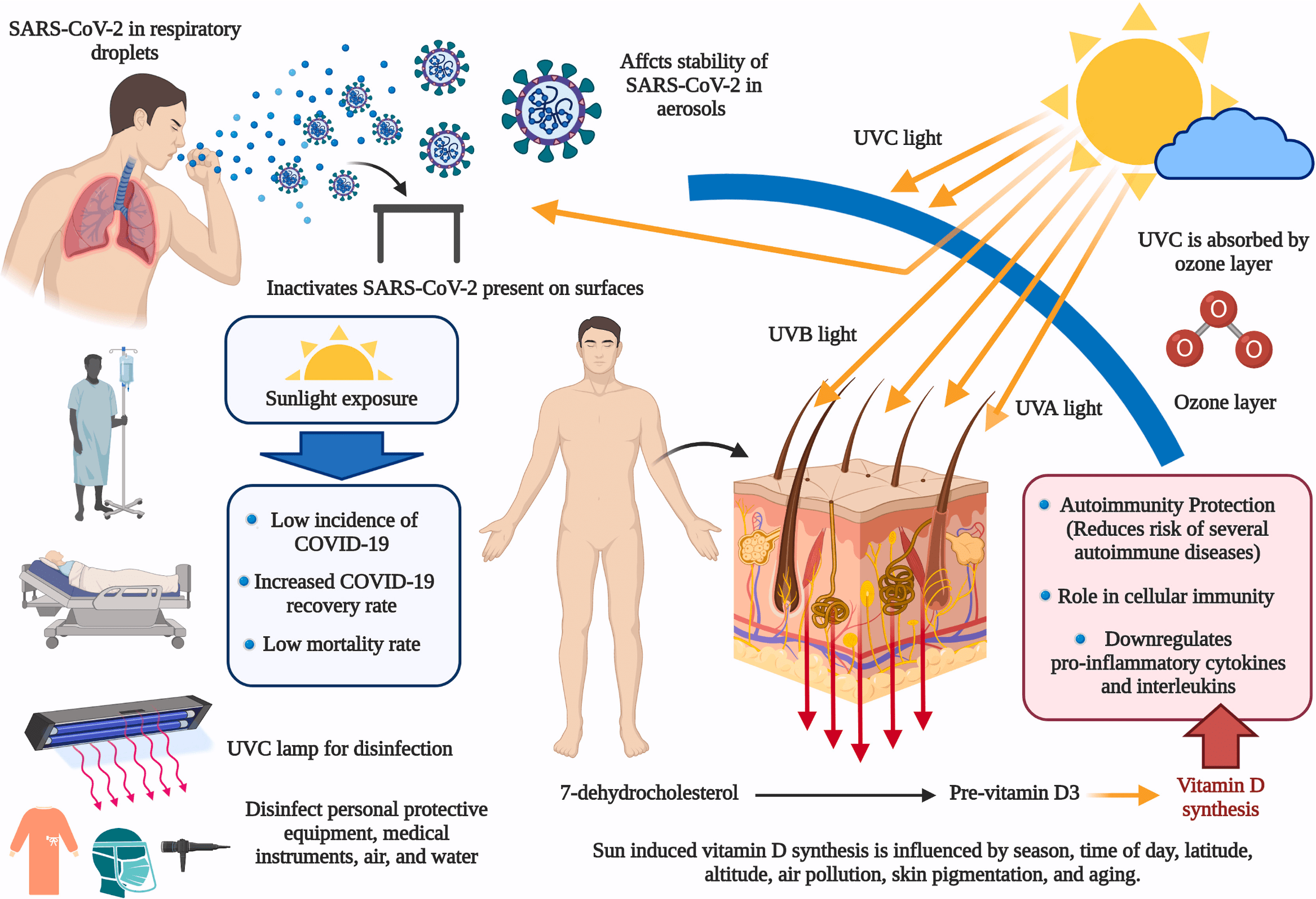 Sharun et al., 30 Jun 2021, peer-reviewed, 3 authors.
Contact: sharunkhansk@gmail.com, kdhama@rediffmail.com.
Abstract: Annals of Medicine and Surgery 66 (2021) 102419 Contents lists available at ScienceDirect Annals of Medicine and Surgery journal homepage: www.elsevier.com/locate/amsu Perspective COVID-19 and sunlight: Impact on SARS-CoV-2 transmissibility, morbidity, and mortality A R T I C L E I N F O A B S T R A C T Keywords COVID-19 SARS-CoV-2 Therapeutics Photodynamic therapy Simulated sunlight Photo-biomodulation Coronavirus disease 2019 (COVID-19) has already affected millions of people worldwide. There are reports of SARS-CoV-2 transmission as a consequence of environmental contamination. The SARS-CoV-2 laden infective droplets can actively persist on the surface of different materials for several hours to days. Sunlight can affect the stability of SARS-CoV-2 in these aerosols and thereby have an impact on the decay rate of the virus. Solar ra­ diation might play an important role in inactivating SARS-CoV-2 that persists in different surfaces and the environment. Among the different climatological factors, ultraviolet radiation was found to have an important role in determining the spread of SARS-CoV-2. Although ultraviolet radiation C (UVC), UVB, UVA, visible light, and infrared radiation possess germicidal properties, human CoVs including the recently emerged SARS-CoV-2 are inherently sensitive to UVC. However, the successful decontamination using other wavebands requires higher dosages and longer administration times. Furthermore, studies have also identified association between COVID-19 fatalities and the latitude. The intensity of sunlight is highest near the equator, and therefore pop­ ulations in these regions with more regular exposure to sunlight are less susceptible to vitamin D deficiency. This article has analyzed the potential impact of sunlight in reducing SARS-CoV-2 transmissibility, morbidity, and mortality. It is evident that there exists an interesting link between sunlight exposure, latitude, and vitamin D status with COVID-19 incidence, fatality and recovery rates that requires further investigation. Severe acute respiratory syndrome coronavirus 2 (SARS-CoV-2) was first reported from the Huanan seafood market in Wuhan, Hubei prov­ ince, China [1]. It has now affected over 164 million people worldwide, with nearly 3.5 million deaths reported globally as of May 18, 2021. SARS-CoV-2 got rapidly spread across the world as a result of the effi­ cient human-to-human transmission. However, the air travel further facilitated the distribution of COVID-19 across international border at a faster rate [2]. SARS-CoV-2 is the sixth coronavirus that can infect human beings [1]. Among the previous coronaviruses (CoVs), SARS-CoV-2 exhibited close genomic similarity with SARS-CoV [3]. High efforts are being made continuously to develop effective vac­ cines, drugs and therapies to counter this pandemic disease that is posing high global threats and challenges to humanity [4–6]. Photody­ namic therapy, photo-biomodulation and light-based technologies have been reported to effectively inactivate SARS-CoV-2 and aid in the management and treatment of COVID-19 during this pandemic crisis [7–11]. The present study aims to analyze the available literature to evaluate the potential role of sunlight in reducing morbidity and mor­ tality associated with SARS-CoV-2 infection in humans. This article also presents an overview of the potential impact of sunlight in reducing SARS-CoV-2 transmissibility. The ability of infectious particles containing..
Please send us corrections, updates, or comments. Vaccines and treatments are complementary. All practical, effective, and safe means should be used based on risk/benefit analysis. No treatment, vaccine, or intervention is 100% available and effective for all current and future variants. We do not provide medical advice. Before taking any medication, consult a qualified physician who can provide personalized advice and details of risks and benefits based on your medical history and situation.
FLCCC
and
WCH
provide treatment protocols.
Submit