Retrospective 29,875 university staff and students in Spain, 3,662 with data, showing lower risk of COVID-19 symptoms for people that exercise. Exercise more than 5 days/week was the most protective, and intense exercise was more effective than moderate exercise.
risk of symptomatic case,

54.1% lower

, OR 0.46, p < 0.001
, inverted to make OR<1 favor high activity levels, exercise vs. no exercise before COVID-19, RR approximated with OR.
Effect extraction follows pre-specified rules prioritizing more serious outcomes. Submit updates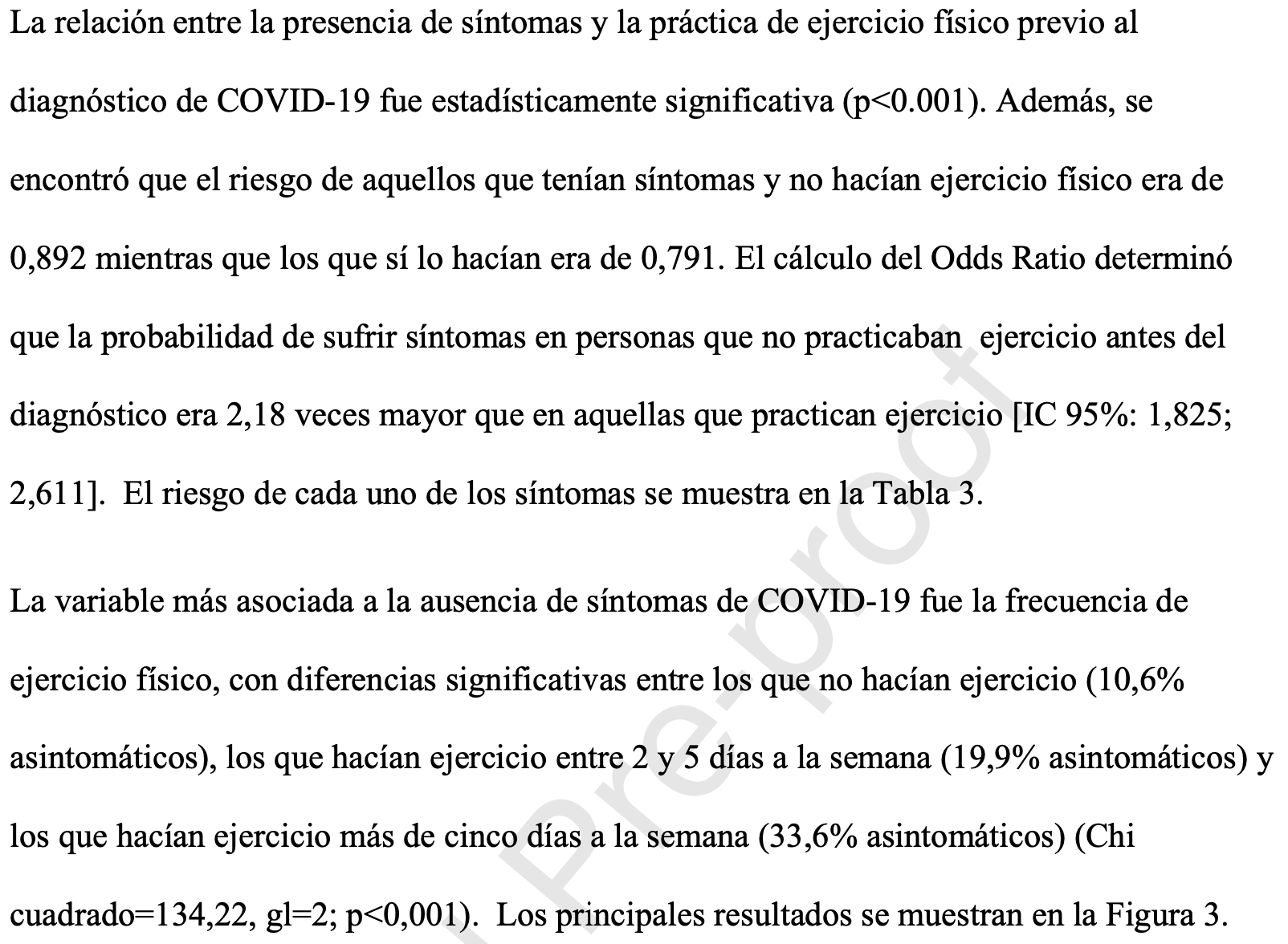 Sanchez et al., 25 Apr 2023, retrospective, Spain, peer-reviewed, 3 authors, trial
NCT04624048
(history)
.
Contact: carlos_ms@usal.es.
Influencia del Ejercicio Físico en la Gravedad de la COVID-19
Fisioterapia, doi:10.1016/j.ft.2023.04.003
Since January 2020 Elsevier has created a COVID-19 resource centre with free information in English and Mandarin on the novel coronavirus COVID-19. The COVID-19 resource centre is hosted on Elsevier Connect, the company's public news and information website. Elsevier hereby grants permission to make all its COVID-19-related research that is available on the COVID-19 resource centre -including this research content -immediately available in PubMed Central and other publicly funded repositories, such as the WHO COVID database with rights for unrestricted research re-use and analyses in any form or by any means with acknowledgement of the original source. These permissions are granted for free by Elsevier for as long as the COVID-19 resource centre remains active.
References
-Deville, Sarndal, Sautory, Procedimientos generalizados de rastrillo en muestreo de encuestas, J Am Statis Assoc
-Efron, Tibshirani, Una introducción al bootstrap
-Lumley, Complex surveys: A guide to analysis using R
-Pedersen, Saltin, El ejercicio como medicamento-evidencia para prescribir ejercicio como terapia en 26 enfermedades crónicas diferentes, J Med Sci Sports