In Vitro
study showing that SARS-CoV-2 cell entry differs across cell types. ACE2 was required for infection in both lung and cardiac cells, but TMPRSS2 cleavage was required in lung cells, while the endosomal pathway was required in cardiac cells.Authors show that antiviral activity and cytotoxicity can be significantly different in cardiac and lung cells, and in the commonly used African monkey kidney-derived Vero cells.These results highlight that, especially after SARS-CoV-2 spreads beyond the upper respiratory tract, a combination of treatments affecting different pathways may be more effective.
Gérard, Wu, Zhou
show significantly increased risk of acute kidney injury with remdesivir.
4 preclinical studies support the efficacy of remdesivir for COVID-19: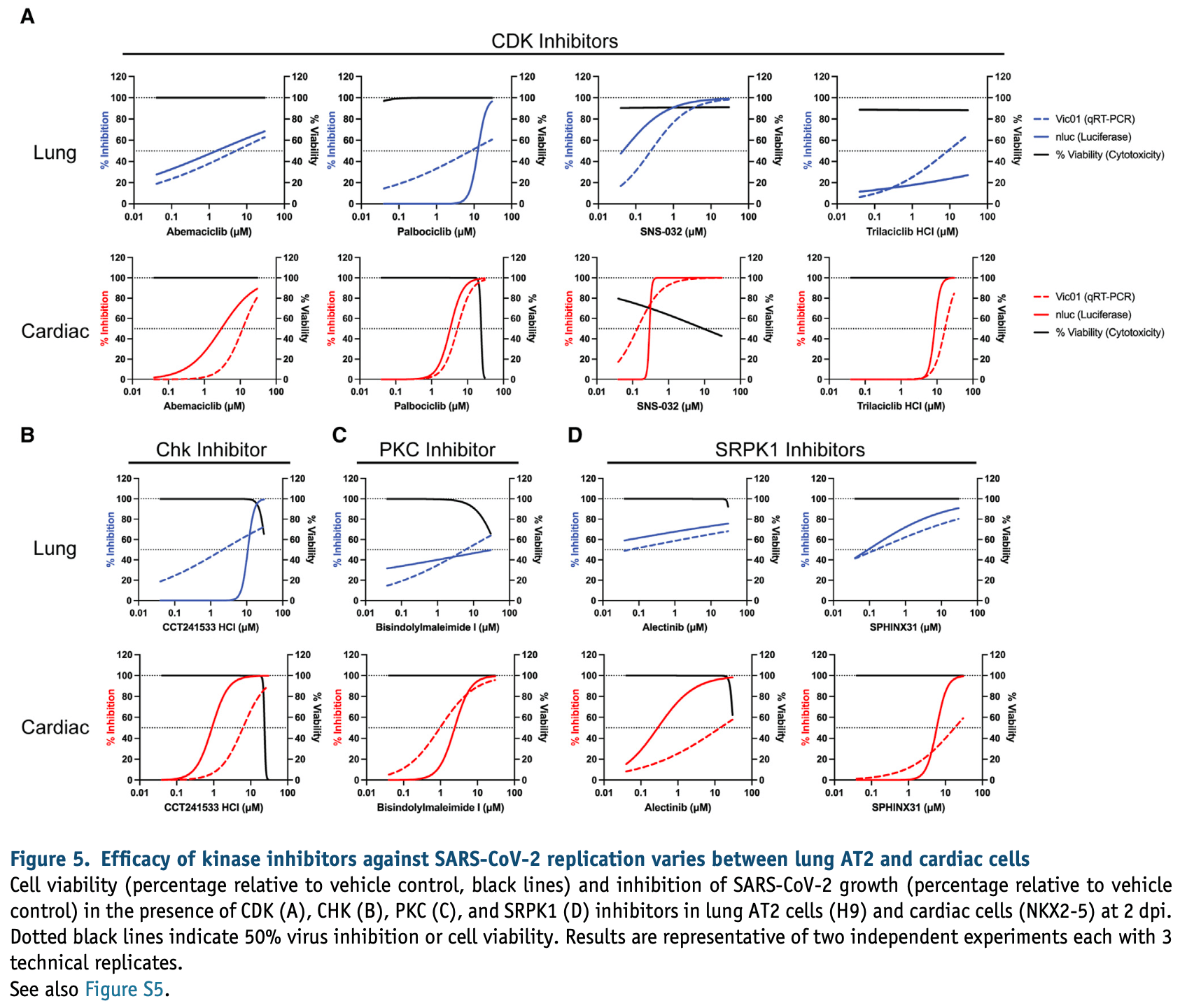 Rudraraju et al., 1 Jun 2023, Australia, peer-reviewed, 28 authors.
Contact: enzo.porrello@mcri.edu.au (corresponding author), jose.polo@monash.edu, sean.humphrey@mcri.edu.au, mirana.ramialison@mcri.edu.au, david.elliott@mcri.edu.au, kanta.subbarao@influenzacentre.org.
In Vitro studies are an important part of preclinical research, however results may be very different in vivo.
Parallel use of human stem cell lung and heart models provide insights for SARS-CoV-2 treatment
Stem Cell Reports, doi:10.1016/j.stemcr.2023.05.007
Severe acute respiratory syndrome coronavirus 2 (SARS-CoV-2) primarily infects the respiratory tract, but pulmonary and cardiac complications occur in severe coronavirus disease 2019 . To elucidate molecular mechanisms in the lung and heart, we conducted paired experiments in human stem cell-derived lung alveolar type II (AT2) epithelial cell and cardiac cultures infected with SARS-CoV-2. With CRISPR-Cas9-mediated knockout of ACE2, we demonstrated that angiotensin-converting enzyme 2 (ACE2) was essential for SARS-CoV-2 infection of both cell types but that further processing in lung cells required TMPRSS2, while cardiac cells required the endosomal pathway. Host responses were significantly different; transcriptome profiling and phosphoproteomics responses depended strongly on the cell type. We identified several antiviral compounds with distinct antiviral and toxicity profiles in lung AT2 and cardiac cells, highlighting the importance of using several relevant cell types for evaluation of antiviral drugs. Our data provide new insights into rational drug combinations for effective treatment of a virus that affects multiple organ systems.
EXPERIMENTAL PROCEDURES Resource availability Corresponding authors Enzo R. Porrello, Jose M. Polo, Sean J. Humphrey, Mirana Ramialison, David A. Elliott or Kanta Subbarao are the corresponding authors for this paper. Cells African green monkey kidney epithelial (Vero cells, ATCC Cat. CCL-81), Vero hSLAM (Merck, Cat. 04091501), Calu-3 (ATCC, Cat. HTB-55), and VeroE6-TMPRSS2 (CellBank Australia, Cat. JCRB1819) cells were cultured at 37 C and 5% CO 2. Vero cell media: minimum essential medium (MEM; Media Preparation Unit, Peter Doherty Institute) supplemented with 5% fetal bovine serum (FBS; Bovogen, Cat. SFBS), 50 U/mL penicillin and 50 mg/mL streptomycin (PenStrep, Thermo Fisher Scientific, Cat. 15070-063), 2 mM GlutaMAX (Thermo Fisher Scientific, Cat. 35050061), and 15 mM HEPES (Thermo Fisher Scientific, Cat. 15630130) . Vero hSLAM cell media: MEM supplemented with 7% FBS, PenStrep, 2 mM GlutaMAX, 15 mM HEPES, and 0.4 mg/mL G418 Sulfate (Gibco, Cat. 10131027). Calu-3 cell media: MEM containing L-glutamine and sodium bicarbonate (Sigma, Cat. M4655) supplemented with 10% FBS, PenStrep, 13 non-essential amino acids (Gibco, Cat. 11140050), and sodium pyruvate (Fisher Scientific, Cat. BP356-100). VeroE6-TMPRSS2 cell media: Dulbecco's MEM (DMEM; Media Preparation Unit, Peter Doherty Institute) supplemented with 10% FBS, PenStrep, 2 mM GlutaMAX, and 1 mg/ mL G418 Sulfate. (Hou et al., 2020) . SARS-CoV-2 VIC01 was propagated in Vero and Vero hSLAM cells in Vero infection..
References
Schneider, Pease, Navaratnarajah, Halfmann, Clemens et al., SARS-CoV-2 direct cardiac damage through spike-mediated cardiomyocyte fusion
Shang, Wan, Luo, Ye, Geng et al., Cell entry mechanisms of SARS-CoV-2, Proc. Natl. Acad. Stem Cell Reports j
Shao, Shang, Luo, Shi, Zhao et al., Myocardial injury is associated with higher mortality in patients