Retrospective 167 nosocomial COVID-19 patients in South Korea, showing higher mortality with remdesivir treatment, without statistical significance.
[Gérard, Wu, Zhou]
show significantly increased risk of acute kidney injury with remdesivir.
risk of death,

1612.4% higher

, RR 17.12, p = 0.22
, treatment 14 of 145 (9.7%), control 0 of 22 (0.0%), continuity correction due to zero event (with reciprocal of the contrasting arm).
Effect extraction follows pre-specified rules prioritizing more serious outcomes. Submit updates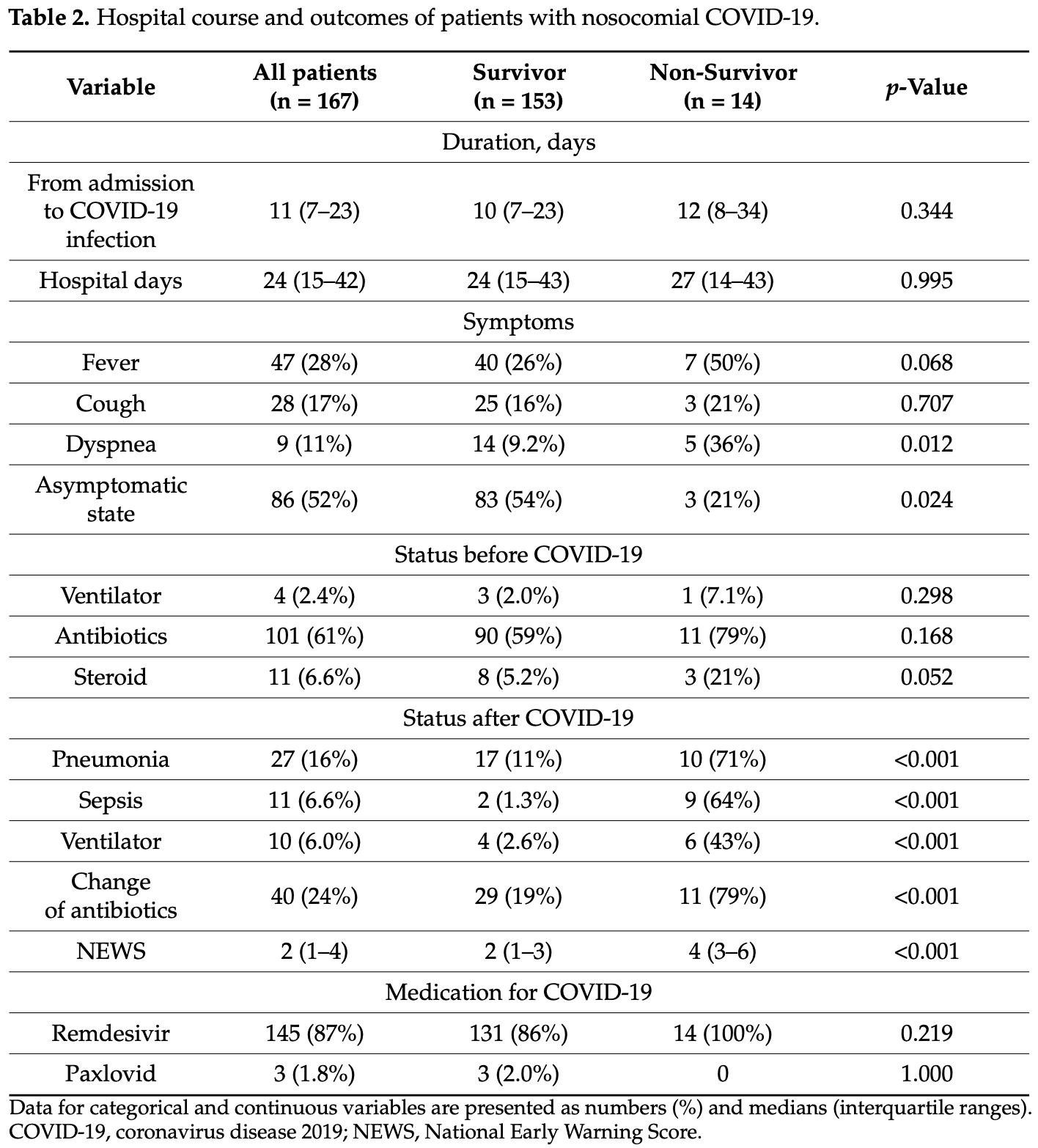 Kim et al., 15 Mar 2023, retrospective, South Korea, peer-reviewed, 5 authors, study period 1 November, 2021 - 30 April, 2022.
Contact: sysliver@naver.com (corresponding author).
Clinical Outcome and Prognosis of a Nosocomial Outbreak of COVID-19
Journal of Clinical Medicine, doi:10.3390/jcm12062279
Nosocomial coronavirus disease 2019 (COVID-19) outbreaks have been reported despite widespread quarantine methods to prevent COVID-19 in society and hospitals. Our study was performed to investigate the clinical outcome and prognosis of a nosocomial outbreak of COVID-19. We retrospectively analyzed the medical records of patients diagnosed with nosocomial COVID-19 of severe acute respiratory syndrome coronavirus-2 (SARS-CoV-2) at a university teaching hospital between 1 November 2021 and 31 April 2022. Nosocomial COVID-19 was defined as a positive SARS-CoV-2 polymerase chain reaction (PCR) test result 4 or more days after admission in asymptomatic patients who had a negative SARS-CoV-2 PCR test on admission. In this study, 167 patients were diagnosed with nosocomial COVID-19 (1.14%) among a total of 14,667 patients admitted to hospital during the study period. A total of 153 patients (91.6%) survived, but 14 patients (8.4%) died. The median time between admission and COVID-19 diagnosis was 11 days, and the median duration of hospital stay was 24 days. After adjusting for other factors, no vaccination (adjusted HR = 5.944, 95% CI = 1.626-21.733, p = 0.007) and chronic kidney disease (adjusted HR = 6.963, 95% CI = 1.182-41.014, p = 0.032) were found to increase mortality risk. Despite strict quarantine, a significant number of nosocomial COVID-19 cases with a relatively high mortality rate were reported. As unvaccinated status or chronic kidney disease were associated with poor outcomes of nosocomial COVID-19, more active preventive strategies and treatments for patients with these risk factors are needed.
Informed Consent Statement: Informed consent was waived due to the retrospective nature of the study. Conflicts of Interest: The authors declare no conflict of interest.
References
Blackstone, Stirrup, Mapp, Panca, Copas et al., Protocol for the COG-UK hospital-onset COVID-19 infection (HOCI) multicentre interventional clinical study: Evaluating the efficacy of rapid genome sequencing of SARS-CoV-2 in limiting the spread of COVID-19 in UK NHS hospitals, BMJ Open
Li, Peng, Li, Wang, Ping et al., Clinical and Transmission Characteristics of COVID-19-A Retrospective Study of 25 Cases from a Single Thoracic Surgery Department, Curr. Med. Sci