Early Onset Favipiravir Saves Lives
et al., Research Square,
Retrospective 180 hospitalized patients showing lower mortality when Favipiravir is given earlier. 17% of patients given Favipiravir within 3 days died, compared to 38% when given after 3 days.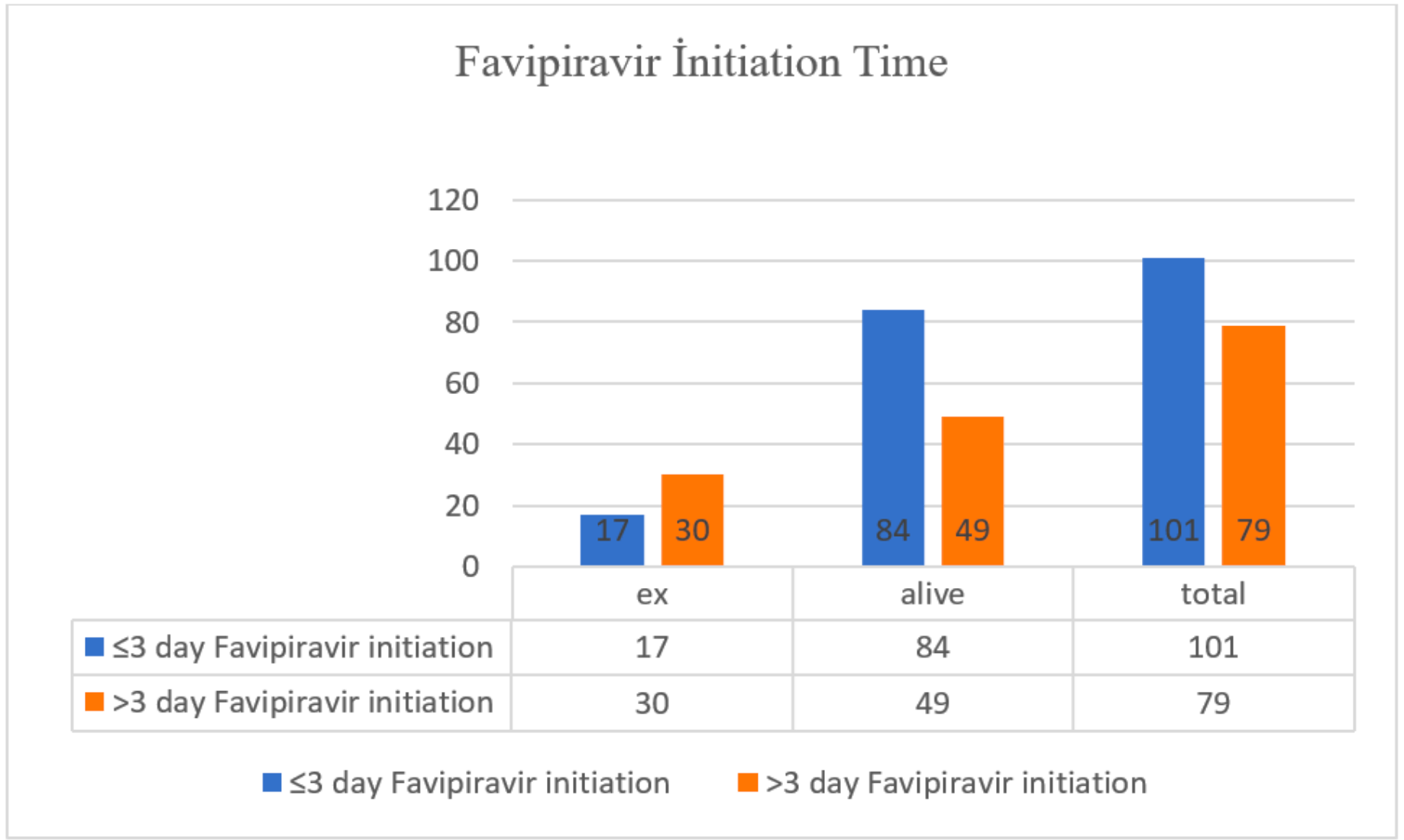 Karatas et al., 14 Jan 2021, preprint, 5 authors.
Abstract: Early Onset Favipiravir Saves Lives Ercan KARATAS (  canertaskara@hotmail.com ) Turkiye Cumhuriyeti Saglik Bakanligi https://orcid.org/0000-0002-3133-4199 Lacin Aksoy Marmara Universitesi Tip Fakultesi, Family Practicies Pinar Elbir Kilic İstanbul Tuzla State Hospital Arzu Dogru Tuzla State Hospital: Tuzla Devlet Hastanesi Ersin Ozaslan Acibadem Hospitals Group: Acibadem Saglik Grubu Research Keywords: Favipiravir, COVID-19, coronavirus, SARS-CoV-2, pneumonia, antiviral treatment Posted Date: January 13th, 2021 DOI: https://doi.org/10.21203/rs.3.rs-142868/v1 License:   This work is licensed under a Creative Commons Attribution 4.0 International License. Read Full License Version of Record: A version of this preprint was published on April 30th, 2021. See the published version at https://doi.org/10.3947/ic.2020.0149. Page 1/14 Abstract Background Favipiravir, an antiviral recommended for use in patients with tachypnea (respiratory rate 30 / min) in COVID-19 pneumonia, with SpO2 level below 90% in room air and with bilateral diffuse pneumonia on chest X-ray or tomography, or patients with treatment-resistant fever, is a new type of RNA-dependent RNA polymerase (RdRp) inhibitor. After the administration of Favipiravir, it contributed significantly to reducing mortality in patients with severe COVID-19 positive disease. We performed this study to determine the start time in Favipiravir's covid pneumonia. Material and Method: We evaluated the effect of a total of 5 days of oral treatment as a 2 × 1600 mg loading dose and a 2 × 600 mg maintenance dose of Favipiravir added to the standard COVID-19 treatment received by patients with laboratory-radiology-clinical findings who have advanced or severe COVID 19 pneumonia. Results 180 patients hospitalized at Tuzla State Hospital and given Favipiravir treatment between 20/3/2020 and 30/5/2020 were examined. As of hospitalization, 17 of 101 patients (17%) who were given Favipiravir treatment in ≤ 3 days died, 30 of 79 patients (38%) who were given Favipiravir treatment for in > 3 days died (p:0.002). 33 of 47 patients (70%) who died were > 65 years old. Only 5 of the 47 (11%) patients who died had no comorbid disease. 35 had two or more comorbid diseases. Conclusion Patients with radiological findings indicating that COVID-19 will be severe and laboratory findings at the time of the first 3 days should be initiated with an effective dose of Favipiravir treatment without waiting for the clinical worsening. 1 Background SARS-CoV-2 is an enveloped, positive-polarity, and single-stranded RNA virus that belongs to the betacoronavirus group. SARS-CoV-2 is a zoonotic pathogen and can cause symptoms ranging from mild clinical course to severe lower respiratory tract infection (ARDS) when it infects humans [1]. SARS-CoV-2 has a genetic similarity of 79% to SARS-CoV, 50% to MERS-CoV, and ~ 96% to coronaviruses found in bats. The main feature of SARS-CoV-2, which appears to have been formed as a result of a new mutation, is that it easily binds to the ACE2 receptor, especially lung type 2 alveoli cells in humans, and uses the ACE2 receptor as the entry gate to the cells [2]. Replication of the virus, which enters the cell by binding to Page 2/14 ACE2, begins, and the inflammatory reaction chain is triggered [3]. Depending on the age of the host and the immune system, the severity of the inflammatory reaction occurs [4]. It mainly affects the natural immune system and leads to the release of..
Please send us corrections, updates, or comments. Vaccines and treatments are complementary. All practical, effective, and safe means should be used based on risk/benefit analysis. No treatment, vaccine, or intervention is 100% available and effective for all current and future variants. We do not provide medical advice. Before taking any medication, consult a qualified physician who can provide personalized advice and details of risks and benefits based on your medical history and situation.
FLCCC
and
WCH
provide treatment protocols.
Submit