Retrospective database analysis showing no significant differences with pre-existing metformin use.
This study includes metformin and
HCQ
.
risk of progression,

1.0% higher

, RR 1.01, p = 0.11
, treatment 104 of 272 (38.2%), control 774 of 2,533 (30.6%), adjusted per study, multivariable.
risk of case,

4.0% lower

, RR 0.96, p = 0.82
, treatment 329 of 1,874 (17.6%), control 7,012 of 42,172 (16.6%), adjusted per study, multivariable.
Effect extraction follows pre-specified rules prioritizing more serious outcomes. Submit updates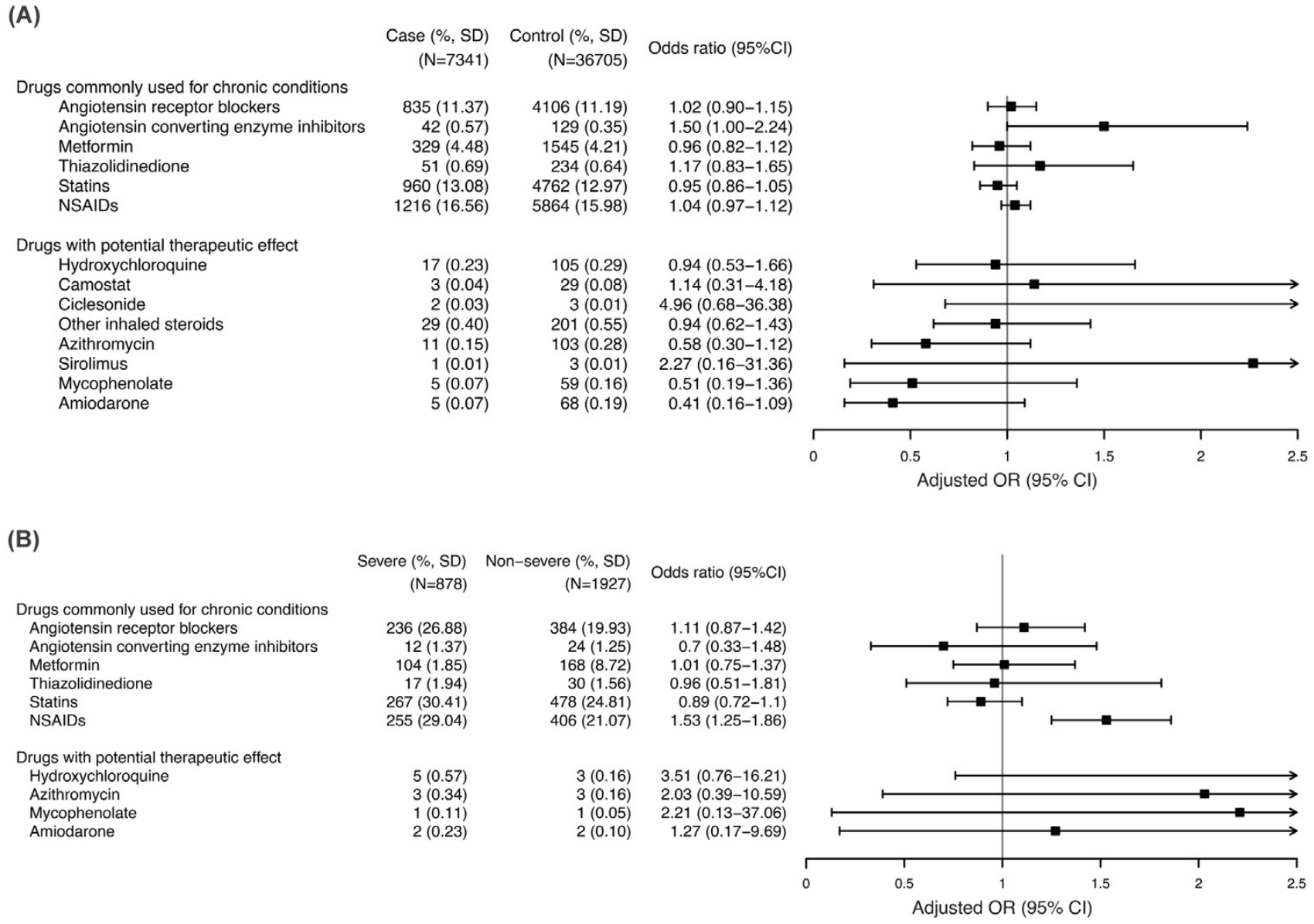 Huh et al., 19 Dec 2020, retrospective, database analysis, South Korea, peer-reviewed, 8 authors.
Association of prescribed medications with the risk of COVID-19 infection and severity among adults in South Korea
International Journal of Infectious Diseases, doi:10.1016/j.ijid.2020.12.041
Objectives: Concerns have been expressed that some drugs may increase susceptibility to SARS-CoV-2 infection. In contrast, other drugs have generated interest as potential therapeutic agents. Methods: All adults aged 18 years who were tested for COVID-19 were included. Exposure was defined as a prescription of study drugs which would have been continued until 7 days prior to test for COVID-19 or later. The outcome measures were the diagnosis of COVID-19 and severe COVID-19. Disease risk score matching and multiple logistic regression was used. Results: Matched claims and testing results were available for 219,961 subjects, of whom 7,341 (3.34%) were diagnosed with COVID-19. Patients were matched to 36,705 controls, and the subset of 878 patients of severe COVID-19 also matched with 1,927 mild-to-moderate patients. Angiotensin receptor blockers were not associated with either the diagnosis of COVID-19 (adjusted OR [aOR], 1.02; 95% confidence interval [CI], 0.90-1.15) or severe disease (aOR, 1.11; 95% CI, 0.87-1.42). The use of hydroxychloroquine was not associated with a lower risk for 0.94; 95% CI, or severe disease (aOR, 3.51; 95% CI,. Conclusions: In this national claims data-based case-control study, no commonly prescribed medications were associated with risk of COVID-19 infection or COVID-19 severity.
Conflict of interest The authors have no conflict of interest to declare. Author contributions Drs. Huh and Jung had full access to all of the data in the study and take responsibility for the integrity of the data and the accuracy of the data analysis. Concept and design: Huh, Ji, Jung. Acquisition, analysis or interpretation of data: Huh, Ji, Kang, Hong, Bae, Lee, Na, Jung. Drafting of the manuscript: Huh, Ji, Jung. Statistical analysis: Huh, Kang, Na, Jung. Appendix A. Supplementary data Supplementary material related to this article can be found, in the online version, at doi:https://doi.org/10.1016/j.ijid.2020.12.041.
References