Retrospective 163 COVID-19 patients in Singapore, showing increased risk of liver injury (abnormal ALT) with acetaminophen in a dose-dependent manner, and with remdesivir, without statistical significance in both cases. Acetaminophen is also known as paracetamol, Tylenol, Panadol, Calpol, Tempra, Calprofen, Doliprane, Efferalgan, Grippostad C, Dolo, Acamol, Fevadol, Crocin, and Perfalgan.
abnormal ALT,

186.0% higher

, OR 2.86, p = 0.14
, treatment 48, control 15, adjusted per study, ≥2g/day, multivariable, RR approximated with OR.
abnormal ALT,

48.0% higher

, OR 1.48, p = 0.57
, treatment 100, control 15, adjusted per study, <2g/day, multivariable, RR approximated with OR.
Effect extraction follows pre-specified rules prioritizing more serious outcomes. Submit updates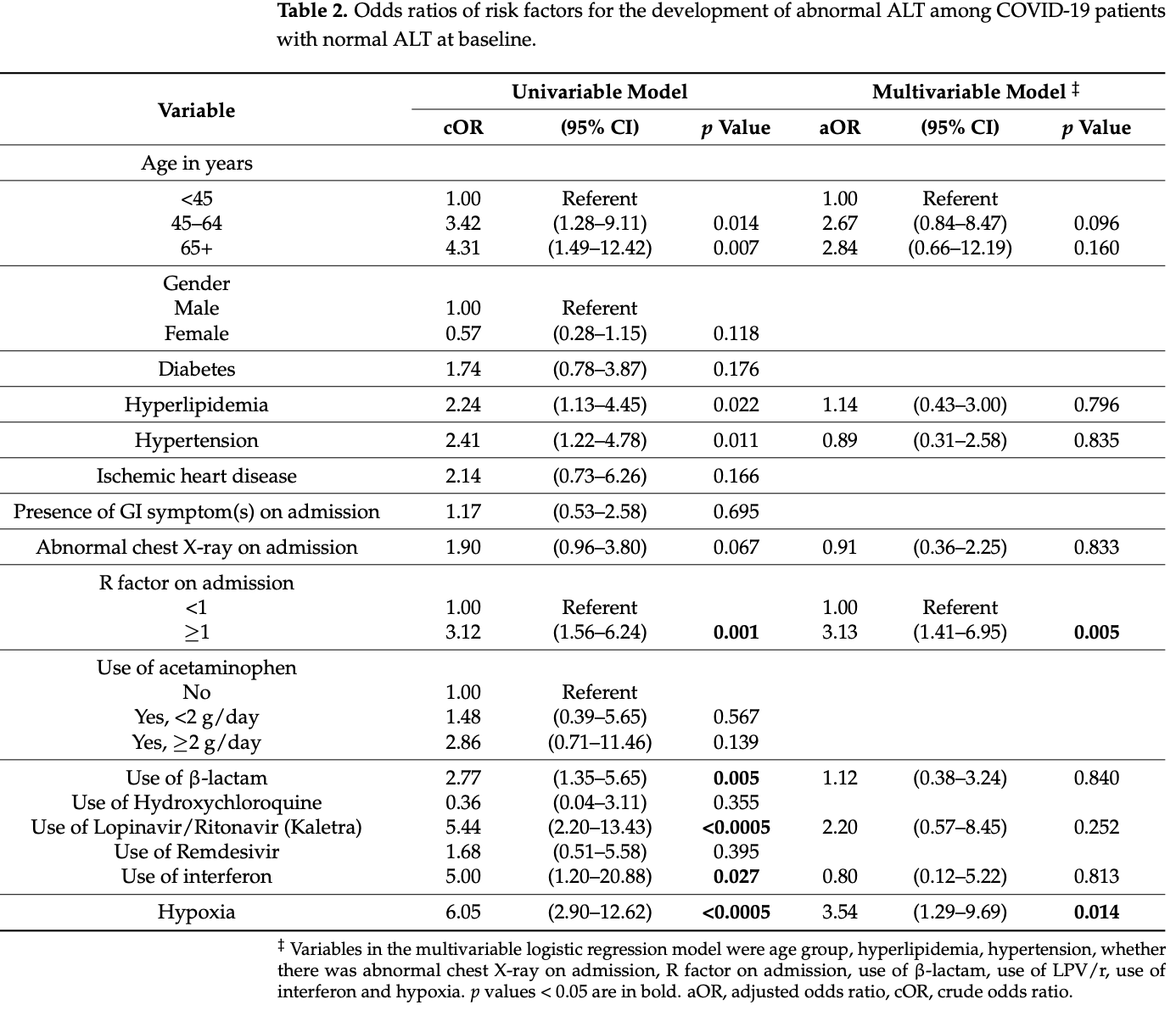 Chew et al., 16 Mar 2023, retrospective, Singapore, peer-reviewed, median age 56.0, 7 authors, study period 23 January, 2020 - 15 April, 2020.
Contact: wei_da_chew@ttsh.com.sg (corresponding author).
Clinical Predictors for Abnormal ALT in Patients Infected with COVID-19—A Retrospective Single Centre Study
Pathogens, doi:10.3390/pathogens12030473
Objective: Abnormal liver tests have been associated with worse clinical outcomes in patients infected with COVID-19. This retrospective observational study from Singapore aims to elucidate simple clinical predictors of abnormal alanine aminotransferase (ALT) in COVID-19 infections. Design: 717 patients hospitalised with COVID-19 at the National Centre for Infectious Diseases (NCID), Singapore, from 23 January-15 April 2020 were screened, of which 163 patients with baseline normal alanine transferase (ALT) and at least two subsequent ALTs performed were included in the final analysis. Information on baseline demographics, clinical characteristics and biochemical laboratory tests were collected. Results: 30.7% of patients developed abnormal ALT. They were more likely to be older (60 vs. 55, p = 0.022) and have comorbidities of hyperlipidaemia and hypertension. The multivariate logistic regression showed that R-factor ≥1 on admission (adjusted odds ratio (aOR) 3.13, 95% Confidence Interval (CI) 1.41-6.95) and hypoxia (aOR 3.54, 95% CI 1.29-9.69) were independent risk factors for developing abnormal ALT. The patients who developed abnormal ALT also ran a more severe course of illness with a greater proportion needing supplementary oxygen (58% vs. 18.6%, p < 0.0005), admission to the Intensive Care Unit (ICU)/High Dependency Unit (HDU) (32% vs. 11.5%, p = 0.003) and intubation (20% vs. 2.7%, p < 0.0005). There was no difference in death rate between the two groups. Conclusions: Liver injury is associated with poor clinical outcomes in patients with COVID-19. R-factor ≥1 on admission and hypoxia are independent simple clinical predictors for developing abnormal ALT in COVID-19.
Conflicts of Interest: Barnaby E Young has received honoraria from Sanofi and Roche outside of the submitted work. Wei Da Chew, Jonathan Kuang, Huiyu Lin, Li Wei Ang, Wei Lyn Yang and David C Lye declare that they have no conflicts of interest.
References
Piano, Dalbeni, Vettore, Benfaremo, Mattioli et al., Abnormal liver function tests predict transfer to intensive care unit and death in COVID-19, Liver Int
Yip, Lui, Wong, Chow, Ho et al., Liver injury is independently associated with adverse clinical outcomes in patients with COVID-19, Gut
Zhou, Yu, Du, Fan, Liu et al., Clinical course and risk factors for mortality of adult inpatients with COVID-19 in Wuhan, China: A retrospective cohort study, Lancet