African green monkey study of inhaled versus IV remdesivir, showing similar efficacy with inhalation. Comparable concentrations of the active triphosphate in the lower respiratory tract were found with ~20x lower dose using inhalation, and there was lower systemic exposure to remdesivir and metabolites.
Gérard, Wu, Zhou
show significantly increased risk of acute kidney injury with remdesivir.
4 preclinical studies support the efficacy of remdesivir for COVID-19: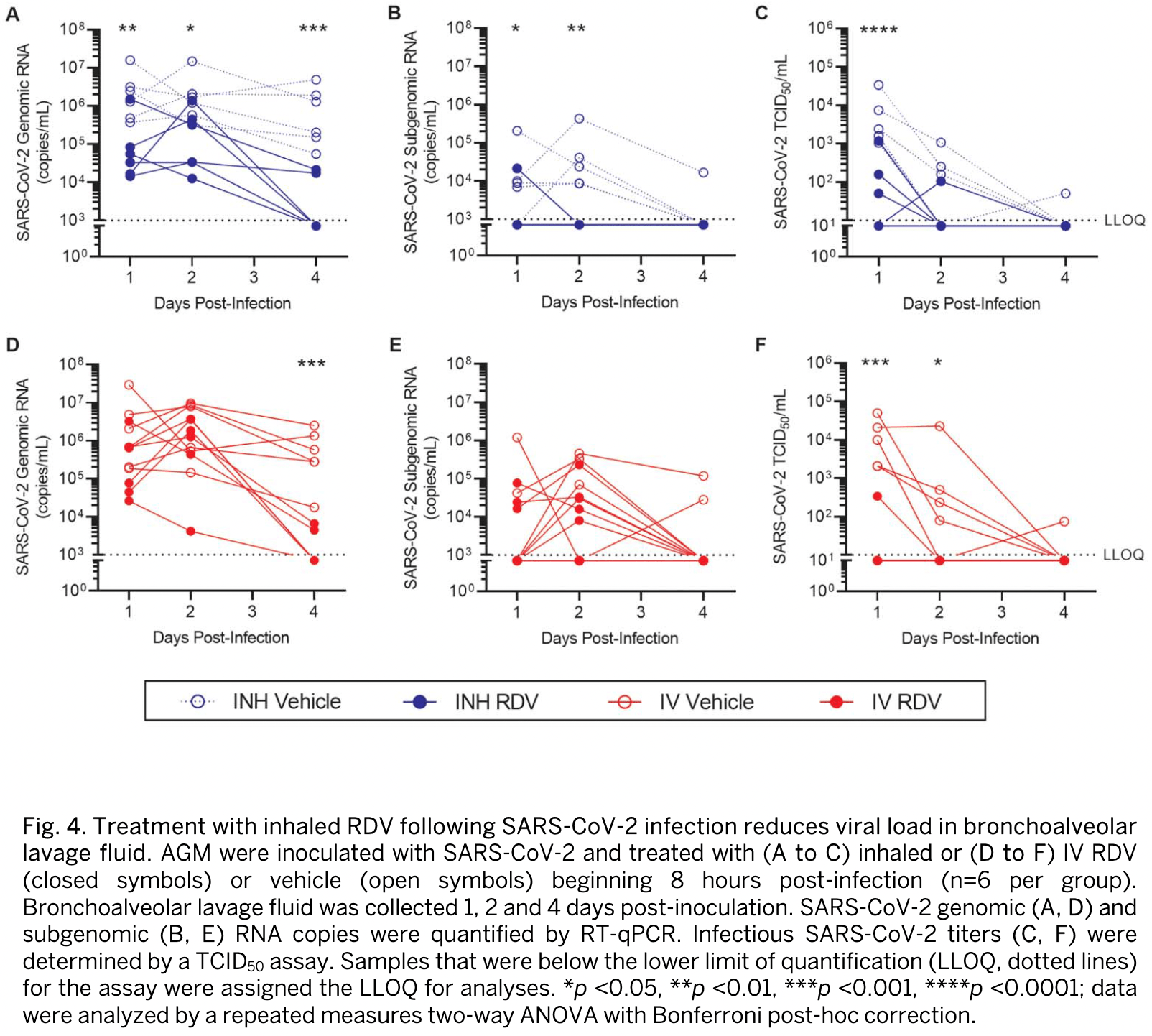 Vermillion et al., 30 Dec 2021, peer-reviewed, 26 authors.
Inhaled remdesivir reduces viral burden in a nonhuman primate model of SARS-CoV-2 infection
Science Translational Medicine, doi:10.1126/scitranslmed.abl8282
Remdesivir (RDV) is a nucleotide analog prodrug with demonstrated clinical benefit in patients with coronavirus disease 2019 . In October 2020, the US FDA approved intravenous (IV) RDV as the first treatment for hospitalized COVID-19 patients. Furthermore, RDV has been approved or authorized for emergency use in more than 50 countries. To make RDV more convenient for non-hospitalized patients earlier in disease, alternative routes of administration are being evaluated. Here, we investigated the pharmacokinetics and efficacy of RDV administered by head dome inhalation in African green monkeys (AGM). Relative to an IV administration of RDV at 10 mg/kg, an approximately 20-fold lower dose administered by inhalation produced comparable concentrations of the pharmacologically active triphosphate in lower respiratory tract tissues. Distribution of the active triphosphate into the upper respiratory tract was also observed following inhaled RDV exposure. Inhalation RDV dosing resulted in lower systemic exposures to RDV and its metabolites as compared with IV RDV dosing. An efficacy study with repeated dosing of inhaled RDV in an AGM model of SARS-CoV-2 infection demonstrated reductions in viral replication in bronchoalveolar lavage fluid and respiratory tract tissues compared with placebo. Efficacy was observed with inhaled RDV administered once daily at a pulmonary deposited dose of 0.35 mg/kg beginning approximately 8 hours post-infection. Moreover, the efficacy of inhaled RDV was similar to that of IV RDV administered once at 10 mg/kg followed by 5 mg/kg daily in the same study. Together, these findings support further clinical development of inhalation RDV.
References
Hill, Paredes Deiros, Vaca, Mera, Webb et al., Remdesivir for the treatment of high-risk non-hospitalized individuals with COVID-19: a randomized, double-blind, placebo-controlled trial
Mers, Group, State of Knowledge and Data Gaps of Middle East Respiratory Syndrome Coronavirus (MERS-CoV) in Humans, PLOS Curr
Pitts, Lu, Du Pont, Riola, Li et al., Delta Variant and Other Variants of Concern