In Vitro
analysis of selenium for reducing inflammatory cytokine production in a cell model of COVID-19 infection. Methylseleninic acid was the most potent at reducing secretion of the cytokines IL-6 and TNF-α, key factors in the cytokine storm in severe COVID-19. Authors also show an increase in Nrf2 and decrease in pIkBa in human macrophages with methylseleninic acid.
2 preclinical studies support the efficacy of selenium for COVID-19: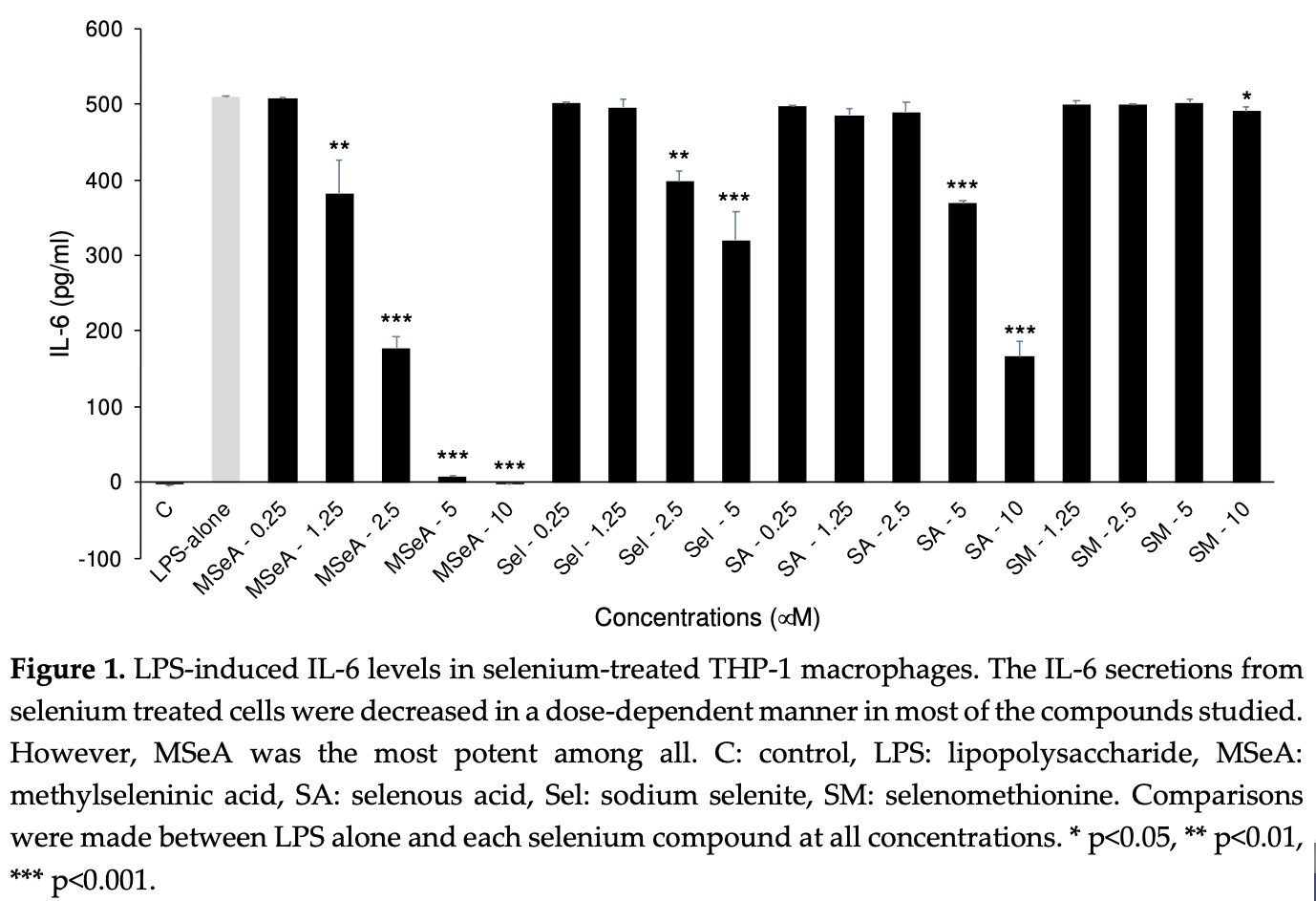 Sinha et al., 16 Aug 2023, preprint, 3 authors.
Contact: rsinha@pennstatehealth.psu.edu (corresponding author), isinha@pennstatehealth.psu.edu, jzhu2@pennstatehealth.psu.edu.
In Vitro studies are an important part of preclinical research, however results may be very different in vivo.
Selective Impact of Selenium Compounds on Two Cytokine Storm Players
doi:10.20944/preprints202308.1168.v1
COVID-19 patients suffer from detrimental effects of cytokine storm and not much success has been achieved to overcome this issue. We sought to test the ability of selenium in reducing the impact of two important cytokine storm players; IL-6 and TNF-. The effects of four selenium compounds were evaluated on the secretion of these cytokines from THP-1 macrophages in vitro following LPS challenge. Also, potential impact of methylseleninic acid (MSeA) on Nrf2 and IB was determined following short treatment of THP-1 macrophages. MSeA was observed to be the most potent selenium form to reduce IL-6 and TNF- levels among the four selenium compounds tested. In addition, an increase in Nrf2 and decrease in pIB in human macrophages was observed following MSeA treatment. Our data indicate that COVID-19 patients might benefit by suppressing their cytokine storm with addition of MSeA to the standard therapy.
Supplementary Materials: Not applicable Author Contributions: Conceptualization, I.S. and R.S.; methodology, I.S.; validation, I.S. and R.S.; formal analysis, I.S., J.Z. and R.S.; investigation, I.S.; writing-original draft preparation, R.S.; writing-review and editing, I.S., J.Z. and R.S.; visualization, I.S. and R.S.; supervision, R.S.; project administration, R.S. All authors have read and agreed to the published version of the manuscript. Conflicts of Interest: The authors declare no conflict of interest.
References
Das, Bortner, Desai, Amin, El-Bayoumy, The selenium analog of the chemopreventive compound S,S'-(1,4-phenylenebis[1,2-ethanediyl])bisisothiourea is a remarkable inducer of apoptosis and Preprints (www.preprints.org) | NOT PEER-REVIEWED | Posted: 16 August
Ip, Dong, Methylselenocysteine modulates proliferation and apoptosis biomarkers in premalignant lesions of the rat mammary gland, Anticancer Res
Preprints, | NOT PEER-REVIEWED | Posted: 16 August