Analysis of 33 COVID-19 patients showing selenium levels significantly lower than reference levels, and significantly lower levels in non-survivors compared with survivors.
risk of death,

56.1% lower

, RR 0.44, p = 0.01
, high selenium levels (≥45.7μg/L) 12 of 92 (13.0%), low selenium levels (<45.7μg/L) 22 of 74 (29.7%), NNT 6.0, counts are the number of samples with a median of 4 samples per patient.
Effect extraction follows pre-specified rules prioritizing more serious outcomes. Submit updates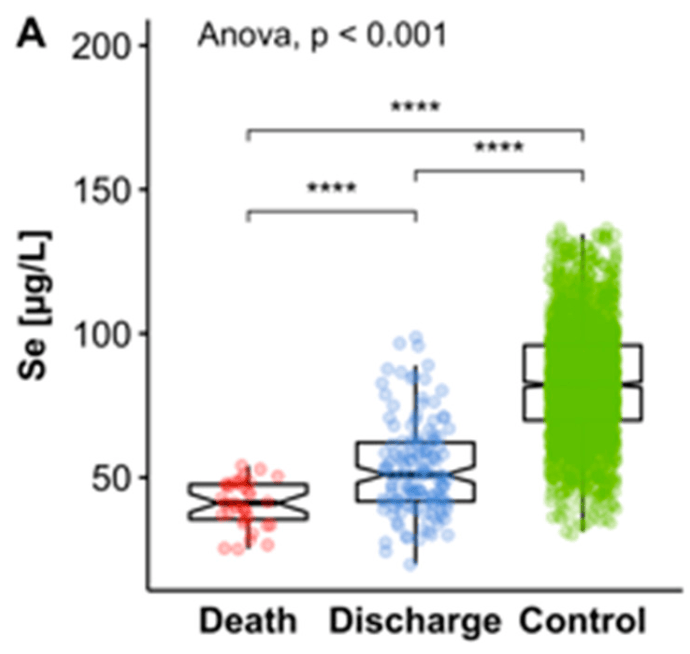 Moghaddam et al., 16 Jul 2020, retrospective, Germany, peer-reviewed, 13 authors.
Contact: lutz.schomburg@charite.de (corresponding author), arash.moghaddam-alvandi@klinikum-ab-alz.de, asan.cherkezov@stud-mail.uni-wuerzburg.de, linda-glaab@t-online.de, joachim.diegmann@klinikum-ab-alz.de, manuel.bachmann.md@gmail.com, raban.heller@charite.de, qian.sun@charite.de, julian.seelig@charite.de, julian.hackler@charite.de, petra.seemann@charite.de, waldemar.minich@charite.de, pilz@imbi.uni-heidelberg.de.
Selenium Deficiency Is Associated with Mortality Risk from COVID-19
Nutrients, doi:10.3390/nu12072098
SARS-CoV-2 infections underlie the current coronavirus disease (COVID-19) pandemic and are causative for a high death toll particularly among elderly subjects and those with comorbidities. Selenium (Se) is an essential trace element of high importance for human health and particularly for a well-balanced immune response. The mortality risk from a severe disease like sepsis or polytrauma is inversely related to Se status. We hypothesized that this relation also applies to COVID-19. Serum samples (n = 166) from COVID-19 patients (n = 33) were collected consecutively and analyzed for total Se by X-ray fluorescence and selenoprotein P (SELENOP) by a validated ELISA. Both biomarkers showed the expected strong correlation (r = 0.7758, p < 0.001), pointing to an insufficient Se availability for optimal selenoprotein expression. In comparison with reference data from a European cross-sectional analysis (EPIC, n = 1915), the patients showed a pronounced deficit in total serum Se (mean ± SD, 50.8 ± 15.7 vs. 84.4 ± 23.4 µg/L) and SELENOP (3.0 ± 1.4 vs. 4.3 ± 1.0 mg/L) concentrations. A Se status below the 2.5th percentile of the reference population, i.e., [Se] < 45.7 µg/L and [SELENOP] < 2.56 mg/L, was present in 43.4% and 39.2% of COVID samples, respectively. The Se status was significantly higher in samples from surviving COVID patients as compared with non-survivors (Se; 53.3 ± 16.2 vs. 40.8 ± 8.1 µg/L, SELENOP; 3.3 ± 1.3 vs. 2.1 ± 0.9 mg/L), recovering with time in survivors while remaining low or even declining in non-survivors. We conclude that Se status analysis in COVID patients provides diagnostic information. However, causality remains unknown due to the observational nature of this study. Nevertheless, the findings strengthen the notion of a relevant role of Se for COVID convalescence and support the discussion on adjuvant Se supplementation in severely diseased and Se-deficient patients.
References
Boschloo, Raised conditional level of significance for 2x2 table when testing equality of 2 probabilities, Ann. Math. Stat
Core, R: A Language and Environment for Statistical Computing; The R Foundation for Statistical Computing
Hughes, Fedirko, Jenab, Schomburg, Meplan et al., Selenium status is associated with colorectal cancer risk in the european prospective investigation of cancer and nutrition cohort, Int. J. Cancer
Mehl, Sun, Gorlich, Hackler, Kopp et al., Cross-sectional analysis of trace element status in thyroid disease, J. Trace Elem. Med. Biol
Wickham, Francois, Henry, Müller, Dplyr, A Grammar of Data Manipulation; R Package Version 1.0.0; The R Foundation for Statistical Computing
Wickham, Ggplot2: Elegant Graphics for Data Analysis; R Package Version 2
Wickham, Henry, Tidyr, Tidy Messy Data; R Package Version 1.1.0; The R Foundation for Statistical Computing