Retrospective 226 patients in China, showing faster viral clearance with paxlovid. Age range and severity differed between groups.
Confounding by contraindication.
[Hoertel]
find that over 50% of patients that died had a contraindication for the use of Paxlovid. Retrospective studies that do not exclude contraindicated patients may significantly overestimate efficacy. This study is excluded in the after exclusion results of meta analysis: significant unadjusted differences between groups.
time to viral-,

20.0% lower

, relative time 0.80, p < 0.001
, treatment 17, control 114.
Effect extraction follows pre-specified rules prioritizing more serious outcomes. Submit updates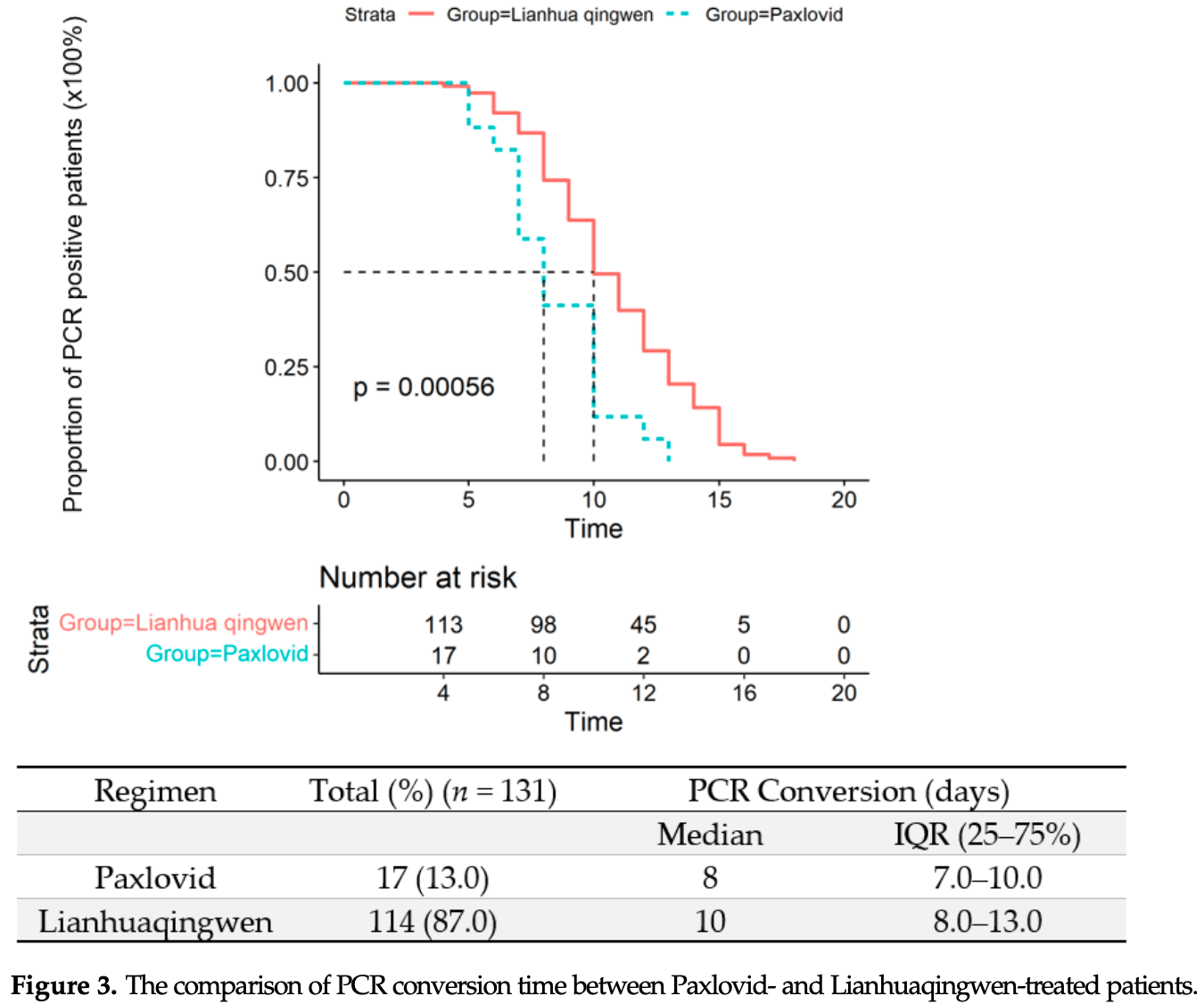 Shao et al., 28 Aug 2022, retrospective, China, peer-reviewed, median age 52.0, 12 authors, study period 6 April, 2022 - 11 May, 2022, this trial compares with another treatment - results may be better when compared to placebo.
Contact: huanggang@sumhs.edu.cn (corresponding author).
Clinical Progression and Outcome of Hospitalized Patients Infected with SARS-CoV-2 Omicron Variant in Shanghai, China
Vaccines, doi:10.3390/vaccines10091409
Background: Studies on the Omicron variant infection have generally been restricted to descriptions of its initial clinical and epidemiological characteristics. We investigated the timelinerelated progression and clinical outcome in hospitalized individuals with the Omicron variant. Methods: We conducted a retrospective, single-centered study including 226 laboratory-confirmed cases with the Omicron variant between 6 April and 11 May 2022 in Shanghai, China. The final date of follow-up was 30 May 2022. Results: Among 226 enrolled patients, the median age was 52 years, and 118 (52.2%) were female. The duration from onset of symptoms to hospitalization was 3 days (interquartile range (IQR): 2-4 days) for symptomatic patients. Cough occurred in 168 patients (74.3%). The median interval to negative reverse-transcriptase PCR tests of nasopharynx swab was 10 days ((IQR): 8-13 days). No radiographic progressions were found in 196 patients on the 7th day after onset of symptoms. The median duration of fever in all participants was 5 days (IQR: 4-6 days). The median PCR conversion time of Paxlovid-treated patients was 8 days (IQR: 7-10 days) compared with that of a traditional Chinese herb medicine lianhuaqingwen (10 days, IQR: 8-13 days) (p = 0.00056). Booster vaccination can significantly decrease the severity of Omicron infection when compared with unvaccinated patients (p = 0.009). In multivariate logistic analysis, erythrocyte sedimentation rate (ESR) (OR = 1.05) was independently related to the severity of the infection. Conclusions: The majority of clinical symptoms of Omicron infection were not severe. Early and aggressive administration of Paxlovid can significantly reduce the PCR conversion time. Booster vaccination should also be highly recommended in the population over 14 years old.
Factors Related to the Severity of the Infection To figure out factors that were associated with the severity of the disease, we compared clinical laboratory characters and vaccination status of asymptomatic (n = 4), mild (n = 180), and moderate (n = 41) patients. In univariate analysis, older age, comorbidity, lymphopenia, high levels of CRP, ESR, lactate, estimated glomerular filtration rate (e-GFR), low levels of albumin, and fewer vaccination doses are all associated with the severity of Omicron infection. In multivariate logistic analysis, ESR (OR = 1.05) was independently related to the severity of the infection (Table 3 ). Discussion On 24 November 2021, the World Health Organization (WHO) announced a new variant of SARS-CoV-2 Omicron in South Africa, and 17 days later, the first case infected with Omicron in China was identified [15] . Recent investigations on the Omicron variant have described the epidemiologic characteristics, initial clinical, laboratory, and radiological findings [4, 6, 16] . To our knowledge, we are the first to describe the temporal clinical progression of Omicron variant infection to date. Our investigation has several distinguished features from current research. As one of the megacities and most important economic centers in China, the policy of "Dynamic zero" was implemented strictly in Shanghai. The whole city underwent completely lockdown during the pandemic outbreak since the end of March 2022 [17] . Under the policy of..
References
Abas, Marfuah, Idroes, Kusumawaty, Fatimawali, None
Nhcotpsro, Notice on printing and distributing the COVID-19 Pneumonia Diagnosis and Treatment Plan (Ninth Trial Version
Park, Siyadatpanah, Alhumaydhi, Mahmud, Tallei, Can the SARS-CoV-2 Omicron Variant Confer Natural Immunity against COVID-19?, Molecules
Widders, Broom, Broom, SARS-CoV-2: The viral shedding vs infectivity dilemma, Infect. Dis. Health
Yan, Zhang, Chen, Jiang, Liu et al., Characteristics of Viral Shedding Time in SARS-CoV-2 Infections: A Systematic Review and Meta-Analysis, Front. Public Health