Retrospective 62,525 hospitalized COVID-19 patients in France, showing that over 50% of patients that died had a contraindication for the use of Paxlovid. Retrospective studies that do not exclude contraindicated patients may significantly overestimate efficacy.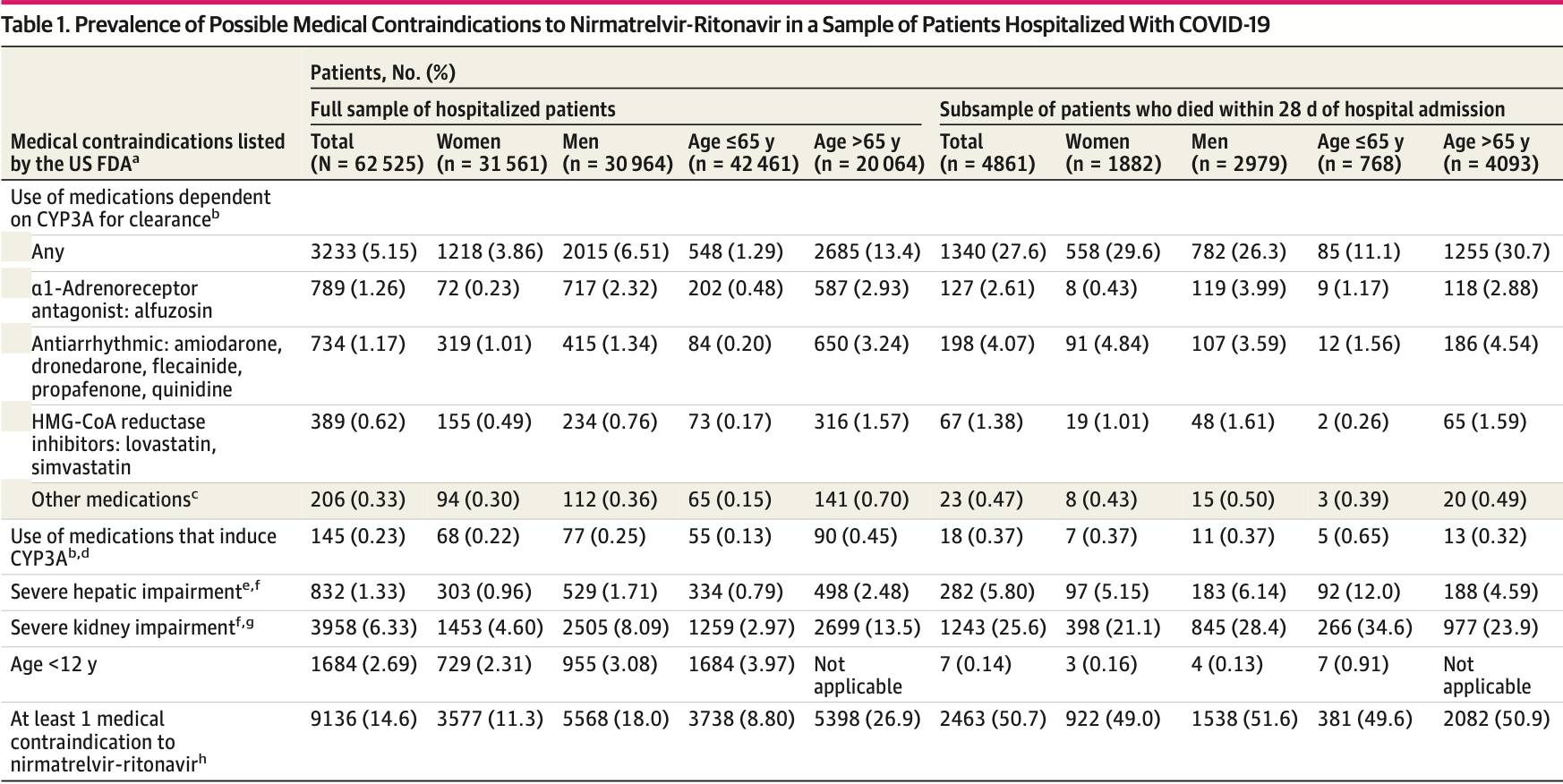 Hoertel et al., 15 Nov 2022, France, peer-reviewed, 5 authors, study period 24 January, 2020 - 30 November, 2021.
Prevalence of Contraindications to Nirmatrelvir-Ritonavir Among Hospitalized Patients With COVID-19 at Risk for Progression to Severe Disease
JAMA Network Open, doi:10.1001/jamanetworkopen.2022.42140
f The FDA does not recommend use of nirmatrelvir-ritonavir in patients with severe hepatic and kidney impairment due to a lack of pharmacokinetic or safety data. g Glomerular fraction ratio of less than 30 mL/min/1.73 m 3 or an International Statistical Classification of Diseases and Related Health Problems, Tenth Revision diagnosis code of dialysis (Z99.2, R88.0). h Patients with multiple contraindications were counted once.
Author Contributions: Drs Hoertel and Sánchez-Rico had full access to all of the data in the study and take responsibility for the integrity of the data and the accuracy of the data analysis. Concept and design: Hoertel, Boulware, Limosin. Acquisition, analysis, or interpretation of data: Hoertel, Sánchez-Rico, Burgun. Drafting of the manuscript: Hoertel. Critical revision of the manuscript for important intellectual content: Boulware, Sánchez-Rico, Burgun, Limosin. Statistical analysis: Hoertel, Sánchez-Rico. Administrative, technical, or material support: Burgun. Supervision: Hoertel, Limosin. Conflict of Interest Disclosures: None reported. Disclaimer: The information contained in this manuscript should not be used as a substitute or replacement for treatment recommendations or other clinical decisions or judgment. Additional Information: This observational study using routinely collected data received approval from the institutional review board of the Assistance Publique-Hôpitaux de Paris (AP-HP) clinical data warehouse (decision CSE-20-20_COVID19, IRB00011591, April 8, 2020). AP-HP clinical Data Warehouse initiatives ensure patient information and informed consent regarding the different approved studies through a transparency portal in accordance with European Regulation on data protection and authorization No. 1980120 from National Commission for Information Technology and Civil Liberties (CNIL). However, patient consent was not applicable, as this study did not..
References