RCT with 21 PVP-I and 20 saline patients gargling for 30 seconds and testing PCR Ct after 30 minutes, showing greater improvement with PVP-I, without statistical significance.Ct values differ across testing platforms, however the reported Ct value difference can represent a large difference in viral load. For example, using the calibration included with the ct2vl converter, the reported difference in mean Ct values corresponds to a reduction in viral load of over 3x for PVP-I.
Analysis of short-term changes in viral load using PCR may not detect effective treatments because PCR is unable to differentiate between intact infectious virus and non-infectious or destroyed virus particles. For example
Alemany, Tarragó‐Gil
perform RCTs with cetylpyridinium chloride (CPC) mouthwash that show no difference in PCR viral load, however there was significantly increased detection of SARS-CoV-2 nucleocapsid protein, indicating viral lysis. CPC inactivates SARS-CoV-2 by degrading its membrane, exposing the nucleocapsid of the virus. To better estimate changes in viral load and infectivity, methods like viral culture or antigen detection that can differentiate intact vs. degraded virus are preferred.
This study is excluded in the after exclusion results of meta analysis: study only provides short-term viral load results.
risk of viral load,

99.5% lower

, RR 0.005, p = 0.37
, treatment mean 1.85 (±7.06) n=21, control mean 0.01 (±5.89) n=20, relative improvement in Ct value.
Effect extraction follows pre-specified rules prioritizing more serious outcomes. Submit updates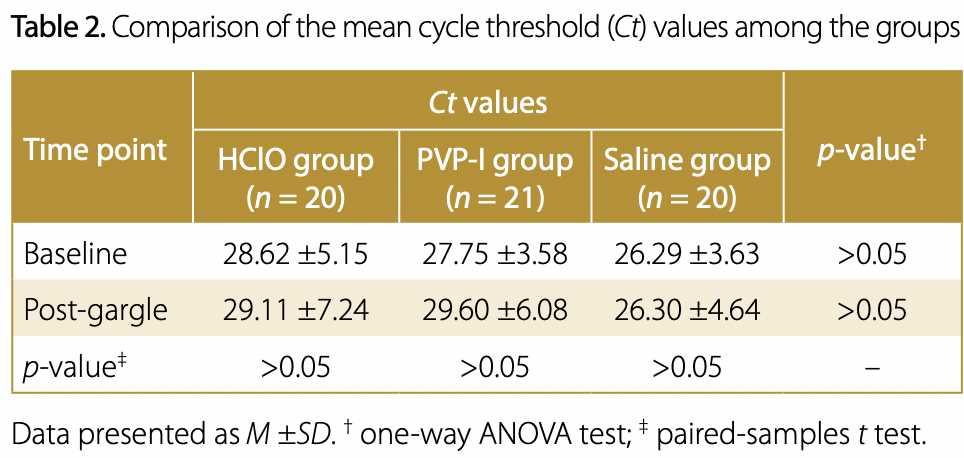 Sevinç Gül et al., 29 Jul 2022, Randomized Controlled Trial, Turkey, peer-reviewed, 4 authors, study period 1 September, 2021 - 1 December, 2021, this trial compares with another treatment - results may be better when compared to placebo, trial
NCT05214196
(history)
.
Contact: semanursevinc@gmail.com.
Effect of oral antiseptics on the viral load of SARS-CoV-2: A randomized controlled trial
Dental and Medical Problems, doi:10.17219/dmp/150831
Background. In the oral cavity, which plays an important role in the transmission of severe acute respiratory syndrome coronavirus 2 (SARS-CoV-2), it is possible to reduce the viral load of SARS-CoV-2 with antiseptics, thereby minimizing the transmission of the virus during dental procedures. Objectives. The aim of this study was to clinically evaluate the effect of the hypochlorous acid (HClO) and povidone-iodine (PVP-I) solutions on the oral viral load of SARS-CoV-2. Material and methods. This randomized controlled trial was conducted on 75 patients hospitalized in the COVID-19 ward of a local hospital. All the patients included in the study were within the first 24 h of hospitalization and the first 5 days of coronavirus disease 2019 (COVID-19) symptoms. The viral load of mouthwash samples was measured with the cycle threshold (Ct) value of SARS-CoV-2 through a realtime reverse transcription polymerase chain reaction (RT-PCR). The patients were divided into 3 groups. The effect on the patient's SARS-CoV-2 viral load was investigated after gargling the mouths and throats for 30 s with HClO, PVP-I and isotonic saline. First, a sample was taken after gargling with isotonic saline, then another sample was taken after gargling for 30 s with a particular antiseptic to determine the viral load of SARS-CoV-2. Results. Comparing the before and after mouthwash samples from all 3 groups, there were no statistically significant differences in the Ct values before and after gargling (p > 0.05). However, there were statistically significant differences in the number of negative samples after the use of HClO and PVP-I, which were positive before gargling (p < 0.05). Conclusions. In the light of the data obtained in this study, there is insufficient evidence that gargling with HClO or PVP-I reduces viral load. Taken together, these findings imply no role for antiseptics in the transmission of SARS-CoV-2 by the aerosol generated during dental procedures, or more generally, SARS-CoV-2 infection control.
Conflict of interest None declared Consent for publication Not applicable. ORCID iDs Sema Nur Sevinç Gül  https://orcid.org/0000-0003-0699-917X Alparslan Dilsiz  https://orcid.org/0000-0001-8462-1725 İmran Sağlık  https://orcid.org/0000-0003-0864-4989 Nurten Nur Aydın  https://orcid.org/0000-0003-4138-2490
References
Lu, These are the occupations with the highest COVID-19 risk, World Economic Forum
Sakarya, Gunay, Karakulak, Ozturk, Ertugrul, Hypochlorous acid: An ideal wound care agent with powerful microbicidal, antibiofilm, and wound healing potency, Wounds