Efficacy of commercial mouth-rinses on SARS-CoV-2 viral load in saliva: randomized control trial in Singapore
Efficacy of commercial mouth-rinses on SARS-CoV-2 viral load in saliva: randomized control trial in Singapore
,
Infection, doi:10.1007/s15010-020-01563-9
,
Small mouthwash RCT with 4 PVP-I patients and 2 water patients concluding that PVP-I may have a sustained effect on reducing the salivary SARS-CoV-2 level in COVID-19 patients. ISRCTN95933274.
relative fold change,

32.9% better

, RR 0.67, p < 0.01
, treatment 4, control 2, PVP-I vs. water, 6 hours.
Effect extraction follows pre-specified rules prioritizing more serious outcomes. Submit updates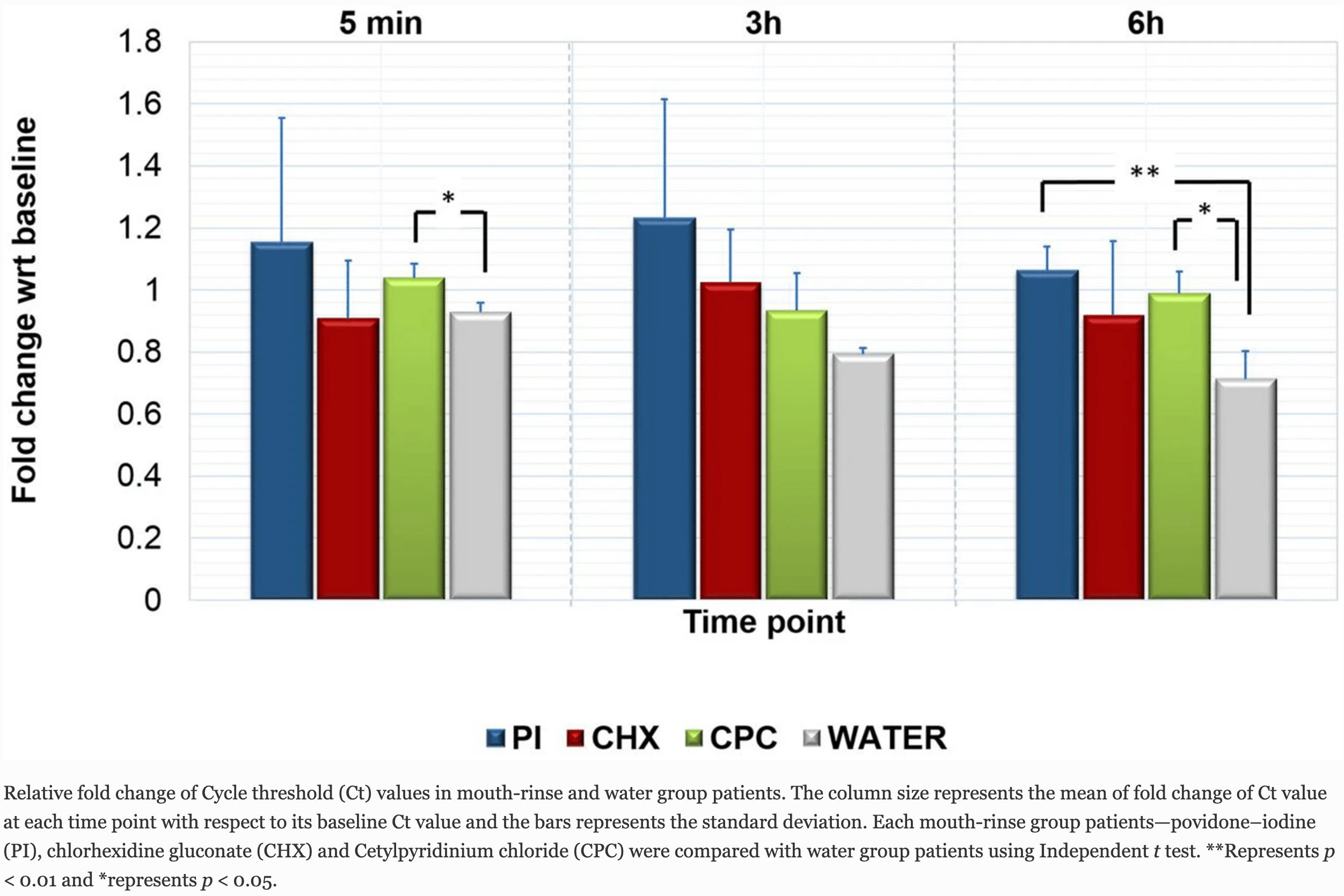 Seneviratne et al., 14 Dec 2020, Randomized Controlled Trial, Singapore, peer-reviewed, 12 authors.
Abstract: Infection (2021) 49:305–311 https://doi.org/10.1007/s15010-020-01563-9 ORIGINAL PAPER Efficacy of commercial mouth‑rinses on SARS‑CoV‑2 viral load in saliva: randomized control trial in Singapore Chaminda J. Seneviratne1,2 · Preethi Balan1,2 · Kwan Ki Karrie Ko3 · Nadeeka S. Udawatte1 · Deborah Lai3 · Dorothy Hui Lin Ng4 · Indumathi Venkatachalam4 · Kheng Sit Lim5 · Moi Lin Ling6 · Lynette Oon3 · Bee Tin Goh1,2 · Xiang Ying Jean Sim4 Received: 25 September 2020 / Accepted: 24 November 2020 / Published online: 14 December 2020 © Springer-Verlag GmbH Germany, part of Springer Nature 2020 Abstract Purpose One of the key approaches to minimize the risk of COVID-19 transmission would be to reduce the titres of SARSCoV-2 in the saliva of infected COVID-19 patients. This is particularly important in high-risk procedures like dental treatment. The present randomized control trial evaluated the efficacy of three commercial mouth-rinse viz. povidone–iodine (PI), chlorhexidine gluconate (CHX) and cetylpyridinium chloride (CPC), in reducing the salivary SARS-CoV-2 viral load in COVID-19 patients compared with water. Methods A total of 36 SARS-CoV-2-positive patients were recruited, of which 16 patients were randomly assigned to four groups—PI group (n = 4), CHX group (n = 6), CPC group (n = 4) and water as control group (n = 2). Saliva samples were collected from all patients at baseline and at 5 min, 3 h and 6 h post-application of mouth-rinses/water. The samples were subjected to SARS-CoV-2 RT-PCR analysis. Results Comparison of salivary Ct values of patients within each group of PI, CHX, CPC and water at 5 min, 3 h and 6 h time points did not show any significant differences. However, when the Ct value fold change of each of the mouth-rinse group patients were compared with the fold change of water group patients at the respective time points, a significant increase was observed in the CPC group patients at 5 min and 6 h and in the PI group patients at 6 h. Conclusion The effect of decreasing salivary load with CPC and PI mouth-rinsing was observed to be sustained at 6 h time point. Within the limitation of the current study, as number of the samples analyzed, the use of CPC and PI formulated that commercial mouth-rinses may be useful as a pre-procedural rinse to help reduce the transmission of COVID-19. ISRCTN (ISRCTN95933274), 09/09/20, retrospectively registered Keyword COVID-19 · SARS-CoV-2 · Mouth-rinses · Saliva · Clinical trial · Antiseptics
Please send us corrections, updates, or comments. Vaccines and treatments are complementary. All practical, effective, and safe means should be used based on risk/benefit analysis. No treatment, vaccine, or intervention is 100% available and effective for all current and future variants. We do not provide medical advice. Before taking any medication, consult a qualified physician who can provide personalized advice and details of risks and benefits based on your medical history and situation.
FLCCC
and
WCH
provide treatment protocols.
Submit