Small mouthwash RCT with 4 PVP-I patients and 2 water patients concluding that PVP-I may have a sustained effect on reducing the salivary SARS-CoV-2 level in COVID-19 patients. ISRCTN95933274.
Analysis of short-term changes in viral load using PCR may not detect effective treatments because PCR is unable to differentiate between intact infectious virus and non-infectious or destroyed virus particles. For example
Alemany, Tarragó‐Gil
perform RCTs with cetylpyridinium chloride (CPC) mouthwash that show no difference in PCR viral load, however there was significantly increased detection of SARS-CoV-2 nucleocapsid protein, indicating viral lysis. CPC inactivates SARS-CoV-2 by degrading its membrane, exposing the nucleocapsid of the virus. To better estimate changes in viral load and infectivity, methods like viral culture or antigen detection that can differentiate intact vs. degraded virus are preferred.
This study is excluded in the after exclusion results of meta analysis: study only provides short-term viral load results.
relative fold change,

32.9% better

, RR 0.67, p < 0.01
, treatment 4, control 2, PVP-I vs. water, 6 hours.
Effect extraction follows pre-specified rules prioritizing more serious outcomes. Submit updates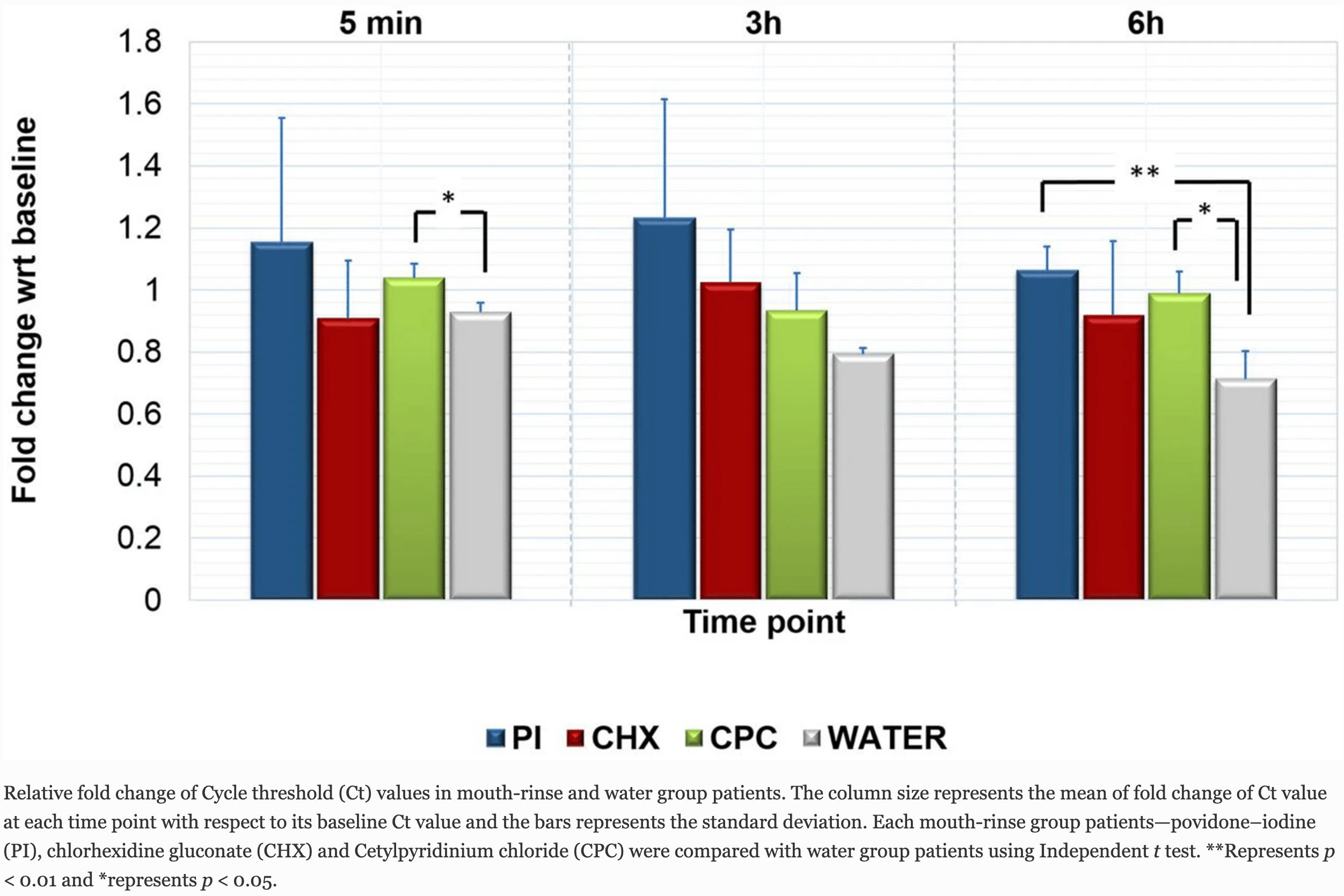 Seneviratne et al., 14 Dec 2020, Randomized Controlled Trial, Singapore, peer-reviewed, 12 authors, study period June 2020 - August 2020.
Efficacy of commercial mouth-rinses on SARS-CoV-2 viral load in saliva: randomized control trial in Singapore
Infection, doi:10.1007/s15010-020-01563-9
Purpose One of the key approaches to minimize the risk of COVID-19 transmission would be to reduce the titres of SARS-CoV-2 in the saliva of infected COVID-19 patients. This is particularly important in high-risk procedures like dental treatment. The present randomized control trial evaluated the efficacy of three commercial mouth-rinse viz. povidone-iodine (PI), chlorhexidine gluconate (CHX) and cetylpyridinium chloride (CPC), in reducing the salivary SARS-CoV-2 viral load in COVID-19 patients compared with water. Methods A total of 36 SARS-CoV-2-positive patients were recruited, of which 16 patients were randomly assigned to four groups-PI group (n = 4), CHX group (n = 6), CPC group (n = 4) and water as control group (n = 2). Saliva samples were collected from all patients at baseline and at 5 min, 3 h and 6 h post-application of mouth-rinses/water. The samples were subjected to SARS-CoV-2 RT-PCR analysis. Results Comparison of salivary Ct values of patients within each group of PI, CHX, CPC and water at 5 min, 3 h and 6 h time points did not show any significant differences. However, when the Ct value fold change of each of the mouth-rinse group patients were compared with the fold change of water group patients at the respective time points, a significant increase was observed in the CPC group patients at 5 min and 6 h and in the PI group patients at 6 h. Conclusion The effect of decreasing salivary load with CPC and PI mouth-rinsing was observed to be sustained at 6 h time point. Within the limitation of the current study, as number of the samples analyzed, the use of CPC and PI formulated that commercial mouth-rinses may be useful as a pre-procedural rinse to help reduce the transmission of COVID-19. ISRCTN (ISRCTN95933274), 09/09/20, retrospectively registered
Author contributions CJS, PB, KKKK, and JSXY contributed to conception, design, data acquisition and interpretation, drafted and critically revised the manuscript. NU, DL, DNHL, IV and GBT contributed to design and data acquisition, drafted and critically revised the manuscript. JLKS, LML, and LO contributed to data acquisition and interpretation, drafted and critically revised the manuscript. All the authors read and approved the final manuscript.
References
Cdc, Interim infection prevention and control guidance for dental settings during the coronavirus disease 2019 (COVID-19) pandemic
Lu, These are the occupations with the highest COVID-19 risk, World Economic Forum
Worldometer, Coronavirus Cases