80 patient RCT testing cetylpyridinium chloride (CPC) mouthwash, showing significantly increased detection of SARS-CoV-2 nucleocapsid protein, indicating viral lysis. CPC inactivates SARS-CoV-2 by degrading its membrane, exposing the nucleocapsid of the virus. Notably, there was no significant difference in viral load detected with PCR, highlighting the limitations of PCR, which is unable to differentiate between intact infectious virus and non-infectious or destroyed virus particles. PCR viral load may not correlate well with actual remaining infectivity after treatments like mouthwashes. This study is excluded in the after exclusion results of meta analysis: study only provides short-term viral load results.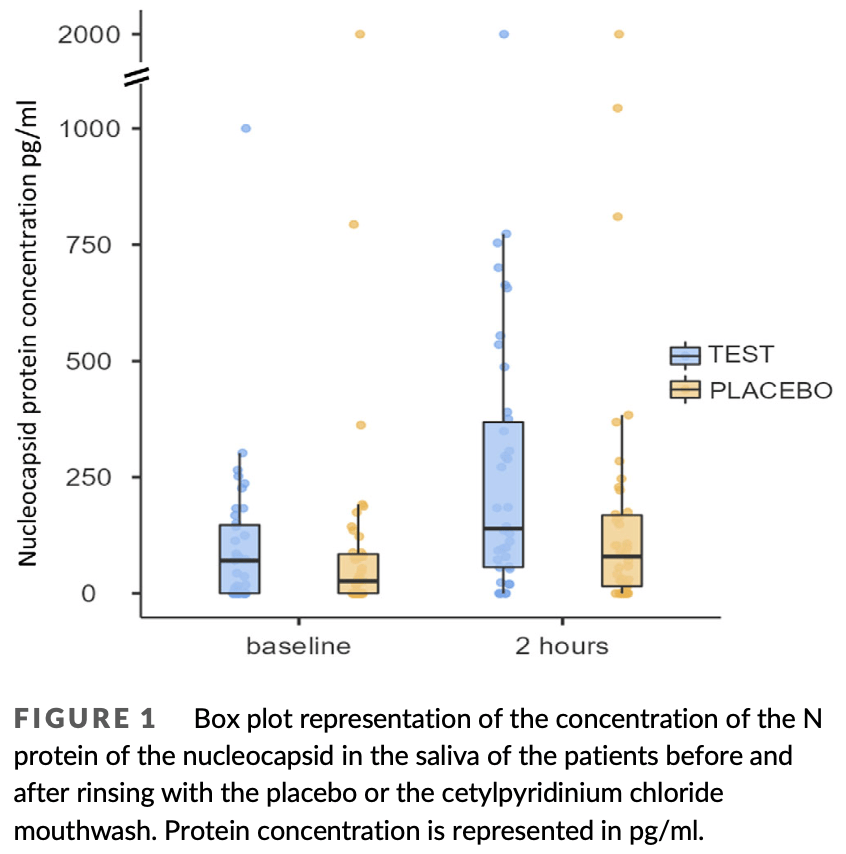 Tarragó‐Gil et al., 28 Nov 2022, placebo-controlled, Spain, peer-reviewed, mean age 48.6, 19 authors, trial
NCT04820803
(history)
.
Contact: rmtarrago@salud.aragon.es, dserrano@salud.aragon.es.
Randomized clinical trial to assess the impact of oral intervention with cetylpyridinium chloride to reduce salivary SARS‐CoV‐2 viral load
Journal of Clinical Periodontology, doi:10.1111/jcpe.13746
Aim: Aerosols released from the oral cavity help spread the SARS-CoV-2 virus. The use of a mouthwash formulated with an antiviral agent could reduce the viral load in saliva, helping to lower the spread of the virus. The aim of this study was to assess the efficacy of a mouthwash with 0.07% cetylpyridinium chloride (CPC) to reduce the viral load in the saliva of Coronavirus disease 2019 (COVID-19) patients. Materials and Methods: In this multi-centre, single-blind, randomized, parallel group clinical trial, 80 COVID-19 patients were enrolled and randomized to two groups, namely test (n = 40) and placebo (n = 40). Saliva samples were collected at baseline and 2 h after rinsing. The samples were analysed by reverse transcriptionquantitative polymerase chain reaction (RT-qPCR) and an enzyme-linked immunosorbent assay test specific for the nucleocapsid (N) protein of SARS-CoV-2. Results: With RT-qPCR, no significant differences were observed between the placebo group and the test group. However, 2 h after a single rinse, N protein concentration in saliva was significantly higher in the test group, indicating an increase in lysed virus. Conclusions: The use of 0.07% CPC mouthwash induced a significant increase in N protein detection in the saliva of COVID-19 patients. Lysis of the virus in the mouth could help reduce the transmission of SARS-CoV-2. However, more studies are required to prove this.
References
Cohen, Statistical power analysis for the behavioral sciences
Xu, Li, Zhu, Liang, Fang et al., Randomized clinical trial to assess the impact of oral intervention with cetylpyridinium chloride to reduce salivary SARS-CoV-2 viral load