Small RCT comparing mouthwashing with PVP-I, Chlorhexidine, and water, showing significant efficacy for both PVP-I and Chlorhexidine, with PVP-I increasing Ct by a mean of 4.45 (p < 0.0001) and Chlorhexidine by a mean of 5.69 (p < 0.0001), compared to no significant difference for water.
relative improvement in Ct value,

88.8% better

, RR 0.11, p < 0.05
, treatment 25, control 9.
Effect extraction follows pre-specified rules prioritizing more serious outcomes. Submit updates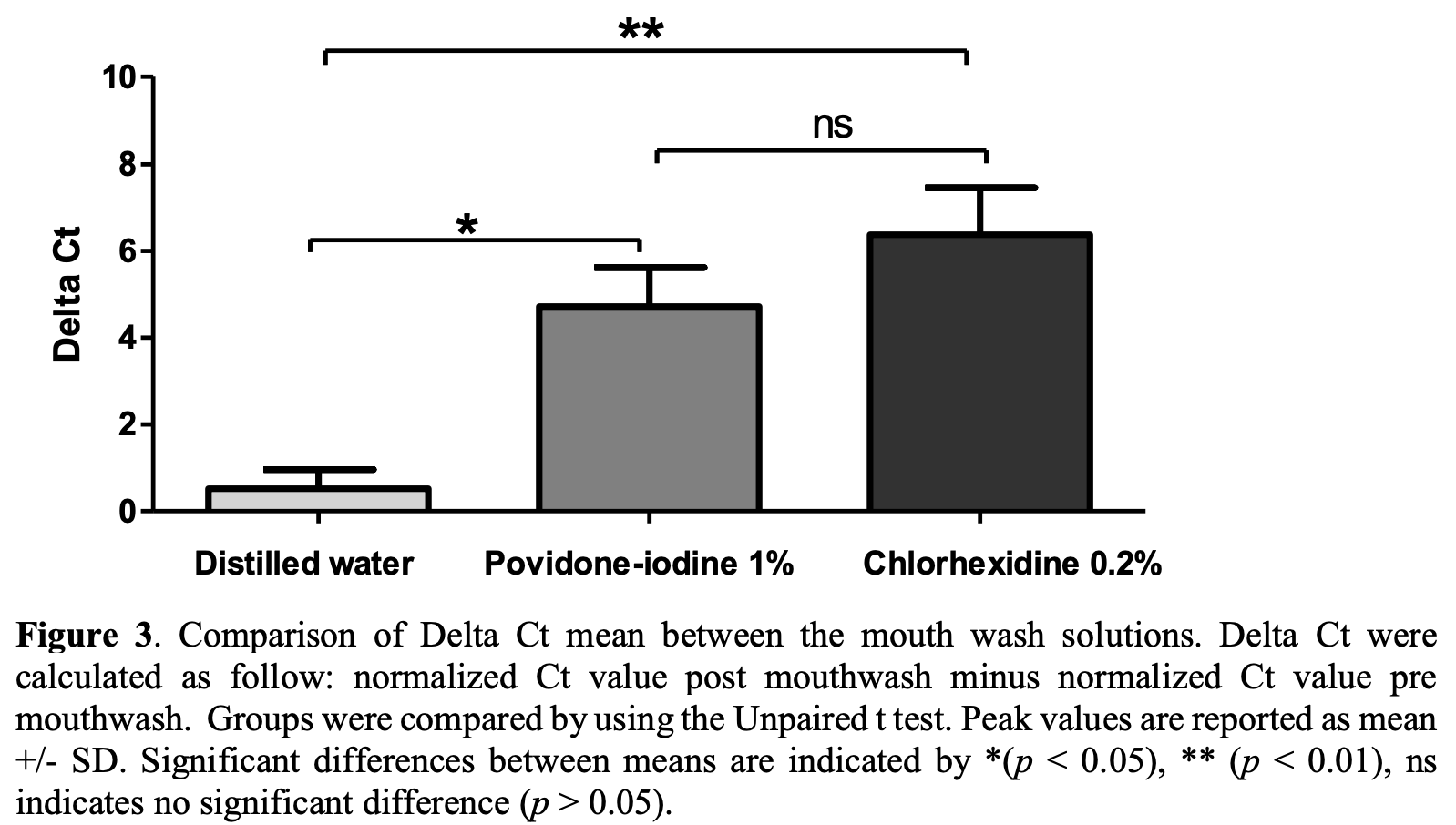 Elzein et al., 17 Mar 2021, Double Blind Randomized Controlled Trial, Lebanon, peer-reviewed, 7 authors.
In vivo evaluation of the virucidal efficacy of chlorhexidine and povidone-iodine mouthwashes against salivary SARS-CoV-2. A randomized-controlled clinical trial
Journal of Evidence Based Dental Practice, doi:10.1016/j.jebdp.2021.101584
This is a PDF file of an article that has undergone enhancements after acceptance, such as the addition of a cover page and metadata, and formatting for readability, but it is not yet the definitive version of record. This version will undergo additional copyediting, typesetting and review before it is published in its final form, but we are providing this version to give early visibility of the article. Please note that, during the production process, errors may be discovered which could affect the content, and all legal disclaimers that apply to the journal pertain.
References
-Huang, Wang, Li, Clinical features of patients infected with 2019 novel coronavirus in Wuhan, China
-Kampf, Todt, Pfaender, Steinmann, Persistence of coronaviruses on inanimate surfaces and their inactivation with biocidal agents [published correction appears in, J Hosp Infect
-Klyn, Cummings, Richardson, Davis, Reduction of bacteria-containing spray produced during ultrasonic scaling, Gen Dent
-Sneader, Drug discovery: a history
Jamal, Shah, Almarzooqi, Overview of transnational recommendations for COVID-19 transmission control in dental care settings
Sakpal, Sample size estimation in clinical trial, Perspect Clin Res