Povidone-Iodine Use in Sinonasal and Oral Cavities: A Review of Safety in the COVID-19 Era
Povidone-Iodine Use in Sinonasal and Oral Cavities: A Review of Safety in the COVID-19 Era
,
Ear, Nose & Throat Journal, doi:10.1177/0145561320932318
,
Review of povidone-iodine finding that it can safely be used in the nose at concentrations up to 1.25% and in the mouth at concentrations up to 2.5% for up to 5 months.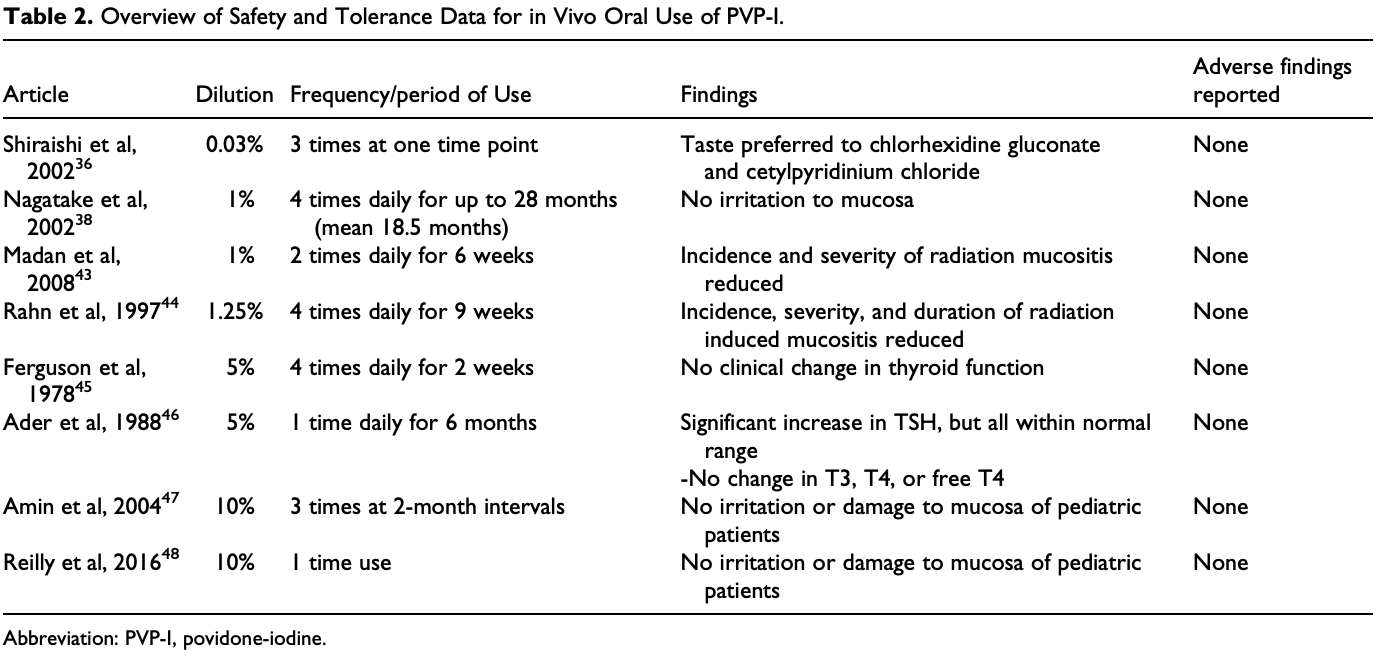 Frank et al., 10 Jun 2020, peer-reviewed, 4 authors.
Abstract: Scholarly Review Povidone-Iodine Use in Sinonasal and Oral Cavities: A Review of Safety in the COVID-19 Era Ear, Nose & Throat Journal 2020, Vol. 99(9) 586–593 ª The Author(s) 2020 Article reuse guidelines: sagepub.com/journals-permissions DOI: 10.1177/0145561320932318 journals.sagepub.com/home/ear Samantha Frank, MD1 , Joseph Capriotti, MD2, Seth M. Brown, MD, MBA1,3, and Belachew Tessema, MD1,3 Abstract Objectives: Approaches to nasal and oral decontamination with povidone-iodine (PVP-I) have been published to reduce nosocomial spread of Severe Acute Respiratory Syndrome-Coronavirus 2 (SARS-CoV-2). The safety of PVP-I topically applied to the nasal and oral cavity is addressed by a literature review. The specific efficacy of PVP-I against coronaviruses and its potential efficacy against SARS-CoV-2 is discussed. Methods: A review was performed utilizing PubMed and Cochrane Databases. All citations in protocols for nasal and oral PVP-I use regarding COVID-19 were independently reviewed. Results: Povidone-iodine has been safely administered for up to 5 months in the nasal cavity and 6 months in the oral cavity. Concentrations less than 2.5% in vitro do not reduce ciliary beat frequency or cause pathological changes in ciliated nasal epithelium, upper respiratory, or mucosal cells. Adverse events with oral use have not been reported in conscious adults or children. Allergy and contact sensitivity is rare. Chronic mucosal use up to 5% has not been shown to result in clinical thyroid disease. PVP-I is rapidly virucidal and inactivates coronaviruses, including SARS-CoV and Middle East Respiratory Syndrome (MERS). Conclusions: Povidone-iodine can safely be used in the nose at concentrations up to 1.25% and in the mouth at concentrations up to 2.5% for up to 5 months. Povidone-iodine rapidly inactivates coronaviruses, including SARS and MERS, when applied for as little as 15 seconds. There is optimism that PVP-I can inactivate SARS-CoV-2, but in vitro efficacy has not yet been demonstrated. Keywords povidone-iodine, SARS-CoV-2, nasal decontamination, oral decontamination, safety
Please send us corrections, updates, or comments. Vaccines and treatments are complementary. All practical, effective, and safe means should be used based on risk/benefit analysis. No treatment, vaccine, or intervention is 100% available and effective for all current and future variants. We do not provide medical advice. Before taking any medication, consult a qualified physician who can provide personalized advice and details of risks and benefits based on your medical history and situation.
FLCCC
and
WCH
provide treatment protocols.
Submit