Retrospective 586 diabetic hospitalized COVID-19 patients in Turkey, showing lower mortality with existing metformin use.
risk of death,

41.5% lower

, RR 0.58, p = 0.02
, treatment 120, control 120, overall mortality, Cox regression in matched group, propensity score matching.
Effect extraction follows pre-specified rules prioritizing more serious outcomes. Submit updates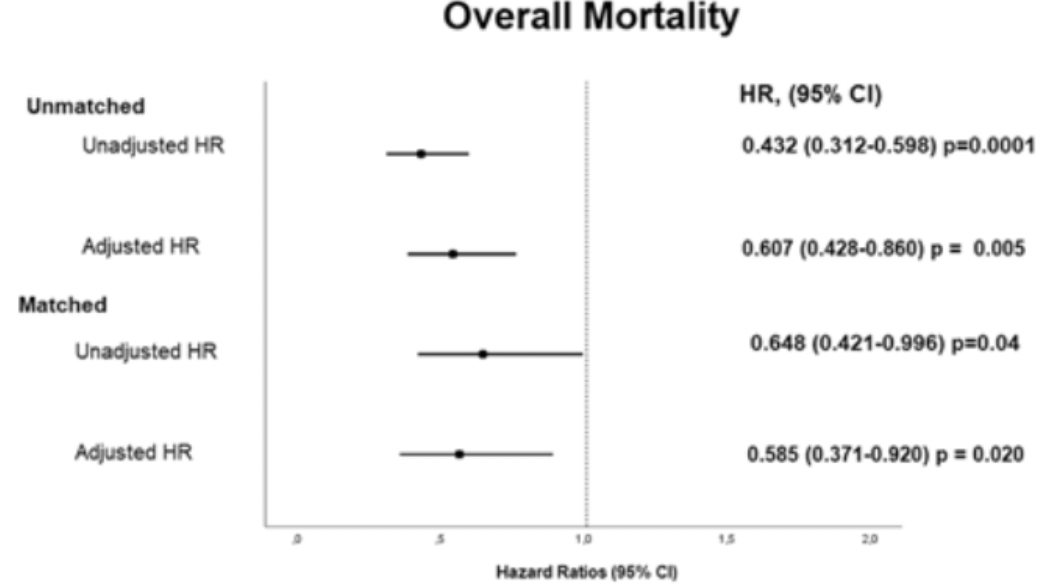 Saygili et al., 29 Oct 2021, retrospective, Turkey, peer-reviewed, 5 authors.
Preadmission usage of metformin and mortality in COVID-19 patients including the post-discharge period
Irish Journal of Medical Science (1971 -), doi:10.1007/s11845-021-02823-9
Background The effect of preadmission metformin usage (PMU) on the mortality of coronavirus disease-2019 (COVID-19) patients with diabetes is conflicting. Most studies have focused on in-hospital mortality; however, mortality after discharge also increases in COVID-19 patients. Aims Examining the effect of PMU on all-cause mortality, including the post-discharge period. Methods Patients with diabetes who were hospitalised in 2020 due to COVID-19 were included in the study. They were divided into two groups: those with a history of metformin use (MF( +)) and those without such history (MF( −)). Propensity score matching (PSM) was performed at a ratio of 1:1 for age and sex. COX regression analyses were used to demonstrate risk factors for mortality. Results We investigated 4103 patients hospitalised for COVID-19. After excluding those without diabetes or with chronic liver/kidney disease, we included the remaining 586 patients, constituting 293 women (50%) with an overall mean age of 66 ± 11.9 years. After PSM analysis, the in-hospital and post-discharge mortality rates were higher in the MF( −) group though not significantly different. However, overall mortality was higher in the MF( −) group (51 (42.5%) vs. 35 (29.2%), p = 0.031). For overall mortality, the adjusted HR was 0.585 (95% CI: 0.371 − 0.920, p = 0.020) in the MF( +) group. Conclusion PMU is associated with reducing all-cause mortality. This effect starts from the in-hospital period and becomes more significant with the post-discharge period. The main limitations were the inability to evaluate the compliance with metformin and the effects of other medications due to retrospective nature.
Declarations Ethics approval The study was approved by the Local Ethics Committee of the Canakkale Onsekiz Mart University Medical School (2011-KAEK-27/2021-E.2100041806). Conflict of interest The authors declare no competing interests. Publisher's Note Springer Nature remains neutral with regard to jurisdictional claims in published maps and institutional affiliations.
References
Mortensen, Anzueto, Association of metformin and mortality for patients with diabetes who are hospitalised with pneumonia