Retrospective 180,351 patients in Israel, 4,737 treated with paxlovid, showing significantly lower combined severe COVID-19 / mortality with treatment.
Confounding by contraindication.
[Hoertel]
find that over 50% of patients that died had a contraindication for the use of Paxlovid. Retrospective studies that do not exclude contraindicated patients may significantly overestimate efficacy.
risk of severe case or mortality,

46.0% lower

, HR 0.54, p < 0.001
, treatment 4,737, control 175,614, adjusted per study, multivariable, Cox proportional hazards.
Effect extraction follows pre-specified rules prioritizing more serious outcomes. Submit updates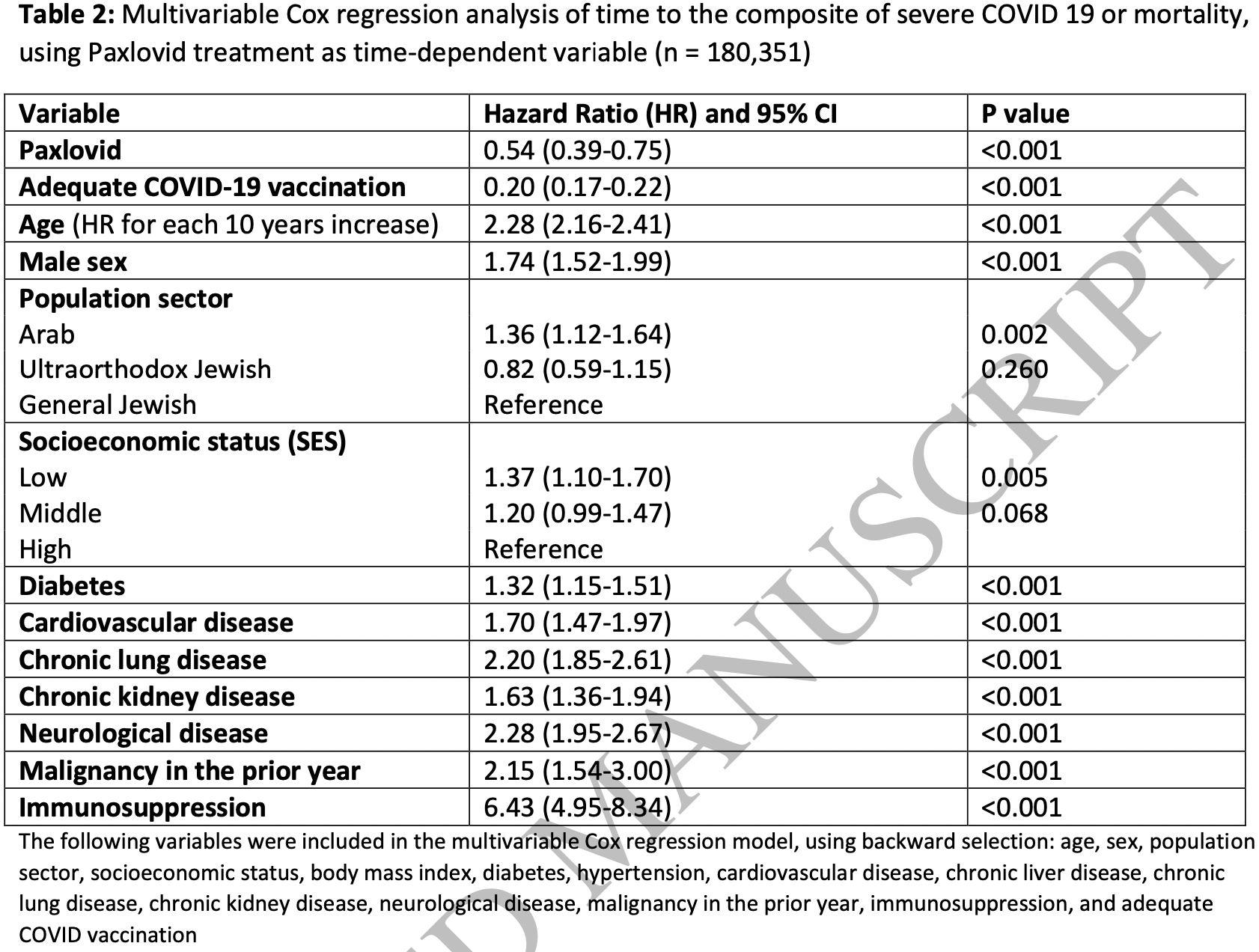 Najjar-Debbiny et al., 2 Jun 2022, retrospective, Israel, peer-reviewed, 8 authors, study period 1 January, 2022 - 28 February, 2022.
Contact: ronzana@clalit.org.il, ronza.najjar@gmail.com.
Effectiveness of Paxlovid in Reducing Severe COVID-19 and Mortality in High Risk Patients
doi:10.1093/cid/ciac443/6599020
Background: Paxlovid was granted emergency use authorization for the treatment of mild to moderate COVID-19, based on the interim analysis of EPIC-HR trial. Paxlovid effectiveness needs to be assessed in a noncontrolled setting. In this study we used population-based real world data to evaluate the effectiveness of Paxlovid. Methods: The database of the largest healthcare provider in Israel was used to identify all adults aged 18 years or older with first ever positive test for SARS-CoV-2 between January and February 2022, who were at high risk for severe COVID-19 and had no contraindications for Paxlovid use. Patients were included irrespective of their COVID-19 vaccination status. Cox hazard regression was used to estimate the 28 day HR for severe COVID-19 or mortality with Paxlovid examined as time-dependent variable. Results: Overall, 180,351 eligible were included, of them only 4,737 (2.6%) were treated with Paxlovid, and 135,482 (75.1%) had adequate COVID-19 vaccination status. Both Paxlovid and adequate COVID-19 vaccination status were associated with significant decrease in the rate of severe COVID-19 or mortality with adjusted HR 0.54 (95% CI, 0.39-0.75) and 0.20 (95% CI, 0.17-0.22), respectively. Paxlovid appears to be more effective in older patients, immunosuppressed patients, and patients with underlying neurological or cardiovascular disease (interaction p-value <0.05 for all). No significant interaction was detected between Paxlovid treatment and COVID-19 vaccination status. Conclusions: This study suggests that in the era of omicron and in real life setting Paxlovid is highly effective in reducing the risk of severe COVID-19 or mortality.
All data relevant to this analysis were presented in the paper.
References
Arbel, Hammerman, Sergienko, BNT162b2 Vaccine Booster and Mortality Due to Covid-19, N Engl J Med
Bajema, Dahl, Evener, Comparative Effectiveness and Antibody Responses to Moderna and Pfizer-BioNTech COVID-19 Vaccines among Hospitalized Veterans -Five Veterans
Barda, Dagan, Ben-Shlomo, Safety of the BNT162b2 mRNA Covid-19 Vaccine in a Nationwide Setting, N Engl J Med
Food, Emergency Use Authorization 105
Parums, Editorial: Current Status of Oral Antiviral Drug Treatments for SARS-CoV-2 Infection in Non-Hospitalized Patients, Med Sci Monit
Pfizer, Pfizer Announces Additional Phase 2/3 Study Results Confirming Robust Efficacy of Novel COVID-19 Oral Antiviral Treatment Candidate in Reducing Risk of Hospitalization or Death
Rosenberg, Holtgrave, New COVID-19 Cases and Hospitalizations Among Adults, by Vaccination Status
Weinreich, Sivapalasingam, REGN-COV2, a Neutralizing Antibody Cocktail, in Outpatients with Covid-19, N Engl J Med