PSM retrospective in South Korea, showing lower risk of COVID-19 cases with H2RA (including famotidine) and PPA use, but no significant difference in severe outcomes (few events, results provided for the combined groups only).
risk of case,

36.3% lower

, RR 0.64, p < 0.001
, treatment 105 of 5,594 (1.9%), control 480 of 15,432 (3.1%), NNT 81, adjusted per study, odds ratio converted to relative risk, multivariable, model 3.
Effect extraction follows pre-specified rules prioritizing more serious outcomes. Submit updates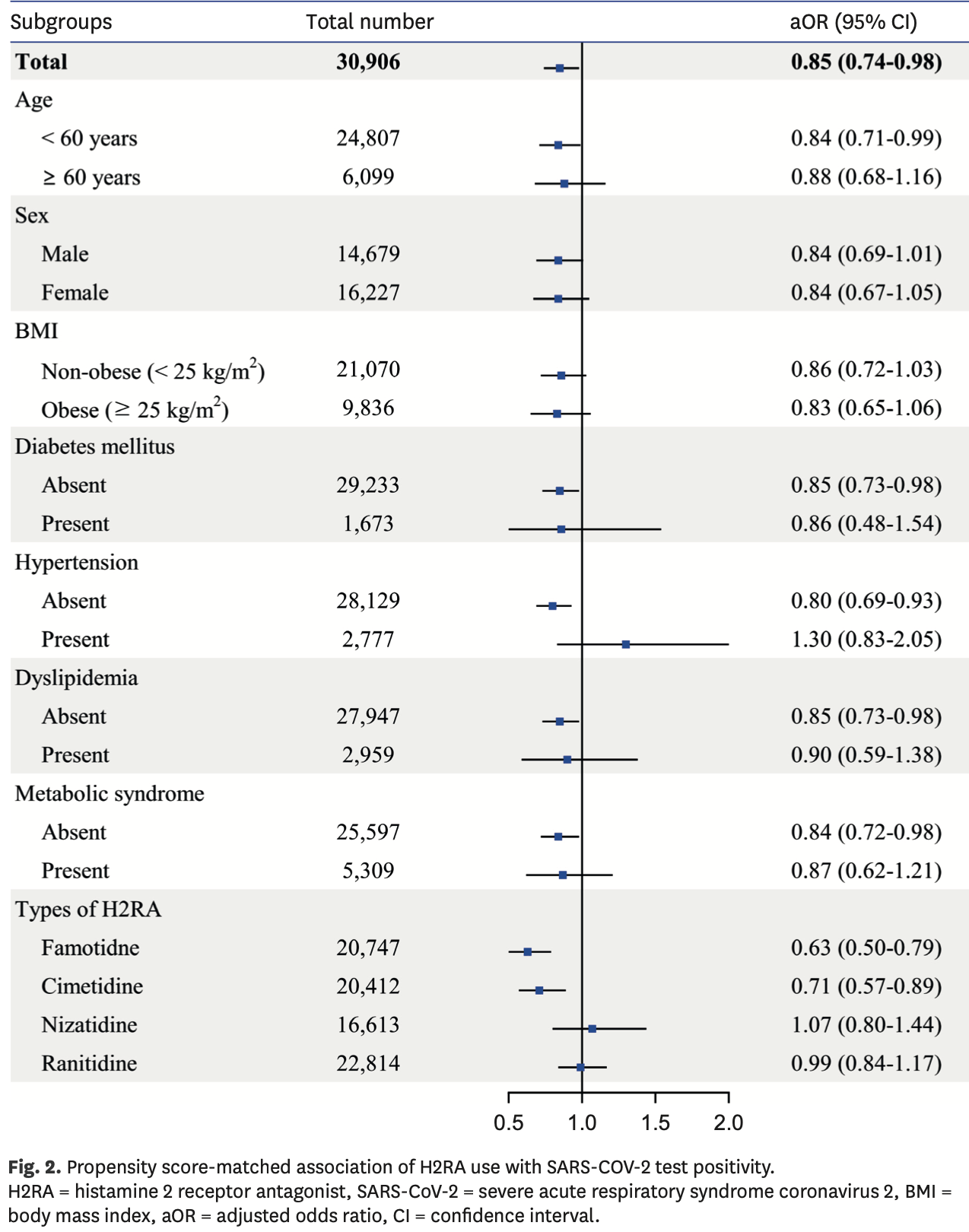 Kim et al., 21 Mar 2023, retrospective, South Korea, peer-reviewed, 8 authors, study period 1 January, 2020 - 4 June, 2020.
Contact: crystal522@daum.net.
Histamine-2 Receptor Antagonists and Proton Pump Inhibitors Are Associated With Reduced Risk of SARS-CoV-2 Infection Without Comorbidities Including Diabetes, Hypertension, and Dyslipidemia: A Propensity Score-Matched Nationwide Cohort Study
Journal of Korean Medical Science, doi:10.3346/jkms.2023.38.e99
Background: This study aimed to identify the effect of histamine-2 receptor antagonist (H2RA) and proton pump inhibitor (PPI) use on the positivity rate and clinical outcomes of coronavirus disease 2019 (COVID-19). Methods: We performed a nationwide cohort study with propensity score matching using medical claims data and general health examination results from the Korean National Health Insurance Service. Individuals aged ≥ 20 years who were tested for severe acute respiratory syndrome coronavirus 2 (SARS-CoV-2) between 1 January and 4 June 2020 were included. Patients who were prescribed H2RA or PPI within 1 year of the test date were defined as H2RA and PPI users, respectively. The primary outcome was SARS-CoV-2 test positivity, and the secondary outcome was the instance of severe clinical outcomes of COVID-19, including death, intensive care unit admission, and mechanical ventilation administration. Results: Among 59,094 patients tested for SARS-CoV-2, 21,711 were H2RA users, 12,426 were PPI users, and 24,957 were non-users. After propensity score matching, risk of SARS-CoV-2 infection was significantly lower in H2RA users (odds ratio [OR], 0.85; 95% confidence interval [CI], 0.74-0.98) and PPI users (OR, 0.62; 95% CI, 0.52-0.74) compared to non-users. In patients with comorbidities including diabetes, dyslipidemia, and hypertension, the effect of H2RA and PPI against SARS-CoV-2 infection was not significant, whereas the protective effect was maintained in patients without such comorbidities. Risk of severe clinical outcomes in COVID-19 patients showed no difference between users and non-users after propensity score matching either in H2RA users (OR, 0.89; 95% CI, 0.52-1.54) or PPI users (OR, 1.22; 95% CI, 0.60-2.51). Conclusion: H2RA and PPI use is associated with a decreased risk for SARS-CoV-2 infection but does not affect clinical outcome. Comorbidities including diabetes, hypertension, and dyslipidemia seem to offset the protective effect of H2RA and PPI.
Ethics statement The requirement for written consent from patients was waived by the Institutional Review Board of Seoul National University Hospital (IRB No. 2102-004-1192) based on the observational nature of the study. All patient-related identifiers were anonymized for confidentiality. SUPPLEMENTARY MATERIALS Supplementary Supplementary Table 6 Propensity score matched baseline characteristics and SARS-CoV-2 test positivity in H2RA user, PPI user, and non-user groups in the entire cohort (including individuals with and without health examination records) Click here to view Supplementary Table 7 Baseline characteristics of patients diagnosed with COVID-19 according to previous use of H2RA and PPI Click here to view Supplementary Table 8 Propensity score matched baseline characteristics and clinical outcomes of COVID-19 patients in H2RA user, PPI user, and non-user groups Click here to view Supplementary Table 9 Comparison of previous studies that evaluated the effect of H2RA and PPI on the risk of SARS-CoV-2 infection and clinical outcomes of COVID-19 Click here to view Supplementary Fig. 1 Flowchart of population selection for clinical outcomes in COVID-19 patients. Click here to view
References
Alberti, Eckel, Grundy, Zimmet, Cleeman et al., Harmonizing the metabolic syndrome: a joint interim statement of the International Diabetes Federation Task Force on Epidemiology and Prevention; National Heart, Lung, and Blood Institute; American Heart Association; World Heart Federation; International Atherosclerosis Society; and International Association for the Study of Obesity, Circulation
Blanc, Waechter, Vogel, Schorr, Demuynck et al., Therapeutic prevention of COVID-19 in elderly: a case-control study, Geroscience
Grasselli, Zangrillo, Zanella, Antonelli, Cabrini et al., Baseline characteristics and outcomes of 1591 patients infected with SARS-CoV-2 admitted to ICUs of the Lombardy region, Italy, JAMA
Parsons, Reducing bias in a propensity score matched-pair sample using greedy matching techniques