In Vitro
study showing lower pH increased ACE2 expression and viral load on SARS-CoV-2 infection, and retrospective study showing proton pump inhibitor use, which is correlated with low gastric pH-related diseases, was associated with higher mortality.
2 preclinical studies support the efficacy of alkalinization for COVID-19: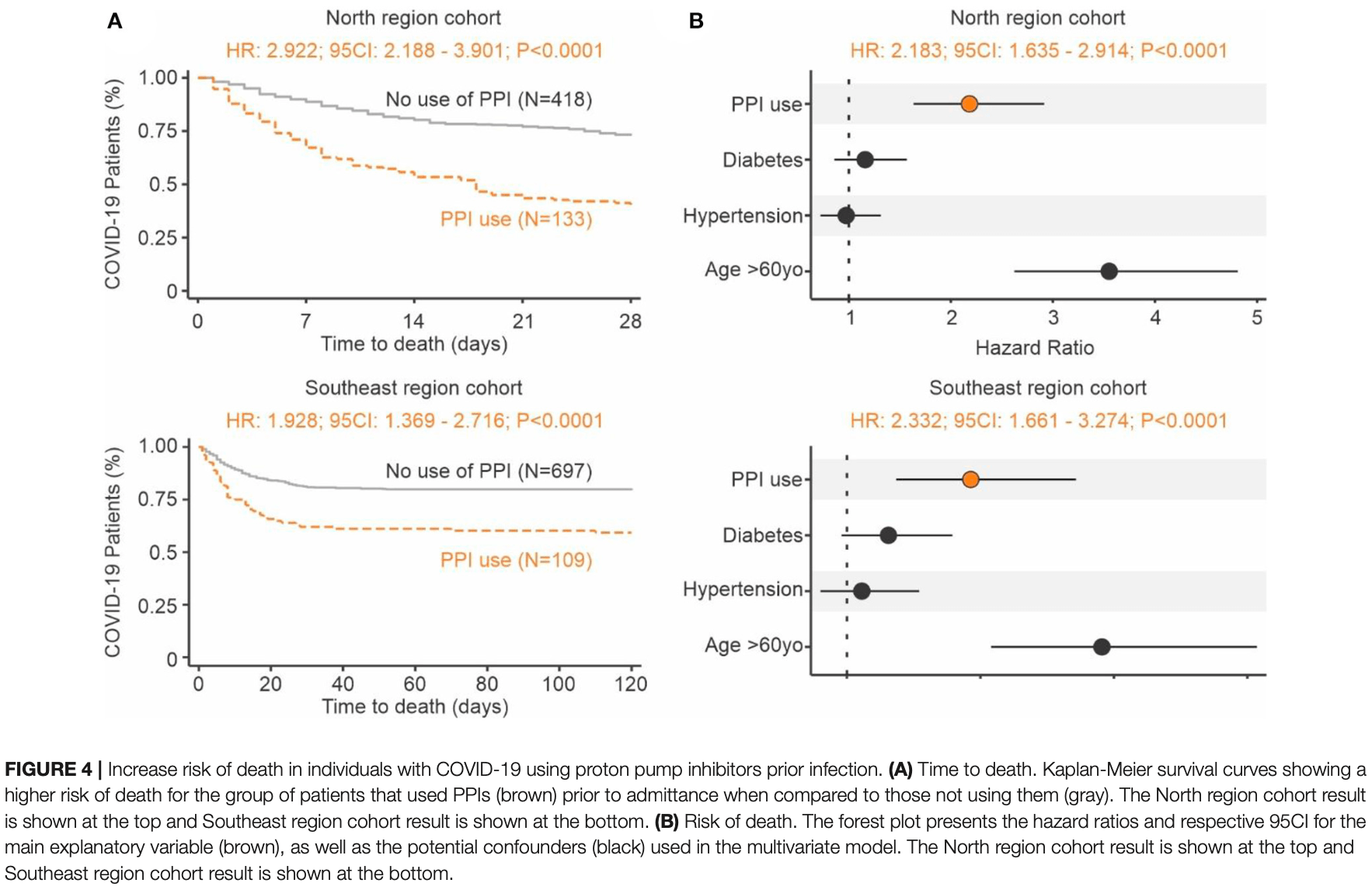 Jimenez et al., 20 Aug 2021, Brazil, peer-reviewed, 21 authors.
Contact: hnakaya@usp.br.
Acid pH Increases SARS-CoV-2 Infection and the Risk of Death by COVID-19
Frontiers in Medicine, doi:10.3389/fmed.2021.637885
The severe acute respiratory syndrome coronavirus 2 (SARS-CoV-2) can infect a broad range of human tissues by using the host receptor angiotensin-converting enzyme 2 (ACE2). Individuals with comorbidities associated with severe COVID-19 display higher levels of ACE2 in the lungs compared to those without comorbidities, and conditions such as cell stress, elevated glucose levels and hypoxia may also increase the expression of ACE2. Here, we showed that patients with Barrett's esophagus (BE) have a higher expression of ACE2 in BE tissues compared to normal squamous esophagus, and that the lower pH associated with BE may drive this increase in expression. Human primary monocytes cultured in reduced pH displayed increased ACE2 expression and higher viral load upon SARS-CoV-2 infection. We also showed in two independent cohorts of 1,357 COVID-19 patients that previous use of proton pump inhibitors is associated with 2-to 3-fold higher risk of death compared to those not using the drugs. Our work suggests that pH has a great influence on SARS-CoV-2 Infection and COVID-19 severity.
DATA AVAILABILITY STATEMENT The original contributions generated for this study are included in the article/Supplementary Material, further inquiries can be directed to the corresponding author/s. ETHICS STATEMENT The studies involving human participants were reviewed and approved by Brazilian Committee of Ethics in Human Research (CAAE: 30152620.1.0000.0005 and 30615920.2.0000.0005 for North region cohort, and 31588920.0.0000.5415 for Southeast region cohort). The patients/participants provided their written informed consent to participate in this study. AUTHOR CONTRIBUTIONS LJ, AO, LF, and HN performed the transcriptome analyses. AC, GD, LB, JV, GF, SM, JL, and PM-V performed the experimental work. VS, MB, NZ, FA, MN, FV, GC, WM, and ML performed the clinical analysis. HN coordinated the study. LJ and HN wrote the manuscript with inputs from all of the coauthors. All authors contributed to the article and approved the submitted version. SUPPLEMENTARY MATERIAL The Supplementary Material for this article can be found online at: https://www.frontiersin.org/articles/10.3389/fmed. 2021.637885/full#supplementary-material Conflict of Interest: The authors declare that the research was conducted in the absence of any commercial or financial relationships that could be construed as a potential conflict of interest. Publisher's Note: All claims expressed in this article are solely those of the authors and do not necessarily represent those of their affiliated organizations,..
References
Prada, Lima, Nakaya, MetaVolcanoR: Gene Expression Meta-analysis Visualization Tool