Therapeutic prevention of COVID-19 in elderly: a case–control study
Retrospective 179 patients in France exposed to COVID-19 showing, without statistical significance, a higher risk of cases, and a lower risk of mortality among cases with existing metformin treatment.
risk of death,

78.6% lower

, RR 0.21, p = 0.06
, treatment 1 of 14 (7.1%), control 25 of 75 (33.3%), NNT 3.8, COVID+.
risk of case,

43.7% higher

, RR 1.44, p = 0.12
, treatment 11 of 16 (68.8%), control 78 of 163 (47.9%).
Effect extraction follows pre-specified rules prioritizing more serious outcomes. Submit updates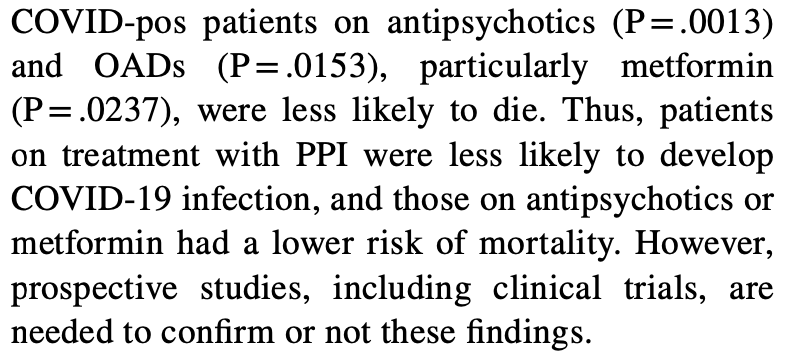 Blanc et al., 17 Jul 2021, retrospective, France, peer-reviewed, 22 authors.
Abstract: GeroScience (2021) 43:2333–2343 https://doi.org/10.1007/s11357-021-00397-z ORIGINAL ARTICLE Therapeutic prevention of COVID‑19 in elderly: a case–control study Frederic Blanc · Cedric Waechter · Thomas Vogel · Benoit Schorr · Catherine Demuynck · Catherine Martin Hunyadi · Maxence Meyer · Denata Mutelica · Nadjiba Bougaa · Samira Fafi‑Kremer · Lidia Calabrese · Elise Schmitt · Delphine Imperiale · Catherine Jehl · Alexandre Boussuge · Carmen Suna · François Weill · Alexia Matzinger · Candice Muller · Patrick Karcher · Georges Kaltenbach · Erik Sauleau Received: 1 May 2020 / Accepted: 31 May 2021 / Published online: 17 July 2021 © American Aging Association 2021 Abstract COVID-19 is a particularly aggressive disease for the elderly as 86% of deaths related to COVID-19 occur in people over 65 years of age. Despite the urgent need for a preventive treatment, there are currently no serious leads, other than the vaccination. The aim of this retrospective casecontrol study is to find a pharmacological preventive treatment of COVID-19 in elderly patients. One-hundred-seventy-nine patients had been in contact with other COVID-19 patients at home or in hospital, of whom 89 had tested RT-PCR-positive (COVID-pos) for the virus and 90 had tested RT-PCR-negative (COVID-neg). Treatments within F. Blanc (*) · E. Sauleau ICube Laboratory, UMR 7357 and CNRS, University of Strasbourg, Strasbourg, France e-mail: f.blanc@unistra.fr C. Waechter · T. Vogel · B. Schorr · C. Demuynck · C. M. Hunyadi · M. Meyer · D. Mutelica · N. Bougaa · L. Calabrese · E. Schmitt · D. Imperiale · C. Jehl · A. Boussuge · C. Suna · F. Weill · A. Matzinger · C. Muller · P. Karcher · G. Kaltenbach Pôle de Gériatrie, La Robertsau Geriatric Hospital, University Hospital of Strasbourg, Strasbourg, France S. Fafi‑Kremer Virology Department, University Hospital of Strasbourg, Strasbourg, France 15 days prior to RT-PCR (including antihypertensive drugs, antipsychotics, antibiotics, nonsteroidal anti-inflammatory drugs, proton pump inhibitors (PPIs), oral antidiabetics (OADs), corticosteroids, immunosuppressants), comorbidities, symptoms, laboratory values, and clinical outcome were all collected. COVID-pos patients more frequently had a history of diabetes (P = .016) and alcoholism (P = .023), a lower leukocyte count (P = .014) and a higher mortality rate — 29.2% versus 14.4% — (P = .014) when compared to COVID-neg patients. Patients on PPIs were 2.3 times less likely (odds ratio [OR] = 0.4381, 95% confidence interval [CI] [0.2331, 0.8175], P = .0053) to develop COVID19 infection, compared to those not on PPIs. No other treatment decreased or increased this risk. COVID-pos patients on antipsychotics (P = .0013) and OADs (P = .0153), particularly metformin (P = .0237), were less likely to die. Thus, patients on treatment with PPI were less likely to develop COVID-19 infection, and those on antipsychotics or metformin had a lower risk of mortality. However, prospective studies, including clinical trials, are needed to confirm or not these findings. Keywords COVID-19 · Prevention · Elderly · Geriatrics · Proton pump inhibitors · Antipsychotics · Metformin Vol.:(0123456789) 13
Please send us corrections, updates, or comments. Vaccines and treatments are complementary. All practical, effective, and safe means should be used based on risk/benefit analysis. No treatment, vaccine, or intervention is 100% available and effective for all current and future variants. We do not provide medical advice. Before taking any medication, consult a qualified physician who can provide personalized advice and details of risks and benefits based on your medical history and situation.
FLCCC
and
WCH
provide treatment protocols.
Submit