Reanalysis of Thomas et al. showing that vitamin C increased the recovery rate by 70%,
p
= 0.025.
Currently there are
64 vitamin C for COVID-19 studies
, showing 20% lower mortality
[10‑29%]
, 16% lower ventilation
[-1‑31%]
, 15% lower ICU admission
[2‑26%]
, 16% lower hospitalization
[4‑27%]
, and 6% more cases
[-13‑30%]
.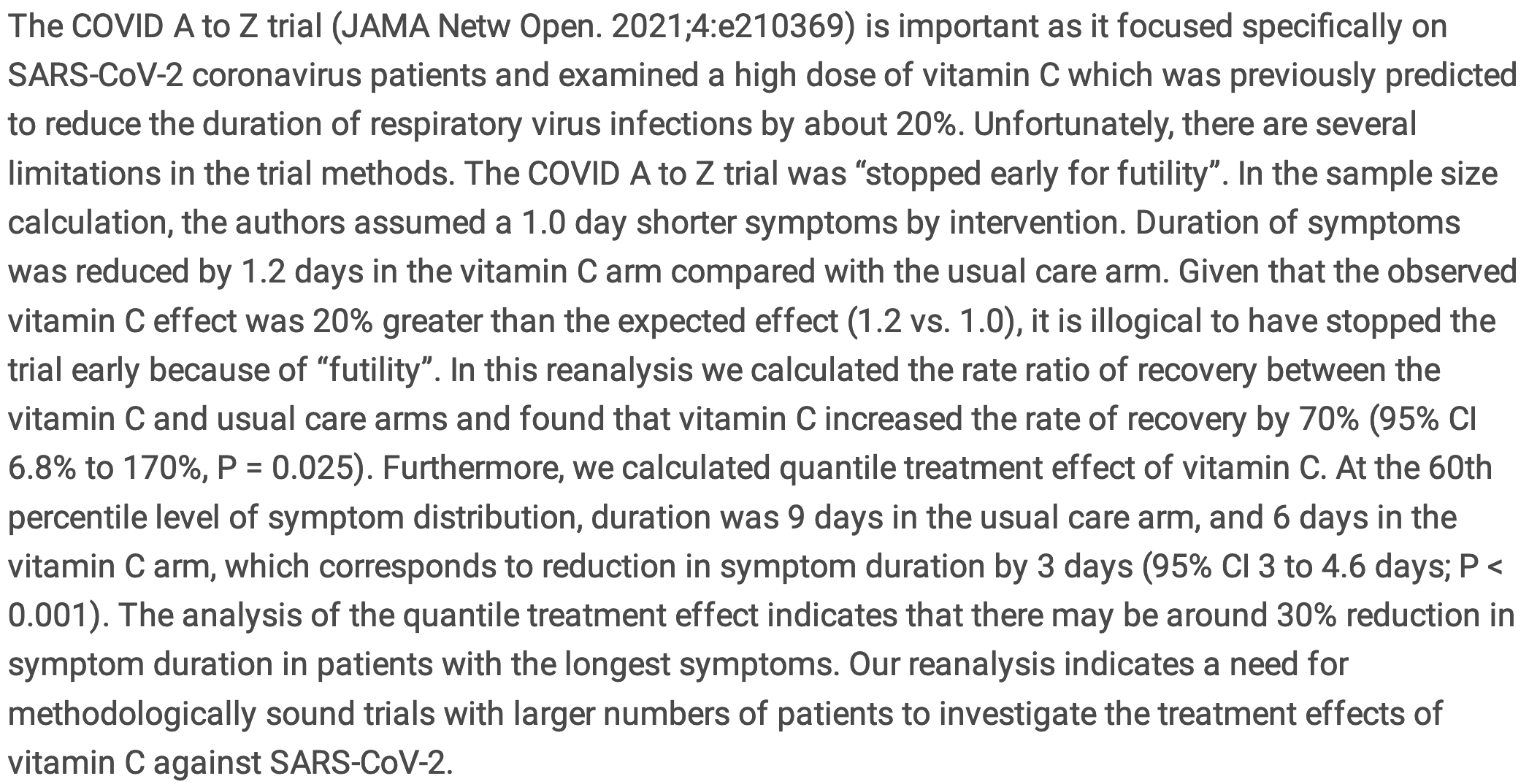 Hemilä et al., 2 Mar 2021, preprint, 3 authors.
Vitamin C may increase the recovery rate of outpatient cases of SARS-CoV-2 infection by 70%: reanalysis of the COVID A to Z Randomized Clinical Trial
doi:10.21203/rs.3.rs-289381/v1
The COVID A to Z trial (JAMA Netw Open. 2021;4:e210369) is important as it focused speci cally on SARS-CoV-2 coronavirus patients and examined a high dose of vitamin C which was previously predicted to reduce the duration of respiratory virus infections by about 20%. Unfortunately, there are several limitations in the trial methods. The COVID A to Z trial was "stopped early for futility". In the sample size calculation, the authors assumed a 1.0 day shorter symptoms by intervention. Duration of symptoms was reduced by 1.2 days in the vitamin C arm compared with the usual care arm. Given that the observed vitamin C effect was 20% greater than the expected effect (1.2 vs. 1.0), it is illogical to have stopped the trial early because of "futility". In this reanalysis we calculated the rate ratio of recovery between the vitamin C and usual care arms and found that vitamin C increased the rate of recovery by 70% (95% CI 6.8% to 170%, P = 0.025). Furthermore, we calculated quantile treatment effect of vitamin C. At the 60th percentile level of symptom distribution, duration was 9 days in the usual care arm, and 6 days in the vitamin C arm, which corresponds to reduction in symptom duration by 3 days (95% CI 3 to 4.6 days; P < 0.001). The analysis of the quantile treatment effect indicates that there may be around 30% reduction in symptom duration in patients with the longest symptoms. Our reanalysis indicates a need for methodologically sound trials with larger numbers of patients to investigate the treatment effects of vitamin C against SARS-CoV-2.
Declarations Author Contributions HH originated the study, carried out the statistical analyses and wrote the draft. AC and EC participated in the revision of the manuscript. Con ict of Interest The authors declare that the research was conducted in the absence of any commercial or nancial relationships that could be construed as a potential con ict of interes Ethics approval Not applicable; this is a secondary analysis of a trial already published. the usual care group were censored, ie, did not recover by the end of the follow-up. Our calculations and the redrawn recovery curve are shown in the supplementary le. Supplementary Files This is a list of supplementary les associated with this preprint. Click to download. COVIDSupplement31.pdf
References
Anderson, Suranyi, Beaton, The effect on winter illness of large doses of vitamin C, Can Med Assoc J
Hemilä, Vitamin, the placebo effect, and the common cold: a case study of how preconceptions in uence the analysis of results, comments in
Koenker, Quantile treatment effects, p
Koenker, quantreg: Quantile Regression