Retrospective 116 patients with D levels < 30ng/mL, 58 treated with vitamin D 100,000IU daily for two days, and 58 matched controls, showing significantly lower mortality with treatment.
Cholecalciferol was used in this study. Meta analysis shows that late stage treatment with
calcitriol / calcifediol
(or paricalcitol, alfacalcidol, etc.) is more effective than
cholecalciferol
:
65%
[41‑79%]
lower risk vs.
38%
[25‑49%]
lower risk. Cholecalciferol requires two hydroxylation steps to become activated - first in the liver to calcifediol, then in the kidney to calcitriol. Calcitriol, paricalcitol, and alfacalcidol are active vitamin D analogs that do not require conversion. This allows them to have more rapid onset of action compared to cholecalciferol. The time delay for cholecalciferol to increase serum calcifediol levels can be 2-3 days, and the delay for converting calcifediol to active calcitriol can be up to 7 days.
This is the
81st of 116 COVID-19 controlled studies
for vitamin D, which collectively show efficacy with
p<0.0000000001 (1 in 38 sextillion)
.
28 studies are RCTs
, which show efficacy with
p=0.0000081
.
risk of death,

92.7% lower

, RR 0.07, p = 0.01
, treatment 3 of 58 (5.2%), control 11 of 58 (19.0%), NNT 7.2, adjusted per study, odds ratio converted to relative risk, multivariable.
risk of mechanical ventilation,

50.0% lower

, RR 0.50, p = 0.36
, treatment 4 of 58 (6.9%), control 8 of 58 (13.8%), NNT 14.
risk of ICU admission,

50.0% lower

, RR 0.50, p = 0.36
, treatment 4 of 58 (6.9%), control 8 of 58 (13.8%), NNT 14.
NIV,

47.8% lower

, RR 0.52, p = 0.04
, treatment 12 of 58 (20.7%), control 23 of 58 (39.7%), NNT 5.3.
Effect extraction follows pre-specified rules prioritizing more serious outcomes. Submit updates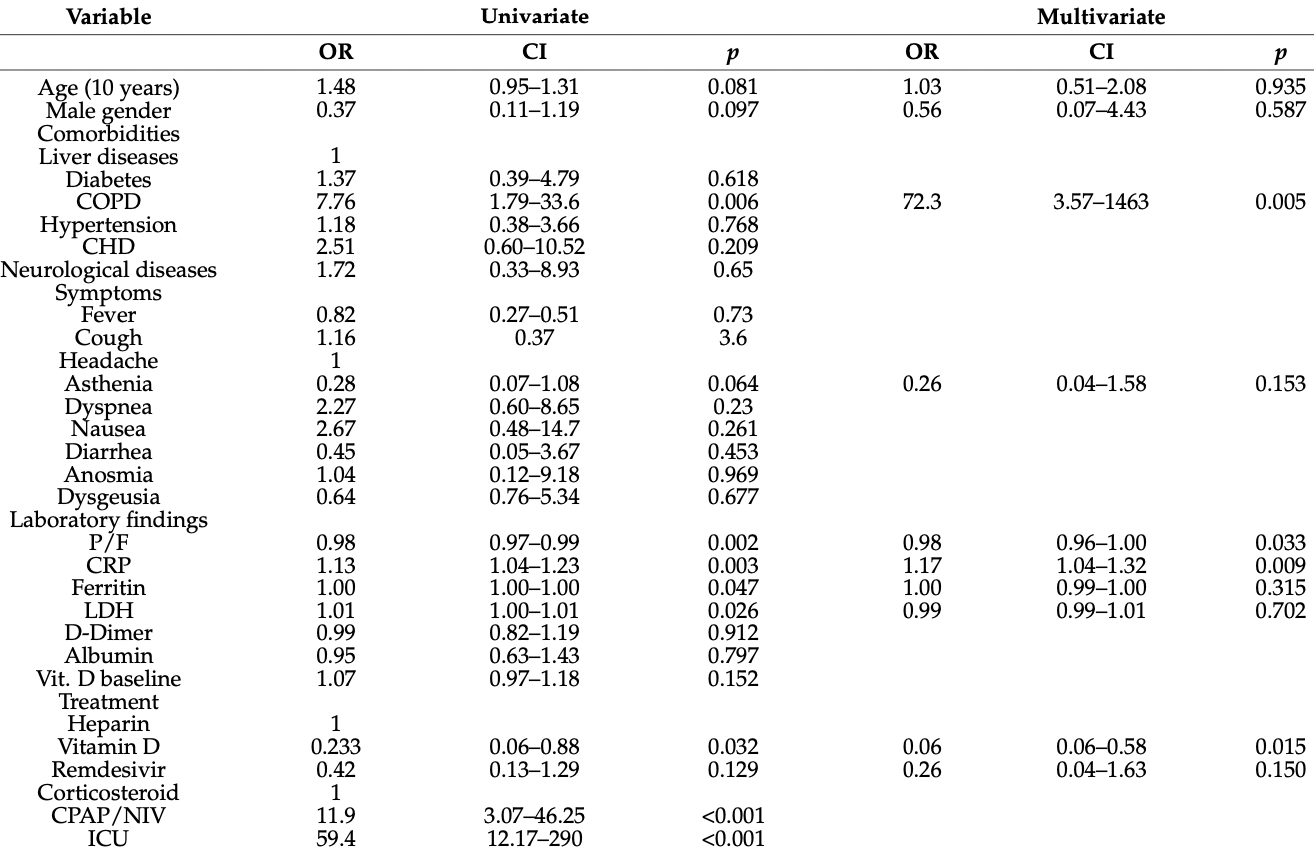 Fiore et al., 22 May 2022, retrospective, matched cohort, Italy, peer-reviewed, mean age 62.5, 10 authors, dosage 100,000IU days 1-2.
Contact: vitofiore30010516@gmail.com (corresponding author), andreadevitoaho@gmail.com, paola.bagella@tiscali.it, princic_e@hotmail.com, annaanto82@gmail.com, dentilucia@outlook.it, giordano@uniss.it, babuder@uniss.it, imaida@uniss.it, agfois@uniss.it.
Effectiveness of Vitamin D Supplements among Patients Hospitalized for COVID-19: Results from a Monocentric Matched-Cohort Study
Healthcare, doi:10.3390/healthcare10050956
Objectives: Our study aimed to evaluate the usefulness of Vitamin D3 (VitD3) among patients hospitalized for COVID-19. The primary endpoint was to evaluate the difference in survival rates between patients receiving and not VitD3. The secondary endpoints were to evaluate clinical outcomes, such as needing non-invasive ventilation (NIV), ICU transfer, and laboratory findings (inflammatory parameters). Methods: We conducted a retrospective, monocentric matched-cohort study, including patients attending our ward for COVID-19. Patients were divided into two groups depending on VitD3 administration (Group A) or not (Group B) among patients with low VitD levels (defined as blood levels < 30 ng/mL), which depended on physicians' judgment. Our internal protocol provides VitD3 100,000 UI/daily for two days. Findings: 58 patients were included in Group A, and 58 in Group B. Patients were matched for age, sex, comorbidities, COVID-19-related symptoms, PaO2/FiO2 ratio, blood exams, and medical treatments. Regarding the principal endpoint, there was a statistically significant difference between the two groups in survival rates [Group A vs. Group B = 3 vs. 11 (p = 0.042)]. When considering secondary endpoints, Group A patients were less likely to undergo NIV [Group A vs. Group B = 12 vs. 23 (p = 0.026)] and showed an improvement in almost all inflammatory parameters. Conclusions: The link between VitD3 deficiency and the clinical course of COVID-19 during hospitalization suggests that VitD3 level is a useful prognostic marker. Considering the safety of supplementation and the low cost, VitD3 replacement should be considered among SARS-CoV-2 infected patients needing hospitalization.
Author Contributions: V.F. and I.M. conceived the study. V.F., I.M., A.D.V., A.G.F., G.M., S.B., P.B., E.P., A.A.M. and L.D. organized the database. V.F. and A.D.V. performed statistical analysis. A.G.F., G.M., S.B. and I.M. supervised the study. V.F., A.D.V., P.B. and E.P. produced the manuscripts' first draft. All authors contributed to manuscript revision. All authors have read and agreed to the published version of the manuscript. Conflicts of Interest: The authors declare that the research was conducted in the absence of any commercial or financial relationships that could be construed as a potential conflict of interest.
References
De, Vito, Geremia, Fiore, Princic et al., Clinical features, laboratory findings and predictors of death in hospitalized patients with COVID-19 in Sardinia, Italy, Eur. Rev. Med. Pharmacol. Sci
De, Vito, Geremia, Princic, Fanelli et al., Does Angiotensin II receptor blockers increase the risk of SARS-CoV-2 infection? A real-life experience, Eur. Rev. Med. Pharmacol. Sci