In Vitro
study showing dose dependent inactivation of SARS-CoV-2 with the combination of bromelain and acetylcysteine.
3 preclinical studies support the efficacy of N-acetylcysteine for COVID-19: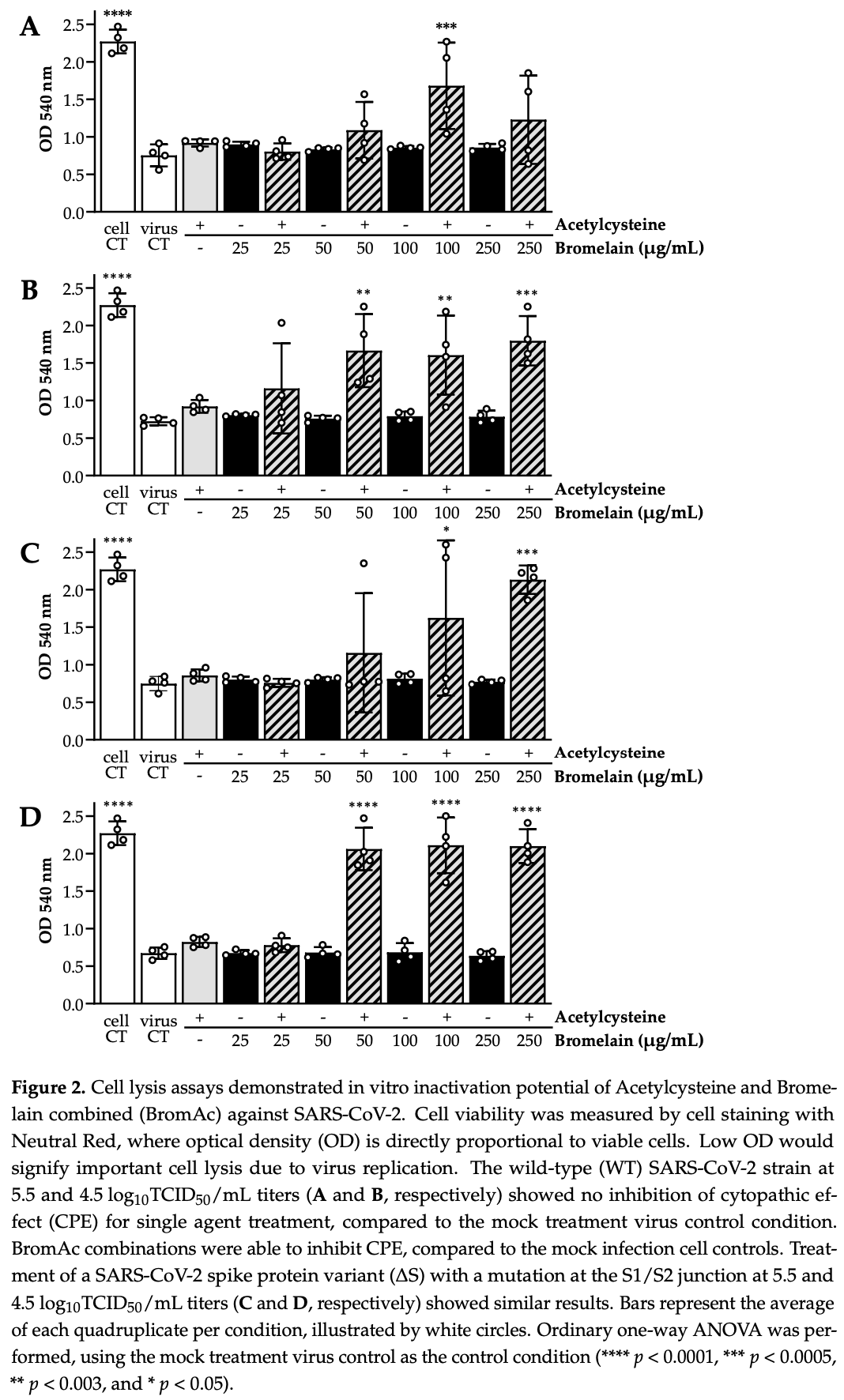 Akhter et al., 6 Mar 2021, USA, peer-reviewed, 9 authors.
Contact: david.morris@unsw.edu.au (corresponding author), javed.akhter@health.nsw.gov.au, vahan.kepenekian@chu-lyon.fr, samina.badar@unsw.edu.au, z3170073@ad.unsw.edu.au, sarah.valle@mucpharm.com, panthera6444@yahoo.com.au, gregory.queromes@univ-lyon1.fr, emilie.frobert@chu-lyon.fr.
In Vitro studies are an important part of preclinical research, however results may be very different in vivo.
The Combination of Bromelain and Acetylcysteine (BromAc) Synergistically Inactivates SARS-CoV-2
Viruses, doi:10.3390/v13030425
Severe acute respiratory syndrome coronavirus (SARS-CoV-2) infection is the cause of a worldwide pandemic, currently with limited therapeutic options. The spike glycoprotein and envelope protein of SARS-CoV-2, containing disulfide bridges for stabilization, represent an attractive target as they are essential for binding to the ACE2 receptor in host cells present in the nasal mucosa. Bromelain and Acetylcysteine (BromAc) has synergistic action against glycoproteins by breakage of glycosidic linkages and disulfide bonds. We sought to determine the effect of BromAc on the spike and envelope proteins and its potential to reduce infectivity in host cells. Recombinant spike and envelope SARS-CoV-2 proteins were disrupted by BromAc. Spike and envelope protein disulfide bonds were reduced by Acetylcysteine. In in vitro whole virus culture of both wild-type and spike mutants, SARS-CoV-2 demonstrated a concentration-dependent inactivation from BromAc treatment but not from single agents. Clinical testing through nasal administration in patients with early SARS-CoV-2 infection is imminent.
Author Contributions: Conceptualization, J.A., K.P., S.J.V., and D.L.M.; methodology, J.A., G.Q., K.P., S.B., and A.H.M.; validation, J.A., G.Q., K.P., V.K., S.B., and A.H.M.; investigation, J.A., G.Q., K.P., V.K., S.B., and A.H.M.; writing-original draft preparation, G.Q., K.P., V.K, A.H.M., E.F., and S.J.V.; supervision, D.L.M. and E.F.; project administration, S.J.V.; funding acquisition, S.J.V. and D.L.M. All authors have read and agreed to the published version of the manuscript. Conflicts of
References
Amini, Masoumi-Moghaddam, Morris, Utility of Bromelain and N-Acetylcysteine in Treatment of Peritoneal Dissemination of Gastrointestinal Mucin-Producing Malignancies
Casalino, Gaieb, Goldsmith, Hjorth, Dommer et al., Beyond shielding: The roles of glycans in the SARS-CoV-2 spike protein, ACS Cent. Sci
Greig, Bouillant, Binding effects of concanavalin A on a coronavirus, Can. J. Comp. Med
Hou, Okuda, Edwards, Martinez, Asakura et al., None
Iyer, Klee, Direct spectrophotometric measurement of the rate of reduction of disulfide bonds. The reactivity of the disulfide bonds of bovine -lactalbumin, J. Biol. Chem
Jaimes, Millet, Whittaker, Proteolytic Cleavage of the SARS-CoV-2 Spike Protein and the Role of the Novel S1/S2 Site, iScience
Pillai, Mekkawy, Akhter, Badar, Dong et al., Enhancing the potency of chemotherapeutic agents by combination with bromelain and N-acetylcysteine-An in vitro study with pancreatic and hepatic cancer cells, Am. J. Transl. Res