ACE2-HEK293
In Vitro
study showing dose-dependent inhibition of the uptake of delta and omicron SARS-CoV-2 pseudoviruses with N-acetylcysteine.
3 preclinical studies support the efficacy of N-acetylcysteine for COVID-19: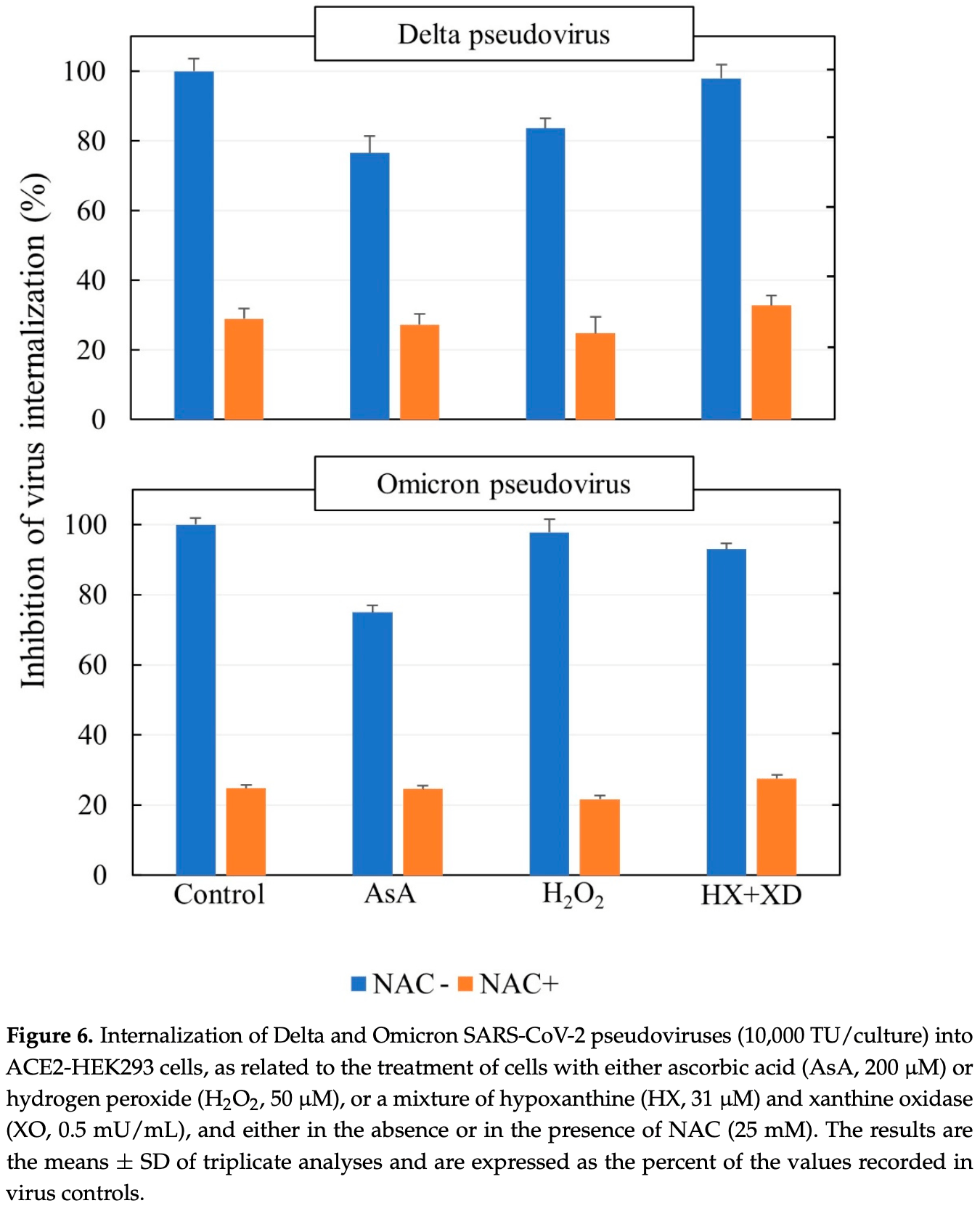 La Maestra et al., 21 Oct 2022, peer-reviewed, 6 authors.
Contact: sebastiano.lamaestra@unige.it (corresponding author), sdf@unige.it.
In Vitro studies are an important part of preclinical research, however results may be very different in vivo.
Inhibition of the Cell Uptake of Delta and Omicron SARS-CoV-2 Pseudoviruses by N-Acetylcysteine Irrespective of the Oxidoreductive Environment
Cells, doi:10.3390/cells11203313
The binding of SARS-CoV-2 spikes to the cell receptor angiotensin-converting enzyme 2 (ACE2) is a crucial target both in the prevention and in the therapy of COVID-19. We explored the involvement of oxidoreductive mechanisms by investigating the effects of oxidants and antioxidants on virus uptake by ACE2-expressing cells of human origin (ACE2-HEK293). The cell uptake of pseudoviruses carrying the envelope of either Delta or Omicron variants of SARS-CoV-2 was evaluated by means of a cytofluorimetric approach. The thiol N-acetyl-L-cysteine (NAC) inhibited the uptake of both variants in a reproducible and dose-dependent fashion. Ascorbic acid showed modest effects. In contrast, neither hydrogen peroxide (H 2 O 2 ) nor a system-generating reactive oxygen species (ROS), which play an important role in the intracellular alterations produced by SARS-CoV-2, were able to affect the ability of either Delta or Omicron SARS-CoV-2 pseudoviruses to be internalized into ACE2-expressing cells. In addition, neither H 2 O 2 nor the ROS generating system interfered with the ability of NAC to inhibit that mechanism. Moreover, based on previous studies, a preventive pharmacological approach with NAC would have the advantage of decreasing the risk of developing COVID-19, irrespective of its variants, and at the same time other respiratory viral infections and associated comorbidities.
Author Contributions: Planning, methodology, formal analysis, and editing, S.L.M.; methodology and formal analysis, S.G.; methodology, R.B., F.D. and R.T.M.; supervision, conceptualization, and writing, S.D.F. All authors have read and agreed to the published version of the manuscript. Funding: This research received no external funding excepting the supply of the materials specified under Acknowledgements. Institutional Review Board Statement: Not applicable. Informed Consent Statement: Not applicable.
References
García-Sánchez, Miranda-Díaz, Cardona-Muñoz, The role of oxidative stress in physiopathology and pharmacological treatment with pro-and antioxidant properties in chronic diseases, Oxid. Med. Cell Longev
Jorge-Aarón, Rosa-Ester, N-acetylcysteine as a potential treatment for COVID-19, Future Microbiol
Khanna, Raymond, Jin, Charbit, Gitlin et al., Thiol drugs decrease SARS-CoV-2 lung injury in vivo and disrupt SARS-CoV-2 spike complex binding to ACE2 in vitro, bioRxiv