PSM retrospective 1,697,522 osteoarthritis or back pain patients in the US, showing no significant differences in COVID-19 cases and hospitalization for ibuprofen vs. other NSAIDs.
risk of hospitalization,

12.5% higher

, HR 1.12, p = 0.26
, Open Claims, PharMetrics Plus, both periods combined.
risk of case,

7.6% higher

, HR 1.08, p = 0.25
, Open Claims, PharMetrics Plus, both periods combined.
Effect extraction follows pre-specified rules prioritizing more serious outcomes. Submit updates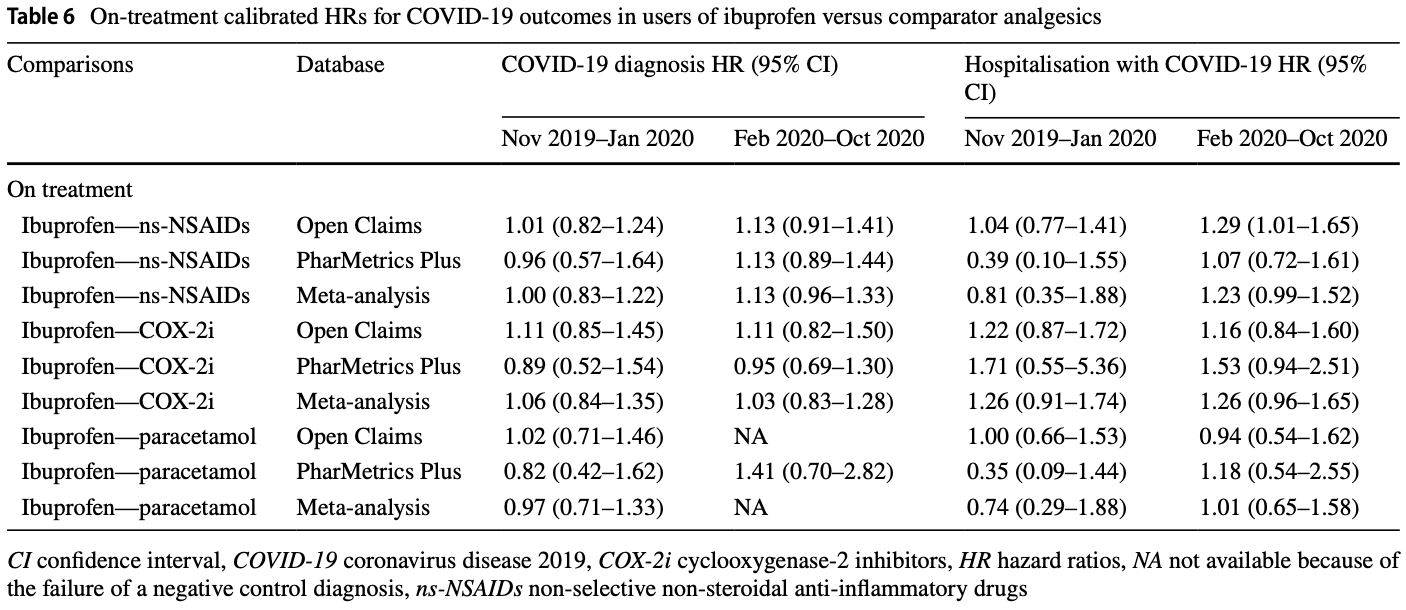 Xie et al., 13 Jul 2022, retrospective, USA, peer-reviewed, 9 authors, study period 1 February, 2020 - 31 October, 2020, this trial compares with another treatment - results may be better when compared to placebo.
Risk of COVID-19 Diagnosis and Hospitalisation in Patients with Osteoarthritis or Back Pain Treated with Ibuprofen Compared to Other NSAIDs or Paracetamol: A Network Cohort Study
Drugs, doi:10.1007/s40265-022-01822-z
Objective We aimed to investigate whether ibuprofen use, compared with other non-selective non-steroidal anti-inflammatory drugs (ns-NSAIDs), cyclooxygenase-2 inhibitors (COX-2i) or paracetamol, increases the risk of coronavirus disease 2019 (COVID-19) diagnosis or hospitalisation. Design A prevalent user and active comparator cohort study. Setting Two US claims databases (Open Claims and PharMetrics Plus) mapped to the Observational Medical Outcomes Partnership Common Data Model. Participants Insured patients with a history of osteoarthritis or back pain and receiving ibuprofen, other ns-NSAIDs, COX-2i or paracetamol between
or paracetamol, was not associated with an increased risk of susceptibility and severity of COVID-19. Supplementary Information The online version contains supplementary material available at https:// doi. org/ 10. 1007/ s40265-022-01822-z. Declarations Funding Abbott contracted IQVIA for the conduct of this study. Prof. Prieto-Alhambra receives funding from the UK National Institute for Health Research in the form of a Senior Research Fellowship, and as part of the Oxford National Institute for Health Research Biomedical Research Centre. Prof. Giustino Varrassi had a contract with Abbott International, as a consultant for scientific projects. He is also a consultant for scientific projects with Dompé Farmaceutici and Menarini Group. Ethics Approval These assets are de-identified, commercially available data products that could be purchased and licensed by any researcher. The collection and de-identification of these data assets is a process that is commercial intellectual property and not privileged to the data licensees and the co-authors on this study. Licensees of these data have signed data use agreements with the data vendors that detail the usage protocols for running retrospective research on these databases. All analyses performed in this study were in accordance with data use agreement terms as specified by the data owners. As these data are deemed commercial assets, there is no institutional review board applicable to the usage and dissemination of these result..
References
Nice, COVID-19 rapid evidence summary: acute use of non-steroidal anti-inflammatory drugs (NSAIDs) for people with or at risk of COVID-19
Ohdsi, OMOP Common Data Model
Roy, Coronavirus: alerte sur l'ibuprofène et autres anti-inflammatoires