PSM retrospective 1,254 hospitalized patients in Germany, 147 treated with sotrovimab, showing higher mortality with sotrovimab, without statistical significance.
Efficacy is variant dependent. In Vitro studies predict lower efficacy for BA.1 Liu, Sheward, VanBlargan and a lack of efficacy for BA.2 Zhou. US EUA has been revoked.
risk of death,

140.0% higher

, RR 2.40, p = 0.12
, treatment 4 of 60 (6.7%), control 10 of 360 (2.8%), non-ICU, propensity score matching.
risk of death,

50.0% higher

, RR 1.50, p = 0.08
, treatment 36 of 87 (41.4%), control 24 of 87 (27.6%), ICU, propensity score matching.
Effect extraction follows pre-specified rules prioritizing more serious outcomes. Submit updates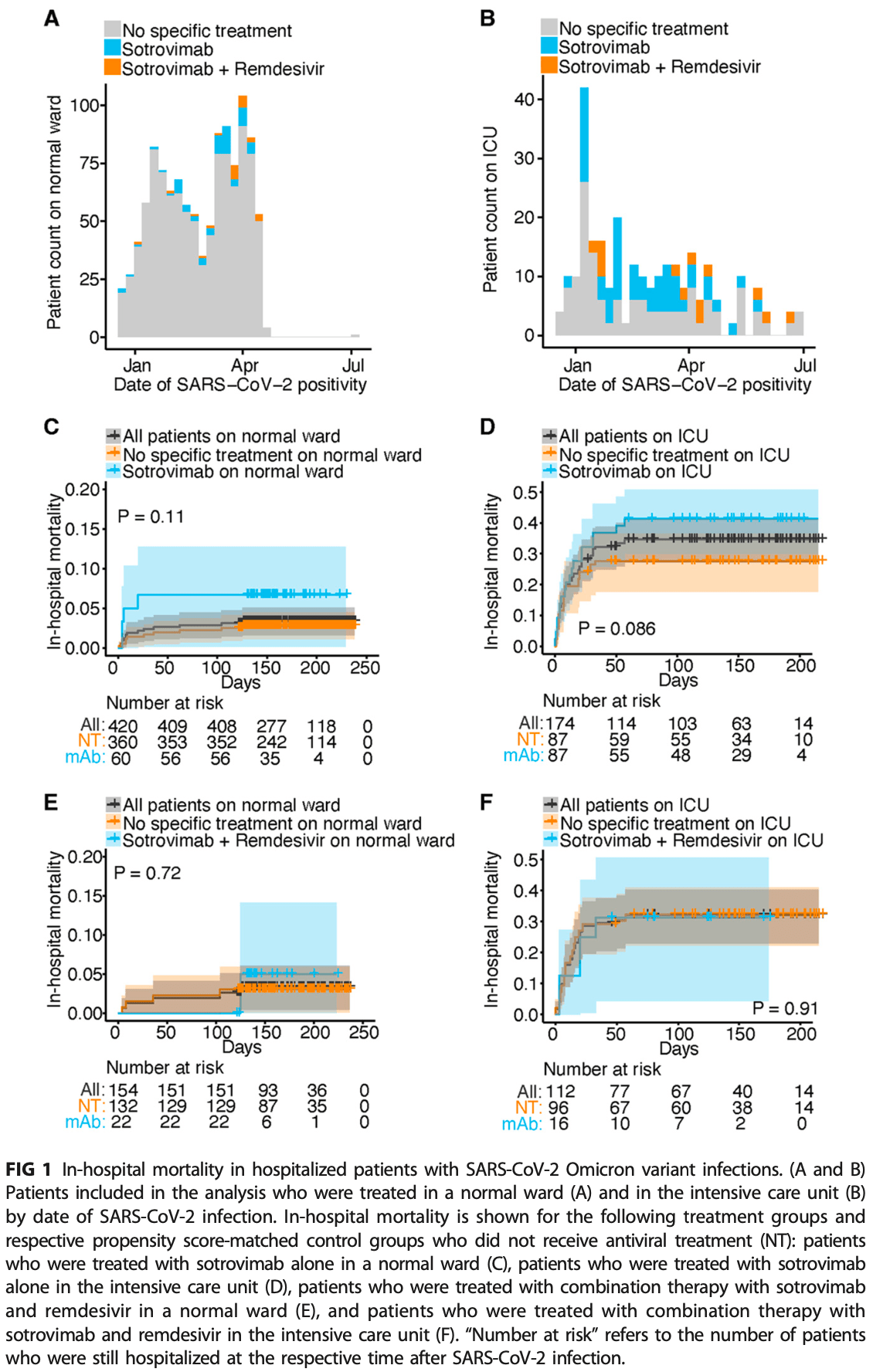 Woo et al., 8 Dec 2022, retrospective, Germany, peer-reviewed, 13 authors.
Sotrovimab in Hospitalized Patients with SARS-CoV-2 Omicron Variant Infection: a Propensity Score-Matched Retrospective Cohort Study
Microbiology Spectrum, doi:10.1128/spectrum.04103-22
In vitro data suggest the monoclonal antibody sotrovimab may have lost inhibitory capability against the severe acute respiratory syndrome coronavirus 2 (SARS-CoV-2) Omicron variant. We aimed to provide real-life data on clinical outcomes in hospitalized patients. We retrospectively analyzed patients who were treated at the University Medical Center Hamburg-Eppendorf, Germany, between December 2021 and June 2022. Out of all 1,254 patients, 185 were treated with sotrovimab: 147 patients received sotrovimab monotherapy, and 38 received combination treatment with sotrovimab and remdesivir. We compared in-hospital mortality for the different treatment regimens for patients treated on regular wards and the intensive care unit separately and performed propensity score matching by age, sex, comorbidities, immunosuppression, and additional dexamethasone treatment to select patients who did not receive antiviral treatment for comparison. No difference in in-hospital mortality was observed between any of the treatment groups and the respective control groups. These findings underline that sotrovimab adds no clinical benefit for hospitalized patients with SARS-CoV-2 Omicron variant infections. IMPORTANCE This study shows that among hospitalized patients with SARS-CoV-2 Omicron variant infection at risk of disease progression, treatment with sotrovimab alone or in combination with remdesivir did not decrease in-hospital mortality. These real-world clinical findings in combination with previous in vitro data about lacking neutralizing activity of sotrovimab against SARS-CoV-2 Omicron variant do not support sotrovimab as a treatment option in these patients.
References
Who, WHO coronavirus (COVID-19) dashboard