Retrospective 1,921 patients in Japan, showing no significant difference in progression with sotrovimab use.
Efficacy is variant dependent. In Vitro studies predict lower efficacy for BA.1 [Liu, Sheward, VanBlargan] and a lack of efficacy for BA.2 [Zhou]. US EUA has been revoked.
risk of progression,

8.3% higher

, OR 1.08, p = 0.73
, treatment 672, control 1,257, adjusted per study, multivariable, RR approximated with OR.
Effect extraction follows pre-specified rules prioritizing more serious outcomes. Submit updates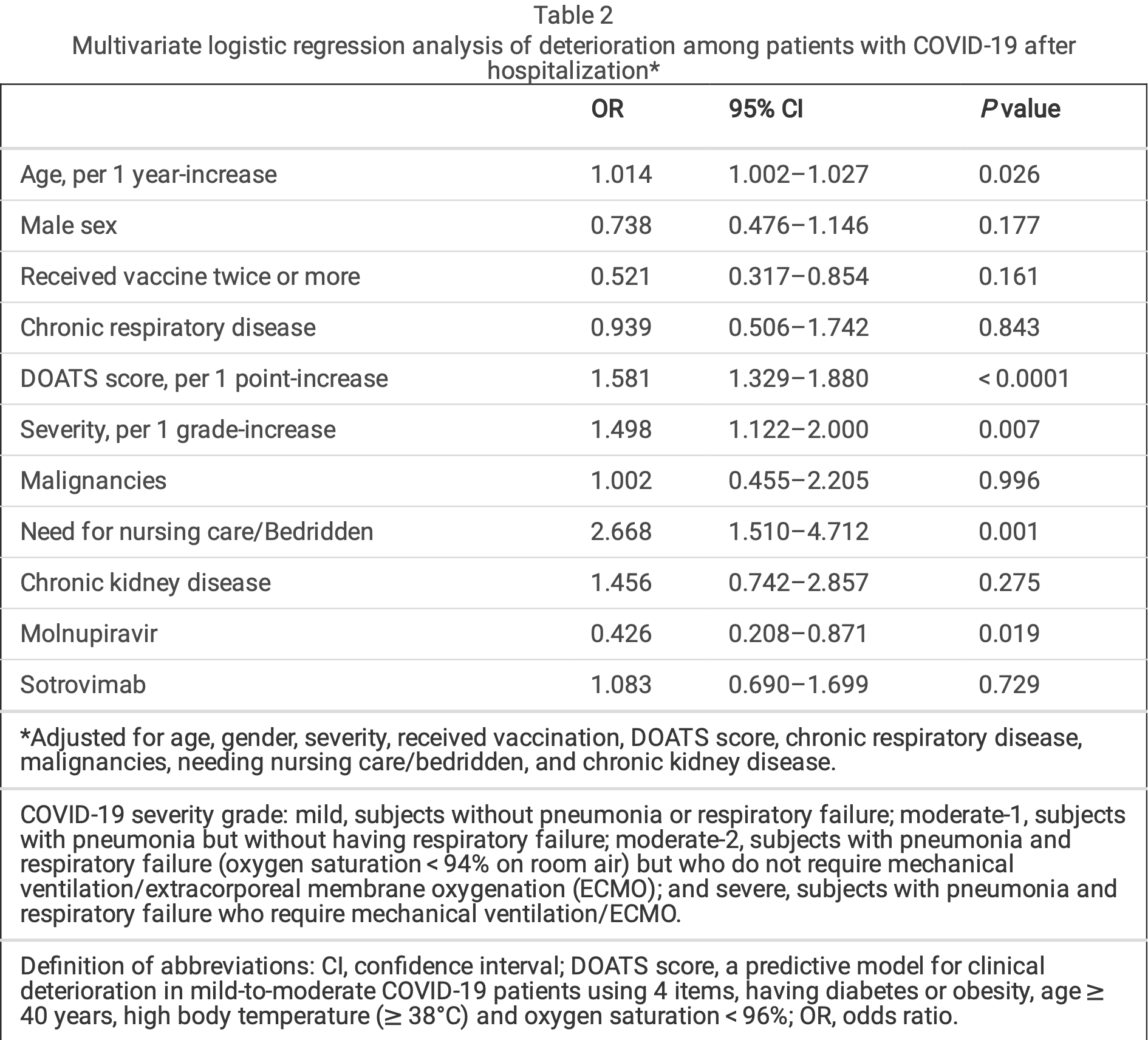 Suzuki et al., 5 Oct 2022, retrospective, Japan, preprint, 53 authors.
Contact: shibatay@fmu.ac.jp.
Real-world clinical outcomes of treatment with molnupiravir for patients with mild- to-moderate coronavirus disease 2019 during the Omicron variant pandemic
doi:10.21203/rs.3.rs-2118653/v1
Background It is unclear whether molnupiravir has a bene cial effect on vaccinated patients infected with the Omicron variant of severe acute respiratory syndrome coronavirus 2 (SARS-CoV-2). We here evaluated the e cacy of molnupiravir in patients with mild-to-moderate coronavirus disease 2019 (COVID-19) during the Omicron variant surge in Fukushima Prefecture, Japan. Methods We enrolled patients with mild-to-moderate COVID-19 who were admitted to hospitals between January and April, 2022. Clinical deterioration after admission was compared between molnupiravir users (n = 281) and non-users (n = 1,636). Results The molnupiravir users were older (P < 0.0001), and had greater rates of history of chronic respiratory disease (P = 0.039), hypertension (P < 0.0001), dyslipidemia (P < 0.0001), diabetes mellitus (P < 0.0001), and cardiac disease (P = 0.003) than the non-users. The clinical deterioration rate was signi cantly lower in the molnupiravir users compared to the non-users (3.92% vs 7.46%; P = 0.021). Multivariate logistic regression analysis demonstrated that receiving molnupiravir was a factor for preventing deterioration (odds ratio 0.426; 95% con dence interval 0.208-0.871; P = 0.019), independent of receiving the SARS-CoV-2 vaccine. Furthermore, in 259 patients who were selected from each group after matching on the propensity score, the rate of deterioration was signi cantly lower among those receiving molnupiravir compared to those not receiving molnupiravir (3.86% vs 9.65%; p = 0.008). Conclusion This real-world study demonstrates that molnupiravir contributes to the prevention of deterioration in COVID-19 patients after hospitalization during the Omicron variant phase.
Author contribution Conception and design: Yasuhito Suzuki and Yoko Shibata. Analysis and drafting the manuscript: Yasuhito Suzuki and Yoko Shibata. Data curation: all authors. Final approval of the manuscript: all authors. Ethic This study was performed in line with the principles of the Declaration of Helsinki. The protocol was approved by the local ethical committee. Consent to publication The authors seen the nal version of the manuscript and approved submission for publication.
References