Systematic review of the use of povidone-iodine gargles for COVID-19, concluding that PVP-I effectively reduces SARS-CoV-2 viral load.
2 meta analyses show significant improvements with povidone-iodine for viral load
Hasan, Idrees
and viral clearance
Hasan
.
Currently there are
20 povidone-iodine for COVID-19 studies
, showing 72% lower mortality
[8‑92%]
, 76% lower hospitalization
[-14‑95%]
, and 45% fewer cases
[20‑62%]
.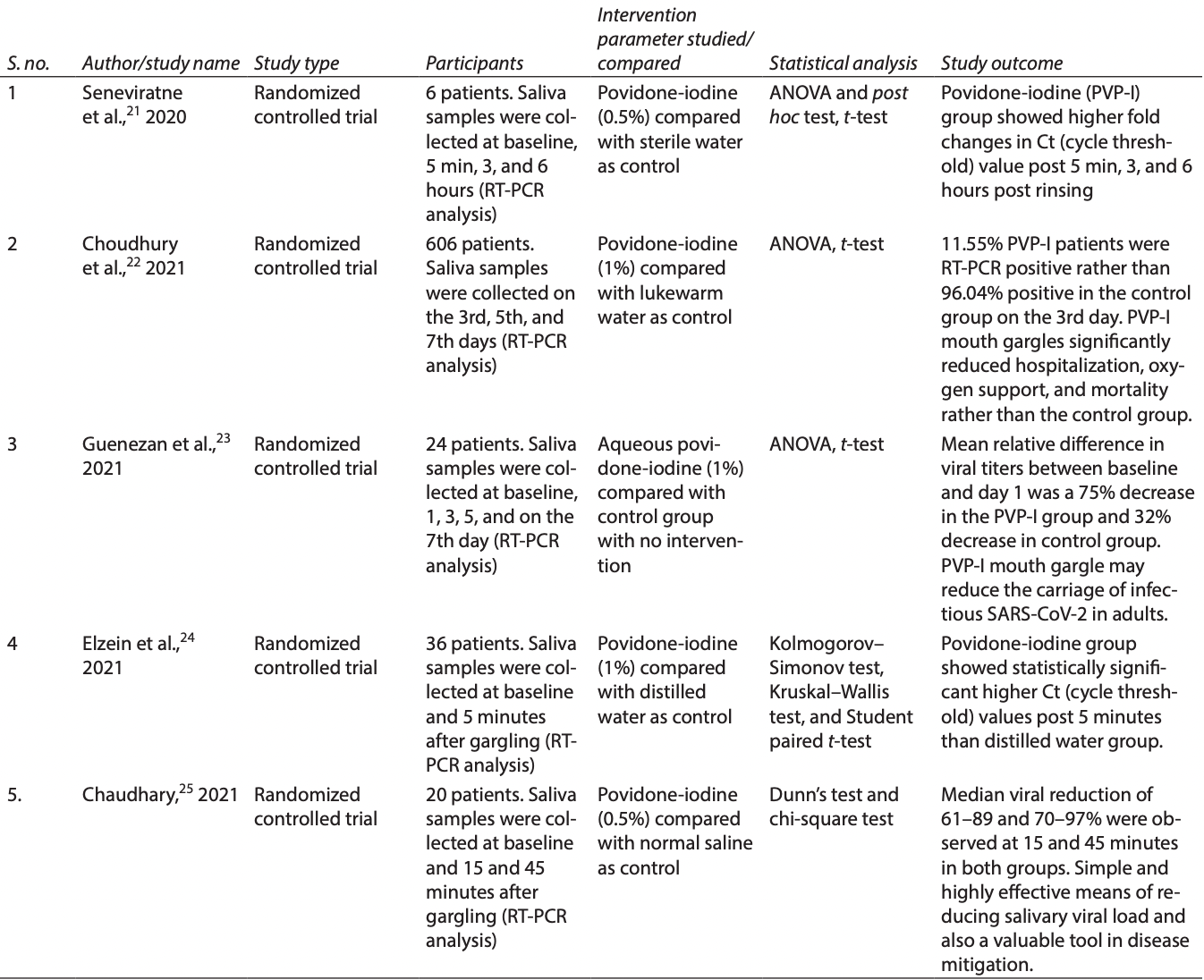 Sudhakar et al., 24 Nov 2021, peer-reviewed, 5 authors.
In Vivo Efficacy of Povidone-iodine Mouth Gargles in Reducing Salivary Viral Load in COVID-19 Patients: A Systematic Review
World Journal of Dentistry, doi:10.5005/jp-journals-10015-1868
Aim and objective: Based on the published research, this article aims to systematically review the in vivo effectiveness of povidone-iodine (PVP-I) mouth gargles in reducing salivary viral load in COVID-19 patients. Materials and methods: The inhibitory potential of different variables such as PVP-I, chlorhexidine gluconate (CHX), cetylpyridinium chloride (CPC), saline, and hydrogen peroxide (H 2 O 2 ) were tested against SARS-CoV-2 in recent clinical trials. In this systematic review, appropriate randomized controlled trials (RCTs) for the evidence-based question: "what is the efficacy of PVP-I mouth gargle in reducing salivary viral load in COVID-19 patients?" were searched in Medline/PubMed, Scopus, Science Direct, Embase, Google Scholar, and the Cochrane Library database from January 15, 2020, to June 15, 2021, based on defined inclusion and exclusion criteria. From the selected articles, their references and reviews relevant to our topic were also looked for any missed studies. Results: After a pertinent search for appropriate studies, five in vivo RCTs were selected and others were excluded. All the trials used reverse transcription-polymerase chain reaction (RT-PCR) for mRNA detection and quantitation. Povidone-iodine mouth gargle (0.5-1%) used by COVID-19 patients 4th hourly effectively reduced salivary SARS-CoV-2 viral load, thereby reducing the carriage of infectious virion in adults. Statistically significant increase in Ct values, post 5, 15, and 45 minutes, 3 and 6 hours post-rinsing demonstrated the strong antiviral effect of PVP-I. Conclusion: In this COVID-19 pandemic, based on the published evidence of a few in vivo RCTs, it can be concluded that 0.5 to 1% PVP-I mouth gargle has the potency to effectively reduce the salivary SARS-CoV-2 viral load. To reinforce the use of PVP-I mouth gargles against SARS-CoV-2, this systematic review emphasizes the necessity for future research that is highly focused, robust, and has consistent techniques and a large sample size. Clinical significance: Research on the efficacy of PVP-I mouth gargle should be framed to focus on the most effective minimal concentration, exposure time, and volume of mouth gargle as well as the SARS-CoV-2 strain. The effect of PVP-I mouth gargles on viral infectivity and their cytotoxic effect on epithelial cells were not distinguished in the studies reviewed. Hence, viral cell culture technique should be employed to establish the potential virucidal activity of PVP-I against SARS-CoV-2. Host immunity against SARS-CoV-2 should also be considered in assessing the effectiveness of mouth gargles.
References
Chaudhary, Melkonyan, Meethil, Estimating salivary carriage of SARS-CoV2 in non-symptomatic individuals and efficacy of mouthwash in reducing viral load: a randomized controlled trial, J Am Dent Assoc
Ross, Charles, Dills, Long-term effects of Listerine antiseptic on dental plaque and gingivitis, J Clin Dent