RCT 40 late stage (mean 8 days from onset) patients, showing no significant difference in short-term viral load measured by PCR with hydrogen peroxide mouthwash.Analysis of short-term changes in viral load using PCR may not detect effective treatments because PCR is unable to differentiate between intact infectious virus and non-infectious or destroyed virus particles. For example
Alemany, Tarragó‐Gil
perform RCTs with cetylpyridinium chloride (CPC) mouthwash that show no difference in PCR viral load, however there was significantly increased detection of SARS-CoV-2 nucleocapsid protein, indicating viral lysis. CPC inactivates SARS-CoV-2 by degrading its membrane, exposing the nucleocapsid of the virus. To better estimate changes in viral load and infectivity, methods like viral culture or antigen detection that can differentiate intact vs. degraded virus are preferred.
This study is excluded in the after exclusion results of meta analysis: study only provides short-term viral load results.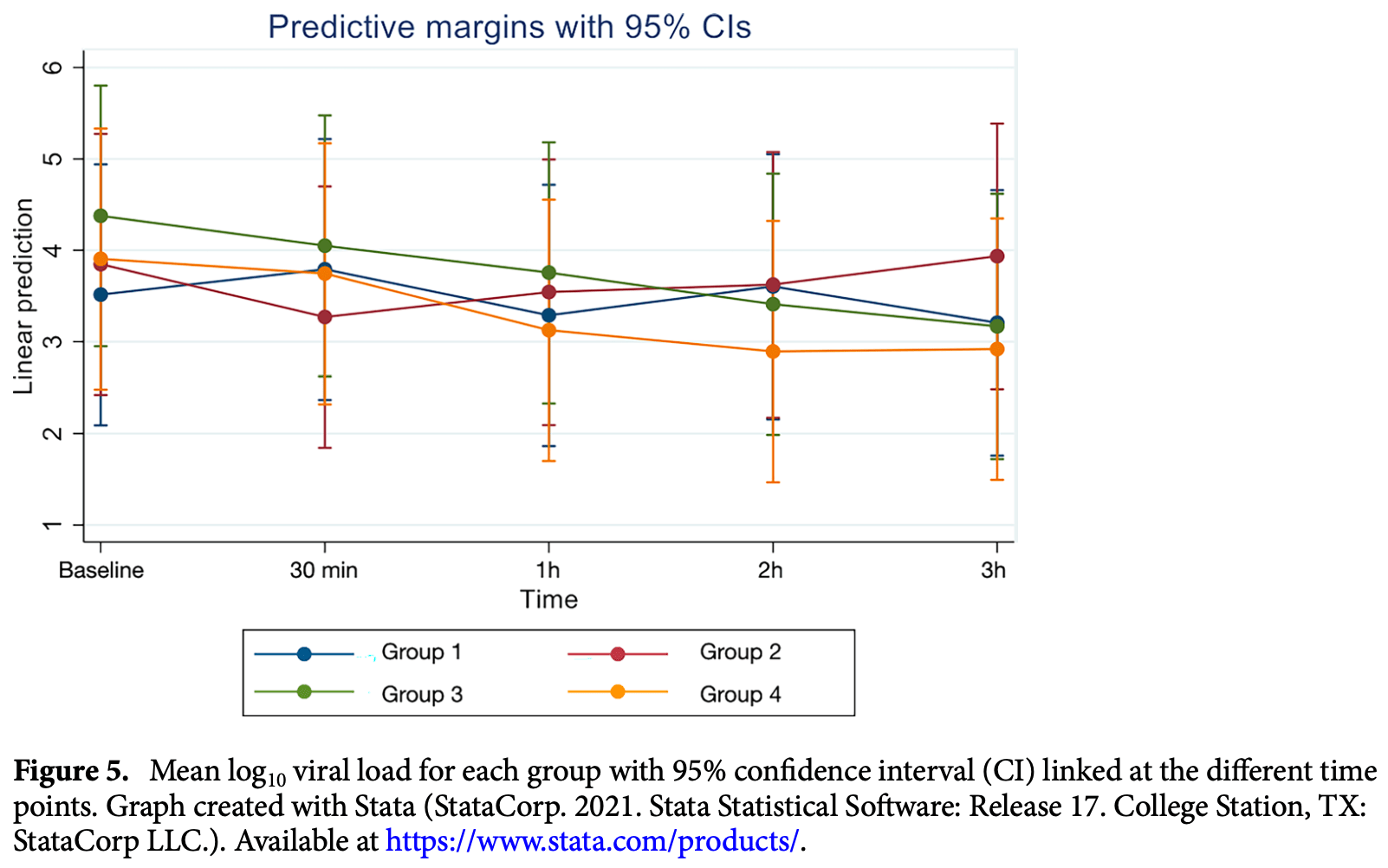 Perussolo et al., 4 Aug 2023, Single Blind Randomized Controlled Trial, United Kingdom, peer-reviewed, mean age 42.6, 7 authors, study period April 2021 - October 2021, average treatment delay 9.4 days, trial
NCT04723446
(history)
.
Efficacy of three antimicrobial mouthwashes in reducing SARS-CoV-2 viral load in the saliva of hospitalized patients: a randomized controlled pilot study
Scientific Reports, doi:10.1038/s41598-023-39308-x
This study aimed to evaluate the efficacy of 3 mouthwashes in reducing severe acute respiratory syndrome coronavirus 2 (SARS-CoV-2) viral load in the saliva of coronavirus disease 2019 (COVID-19) patients at 30 min, 1, 2 and 3 h after rinsing. This pilot study included 40 admitted COVID-19 positive patients (10 in each group). Saliva samples were collected before rinsing and at 30 min, 1, 2 and 3 h after rinsing with: Group 1-0.2% Chlorhexidine digluconate (CHX); Group 2-1.5% Hydrogen peroxide (H 2 O 2 ); Group 3-Cetylpyridinium chloride (CPC) or Group 4 (control group)-No rinsing. Viral load analysis of saliva samples was assessed by Reverse Transcription quantitative PCR. Mean log 10 viral load at different time points was compared to that at baseline in all groups using a random effects linear regression analysis while for comparison between groups linear regression analysis was used. The results showed that all groups had a significantly reduced mean log 10 viral load both at 2 (p = 0.036) and 3 (p = 0.041) hours compared to baseline. However, there was no difference in mean log 10 viral load between any of the investigated mouthwashes and the control group (non-rinsing) at the evaluated time points. Although a reduction in the SARS-CoV-2 viral load in the saliva of COVID-19 patients was observed after rinsing with mouthwashes containing 0.2% CHX, 1.5% H 2 O 2 , or CPC, the reduction detected was similar to that achieved by the control group at the investigated time points. The findings of this study may suggest that the mechanical action of rinsing/spitting results in reduction of SARS-CoV-2 salivary load. Coronavirus disease 2019 (COVID-19) outbreak caused by severe acute respiratory syndrome coronavirus 2 (SARS-CoV-2), also commonly known as coronavirus, was declared a pandemic in 2020 by the World Health Organization (WHO) presenting with more than 500 million confirmed cases and 6 million deaths worldwide 1 . COVID-19 is characterized by an unpredictable disease course, ranging from asymptomatic to severe, lifethreatening infections 2 . SARS-CoV-2, part of a group of 'enveloped viruses' characterized by an outer lipid membrane 3 , has been detected in various clinical specimens such as saliva, throat, nasopharyngeal (NPS), and oropharyngeal (OPS) swabs, and bronchoalveolar-lavage fluid 4 . Angiotensin-converting enzyme II (ACE2), a cell receptor for SARS-CoV which plays an important role in the entry of the virus into the cell, is highly expressed in the oral cavity and oral epithelial cells 5 . A study by To et al. 6 demonstrated SARS-CoV-2 being detected in 91.7% of the saliva samples obtained from COVID-19 positive patients. In addition, a recent study has further shown that detection rate of SARS-CoV-2 virus in saliva samples can be even higher than that on NPS (93.1%
Author contributions N.D. was responsible for the concept of the study. J.P., N.G., M.T., and N.D. designed the trial and study protocol. J.P. was responsible for the site work including the recruitment, study visits and data collection. S.T. facilitated recruitment. S.T. and M.C.M. provided relevant medical advice and information. M.T. performed the viral load analysis. J.P., N.G., M.T., S.T., A.P., and N.D. contributed to the data interpretation. A.P. did the main statistical analysis. J.P., N.G., A.P., M.T., S.T., and N.D. prepared the manuscript. All authors reviewed and accepted the paper before submission. Competing interests N.D. had an advisory role at GlaxoSmithKline (GSK) and was awarded a GSK Consumer Healthcare (GSKCH) research grant, which provided funding for this study. ND has also lectured for Oral-B. S.T. is a GSK Global Health Consultant. J.P., N.G., A.P., M.T. and M.C.M. do not report any competing interest. Additional information Supplementary Information The online version contains supplementary material available at https:// doi. org/ 10. 1038/ s41598-023-39308-x. Correspondence and requests for materials should be addressed to N.D. Reprints and permissions information is available at www.nature.com/reprints. Publisher's note Springer Nature remains neutral with regard to jurisdictional claims in published maps and institutional affiliations.
References
Health, Understanding cycle threshold (Ct) in SARS-CoV-2 RT-PCR A guide for health protection teams
Pan, Transmission routes of SARS-CoV-2 and protective measures in dental clinics during the COVID-19 pandemic, Am. J. Dent
Urbaniak, Plous, Randomizer, None