Effect of Androgen Suppression on Clinical Outcomes in Hospitalized Men With COVID-19
Early terminated RCT with 62 very late stage (79% on oxygen) degarelix patients and 34 placebo patients, showing no significant differences with treatment.For discussion of many issues with this study see [].
risk of death,

18.3% lower

, RR 0.82, p = 0.66
, treatment 11 of 62 (17.7%), control 7 of 34 (20.6%), NNT 35, adjusted per study, odds ratio converted to relative risk, multivariable.
risk of mechanical ventilation,

18.8% higher

, RR 1.19, p = 0.70
, treatment 13 of 62 (21.0%), control 6 of 34 (17.6%).
risk of ongoing hospitalization, mortality, or mechanical ventilation,

16.7% higher

, RR 1.17, p = 0.70
, treatment 15 of 62 (24.2%), control 7 of 34 (20.6%), adjusted per study, odds ratio converted to relative risk, multivariable, primary outcome.
hospitalization time,

20.0% higher

, relative time 1.20, p = 0.94
, treatment 62, control 34.
Effect extraction follows pre-specified rules prioritizing more serious outcomes. Submit updates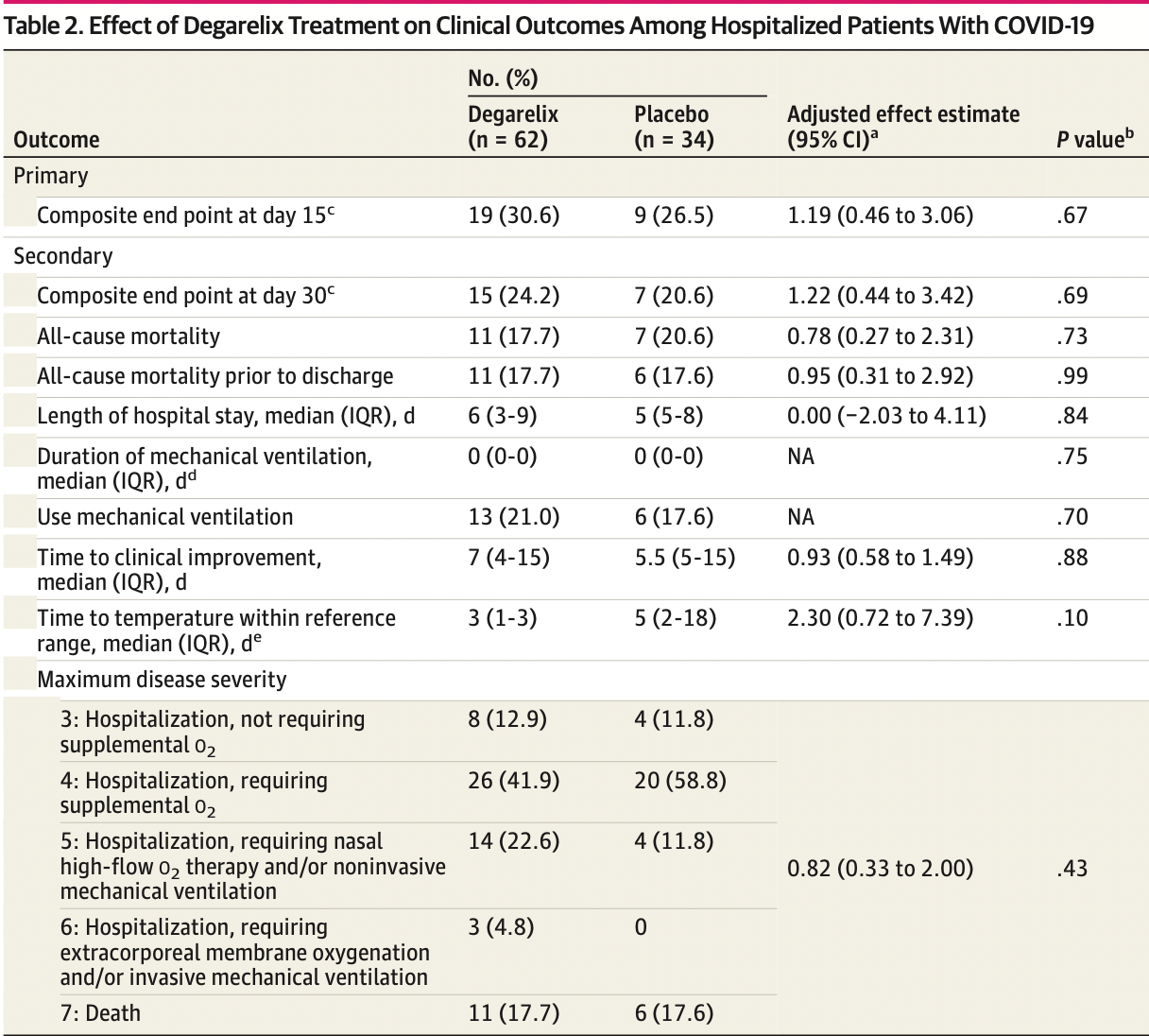 Nickols et al., 19 Apr 2022, Double Blind Randomized Controlled Trial, placebo-controlled, USA, peer-reviewed, 34 authors, study period 22 July, 2020 - 8 April, 2021, trial
NCT04397718
(history)
(HITCH).
Abstract: Original Investigation | Infectious Diseases Effect of Androgen Suppression on Clinical Outcomes in Hospitalized Men With COVID-19 The HITCH Randomized Clinical Trial Nicholas G. Nickols, MD, PhD; Zhibao Mi, PhD; Ellen DeMatt, MA; Kousick Biswas, PhD; Christina E. Clise, PharmD; John T. Huggins, MD; Spyridoula Maraka, MD; Elena Ambrogini, MD, PhD; Mehdi S. Mirsaeidi, MD, MPH; Ellis R. Levin, MD; Daniel J. Becker, MD, MPH; Danil V. Makarov, MD; Victor Adorno Febles, MD; Pooja M. Belligund, MD; Mohammad Al-Ajam, MD; Muthiah P. Muthiah, MD; Robert B. Montgomery, MD; Kyle W. Robinson, MD; Yu-Ning Wong, MD, MSCE; Roger J. Bedimo, MD; Reina C. Villareal, MD; Samuel M. Aguayo, MD; Martin W. Schoen, MD, MPH; Matthew B. Goetz, MD; Christopher J. Graber, MD; Debika Bhattacharya, MD; Guy Soo Hoo, MD; Greg Orshansky, MD; Leslie E. Norman, MSW; Samantha Tran, BS; Leila Ghayouri, BA; Sonny Tsai, AA; Michelle Geelhoed, MPAS; Mathew B. Rettig, MD Abstract Key Points IMPORTANCE SARS-CoV-2 entry requires the TMPRSS2 cell surface protease. Antiandrogen therapies reduce expression of TMPRSS2. Question Does androgen suppression improve clinical outcomes in hospitalized men with COVID-19? OBJECTIVE To determine if temporary androgen suppression induced by degarelix improves clinical Findings In this randomized clinical trial outcomes of inpatients hospitalized with COVID-19. including 96 men, androgen suppression with the addition of DESIGN, SETTING, AND PARTICIPANTS The Hormonal Intervention for the Treatment in Veterans degarelix vs placebo plus standard care With COVID-19 Requiring Hospitalization (HITCH) phase 2, placebo-controlled, double-blind, did not show reduction of the composite randomized clinical trial compared efficacy of degarelix plus standard care vs placebo plus standard end point of mortality, ongoing care on clinical outcomes in men hospitalized with COVID-19 but not requiring invasive mechanical hospitalization, or requirement for ventilation. Inpatients were enrolled at 14 Department of Veterans Affairs hospitals from July 22, mechanical ventilation at day 15 after 2020, to April 8, 2021. Data were analyzed from August 9 to October 15, 2021. randomization. Meaning This randomized clinical trial INTERVENTIONS Patients stratified by age, history of hypertension, and disease severity were centrally randomized 2:1 to degarelix, (1-time subcutaneous dose of 240 mg) or a saline placebo. Standard care included but was not limited to supplemental oxygen, antibiotics, vasopressor found that androgen suppression did not improve outcomes in men hospitalized for COVID-19. support, peritoneal dialysis or hemodialysis, intravenous fluids, remdesivir, convalescent plasma, and dexamethasone. MAIN OUTCOMES AND MEASURES The composite primary end point was mortality, ongoing need for hospitalization, or requirement for mechanical ventilation at day 15 after randomization. + Visual Abstract + Supplemental content Author affiliations and article information are listed at the end of this article. Secondary end points were time to clinical improvement, inpatient mortality, length of hospitalization, duration of mechanical ventilation, time to achieve a temperature within reference range, maximum severity of COVID-19, and the composite end point at 30 days. RESULTS The trial was stopped for futility after the planned interim analysis, at which time there were 96 evaluable patients, including 62 patients randomized to the degarelix..
Please send us corrections, updates, or comments. Vaccines and treatments are complementary. All practical, effective, and safe means should be used based on risk/benefit analysis. No treatment, vaccine, or intervention is 100% available and effective for all current and future variants. We do not provide medical advice. Before taking any medication, consult a qualified physician who can provide personalized advice and details of risks and benefits based on your medical history and situation.
FLCCC
and
WCH
provide treatment protocols.
Submit