Retrospective 218 COVID+ lung transplant patients in Germany, showing no significant difference in severe cases with early sotrovimab use.
Efficacy is variant dependent. In Vitro studies predict lower efficacy for BA.1 Liu, Sheward, VanBlargan and a lack of efficacy for BA.2 Zhou. US EUA has been revoked.
risk of severe case,

20.2% higher

, RR 1.20, p = 0.79
, treatment 21 of 125 (16.8%), control 13 of 93 (14.0%).
Effect extraction follows pre-specified rules prioritizing more serious outcomes. Submit updates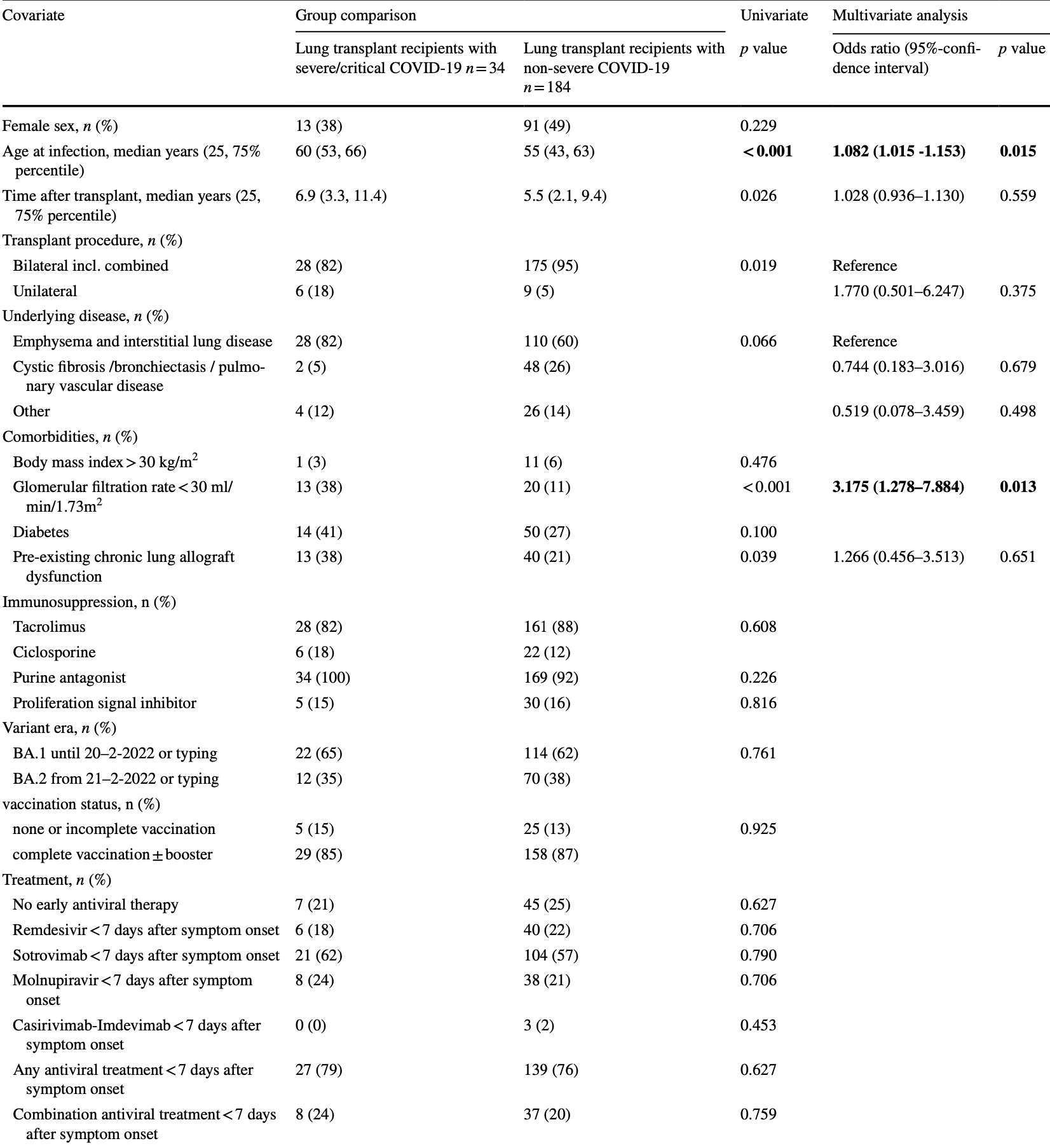 Kneidinger et al., 9 Sep 2022, retrospective, Germany, peer-reviewed, 11 authors, study period 1 January, 2022 - 20 March, 2022, lung transplant patients.
Contact: nikolaus.kneidinger@med.uni-muenchen.de.
Outcome of lung transplant recipients infected with SARS-CoV-2/Omicron/B.1.1.529: a Nationwide German study
Infection, doi:10.1007/s15010-022-01914-8
Purpose Coronavirus disease 2019 (COVID-19) caused by severe acute respiratory syndrome coronavirus type 2 (SARS-CoV-2) is currently the major threat for immunocompromised individuals. The course of COVID-19 in lung transplant recipients in the Omicron era remains unknown. The aim of the study was to assess outcome and associated factors in lung transplant recipients in a German-wide multicenter approach. Methods All affected individuals from January 1st to March 20th, 2022 from 8 German centers during the Omicron wave were collected. Baseline characteristics and antiviral measures were associated with outcome. Results Of 218 patients with PCR-proven SARS-CoV-2 infection 166 patients (76%) received any early (< 7 days) antiviral therapy median 2 (interquartile range 1-4) days after symptom onset. Most patients received sotrovimab (57%), followed by remdesivir (21%) and molnupiravir (21%). An early combination therapy was applied in 45 patients (21%). Thirty-four patients (16%) developed a severe or critical disease severity according to the WHO scale. In total, 14 patients (6.4%) died subsequently associated with COVID-19. Neither vaccination and antibody status, nor applied treatments were associated with outcome. Only age and glomerular filtration rate < 30 ml/min/1.73m 2 were independent risk factors for a severe or critical COVID-19. Conclusion COVID-19 due to Omicron remains an important threat for lung transplant recipients. In particular, elderly patients and patients with impaired kidney function are at risk for worse outcome. Prophylaxis and therapy in highly immunocompromised individuals need further improvement.
Author contributions NK and JG designed and directed the project. All authors contributed to the data collection. NK and JG performed the analysis and drafted the manuscript. All authors were involved in interpretation of results reviewed the manuscript. Funding Open Access funding enabled and organized by Projekt DEAL. Not applicable. Declarations Competing interests The authors declare no competing interests. Conflict of interest The authors have no competing interests as defined by Springer, or other interests that might be perceived to influence the results and/or discussion reported in this paper. Ethical approval The study was approved by the central institutional ethics committee (LMU Munich, Germany; project number 22-0078). Open Access This article is licensed under a Creative Commons Attribution 4.0 International License, which permits use, sharing, adaptation, distribution and reproduction in any medium or format, as long as you give appropriate credit to the original author(s) and the source, provide a link to the Creative Commons licence, and indicate if changes were made. The images or other third party material in this article are included in the article's Creative Commons licence, unless indicated otherwise in a credit line to the material. If material is not included in the article's Creative Commons licence and your intended use is not permitted by statutory regulation or exceeds the permitted use, you will need to obtain permission directly from the..
References