Mouthrinse RCT in Italy comparing short-term viral load after a single 60 second treatment with povidone-iodine, hydrogen peroxide, chlorhexidine, and saline. The greatest efficacy was seen with povidone-iodine, especially for patients with low viral load at baseline.
Analysis of short-term changes in viral load using PCR may not detect effective treatments because PCR is unable to differentiate between intact infectious virus and non-infectious or destroyed virus particles. For example
Alemany, Tarragó‐Gil
perform RCTs with cetylpyridinium chloride (CPC) mouthwash that show no difference in PCR viral load, however there was significantly increased detection of SARS-CoV-2 nucleocapsid protein, indicating viral lysis. CPC inactivates SARS-CoV-2 by degrading its membrane, exposing the nucleocapsid of the virus. To better estimate changes in viral load and infectivity, methods like viral culture or antigen detection that can differentiate intact vs. degraded virus are preferred.
This study is excluded in the after exclusion results of meta analysis: study only provides short-term viral load results.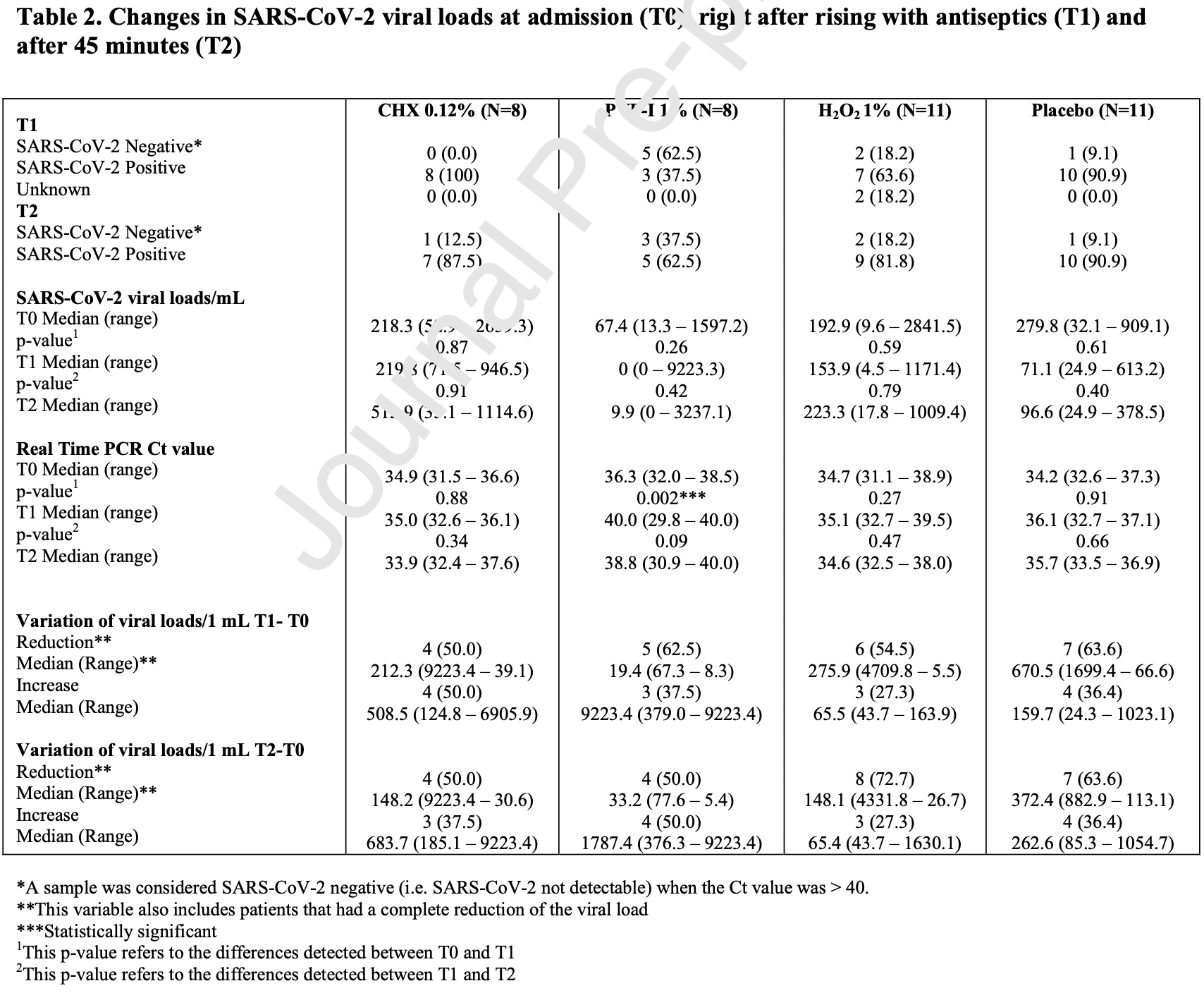 Fantozzi et al., 28 Jul 2022, Randomized Controlled Trial, Italy, peer-reviewed, 14 authors, study period December 2020 - May 2021, this trial compares with another treatment - results may be better when compared to placebo.
Contact: umberto.romeo@uniroma1.it.
Efficacy of antiseptic mouthrinses against SARS-CoV-2: A prospective randomized placebo-controlled pilot study
American Journal of Otolaryngology, doi:10.1016/j.amjoto.2022.103549
This is a PDF file of an article that has undergone enhancements after acceptance, such as the addition of a cover page and metadata, and formatting for readability, but it is not yet the definitive version of record. This version will undergo additional copyediting, typesetting and review before it is published in its final form, but we are providing this version to give early visibility of the article. Please note that, during the production process, errors may be discovered which could affect the content, and all legal disclaimers that apply to the journal pertain.
When all antiseptic mouthrinses were considered, PVP-I 1% was found to be more effective in reducing the Ct Values at T1 compared to CHX 0.12% (p=0.001), the H 2 O 2 1% (p=0.027) and the placebo (p=0.001). In addition, PVP-I 1% was found to be more effective in terms of viral load reduction both at T1 (p=0.03) and at T2 (p=0.024) when compared to the placebo. No other statistically significant differences were found amongst the other rinses (Table 3 ). Interestingly, when all the negative patients were considered (at T1 and T2), the median SARS-CoV-2 viral load was 21.5 copies/mL (IQR: 4.9 -294.5), and the median Ct value was 37.8 (IQR: 34.1 -39.8). J o u r n a l P r e -p r o o f Discussion This single-blinded randomized controlled pilot study reported on the efficacy of three oral antiseptics on the reduction of oral SARS-CoV-2 viral load in the oral and oropharyngeal region. PVP-I 1% had the highest efficacy with five patients (62.5%) at T1 and three patients (37.5%) at T2 having undetectable SARS-CoV-2 viral load after the rinse, with an overall median viral load reduction of 19.4 (IQR: 67.3 -8.2) viral loads/mL at T1 (p=0.26), and 33.2 (IQR: 77.6 -5.4) viral loads/mL at T2 (p=0.42). The median Ct value in the PVP-I 1% group at T0 was 36.3 (IQR: 32.0 -38.5), followed by 40.0 (IQR: 29.8 -40.0) at T1 (p=0.002), and 38.8 (IQR: 30.9 -40.0) at T2 (p=0.09). H 2 O 2 1% showed the second highest efficacy, with six patients (54.5%) at T1, and eight patients (72.7%) at T2..
References
Carrouel, Gonçalves, Conte, Antiviral Activity of Reagents in Mouth Rinses against SARS-CoV
Muñoz-Basagoiti, Perez-Zsolt, León, CoV-J o u r n a l P r e -p r o o f Journal Pre-proof