Prospective study of 100 COVID+ pediatric patients in Turkey, showing significantly increased risk of hospitalization for patients with zinc deficiency.
risk of hospitalization,

75.3% lower

, RR 0.25, p = 0.01
, high zinc levels (≥70μg/dL) 10 of 89 (11.2%), low zinc levels (<70μg/dL) 5 of 11 (45.5%), NNT 2.9.
Effect extraction follows pre-specified rules prioritizing more serious outcomes. Submit updates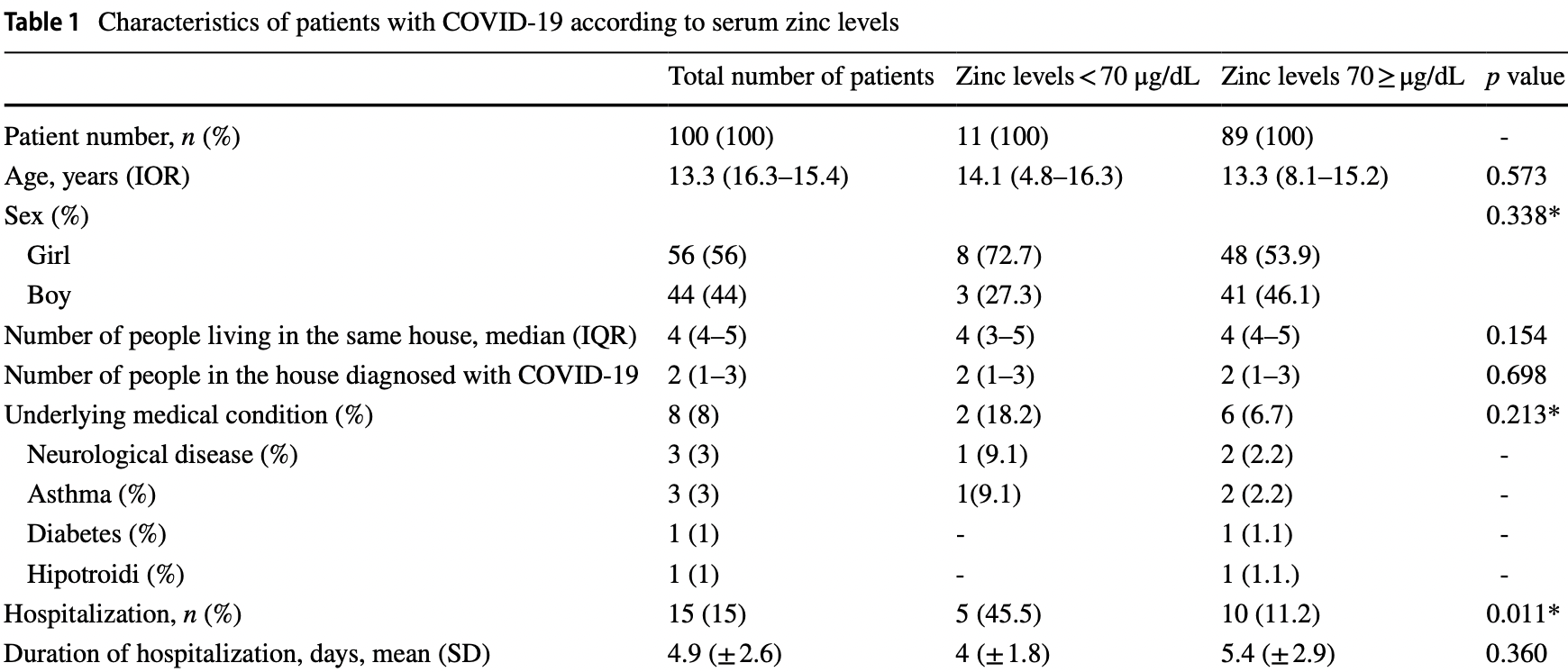 Ekemen Keleş et al., 22 Jan 2022, prospective, Turkey, peer-reviewed, 7 authors, study period 3 August, 2020 - 15 November, 2020.
Serum zinc levels in pediatric patients with COVID-19
European Journal of Pediatrics, doi:10.1007/s00431-021-04348-w
Zinc has potent immunoregulatory and antiviral effects that are critical for growth, immunity, and neurologic development. The aim of this study was to determine the clinical significance of serum zinc levels in pediatric patients with COVID-19 and to demonstrate its association with disease severity. This prospective observational study was conducted between August 3 and November 15, 2020, in pediatric patients aged 1 month to 18 years with confirmed COVID-19 using reverse transcription-polymerase chain reaction. We defined a control group whose serum zinc levels were determined 1 year ago at the same time as those of patients with COVID-19. We used 70 μg/dL as the cut-off zinc value to define zinc deficiency. Statistical analyses were performed using the SPSS for Windows statistics package program. One hundred children with confirmed COVID-19 and 269 children in the control group participated in the study. The median age was 13.3 (IQR: 8-15.4) years in patients with confirmed COVID-19, 11 patients had low serum zinc levels, and 89 patients had normal serum zinc levels. Patients in the group with low zinc levels had a significantly higher hospitalization rate than the group with normal zinc levels (5 (45.5%) and 10 patients (11.2%), respectively) (p = 0.011). The median serum zinc level in patients with COVID-19 was 88.5 mcg/dL (IQR 77.2-100), which was significantly lower than the median level in the control group, which was 98 mcg/dL (IQR 84-111) (p = 0.001). There was no association between the severity of COVID-19 and the serum zinc levels of the children. Conclusion: Serum zinc levels may be influenced by many factors such as fasting status, diurnal variation, exercise, and sex, and may give an impression of the zinc status of the population rather than reflecting the individual. The fact that the incidence of hospitalization was significantly higher in patients with both COVID-19 and low serum zinc levels suggests that these patients require a detailed assessment of their living environment. What is Known: • Serum zinc levels have been found to be low in adult patients diagnosed with COVID-19. • There was a correlation between the severity of COVID-19 and serum zinc levels in adults. What is New: • Children with low serum zinc levels were found to have a higher number of hospitalizations. • No association was found between the severity of COVID-19 disease and serum zinc levels in children. Keywords Children • COVID-19 • Zinc • SARS-CoV-2 Abbreviations SARS-CoV-2 Severe acute respiratory syndrome coronavirus-2 COVID-19 Coronavirus Disease-19 RT-PCR Reverse transcription-polymerase chain reaction IZiNCG International Zinc Nutrition Consultative Group WHO World Health Organization IQR Interquartile range OR Odds ratio Keymessage PediatricCOVID-19 populations with low serum zinc levels may have an increased incidenceof hospitalization, and physicians are advised to exercise caution in thisregard.
Authors' contributions Drs Yilmaz-Ciftdogan and Ekemen-Keles conceptualized and designed the study, collected data, drafted the initial manuscript, and reviewed and revised the manuscript. Drs Ustundag, Sahin, Yilmaz, Colak, and Kara Aksay designed the data collection instruments, collected data, critically reviewed the manuscript for Declarations Ethics approval Ethics committee approval was obtained. Consent to participate All authors approved the final manuscript as submitted and agree to be accountable for all aspects of the work. Consent for publication All authors have given consent for the study to be published in European Journal of Pediatrics. Conflict of interest The authors declare no competing interests. Authors and Affiliations
References
Hambidge, Goodall, Stall, Pritts, Post-prandial and daily changes in plasma zinc, J Trace Elem Electrolytes Health Dis
King, Cousins, Zinc
Zinc, Consultative Group ; Izincg, Brown, Rivera, Bhutta et al., International Zinc Nutrition Consultative Group (IZiNCG) technical document# 1. Assessment of the risk of zinc deficiency in populations and options for its control, Food Nutr Bull