In Vitro
analysis of indomethacin for multiple human coronaviruses including SARS-CoV-2. Indomethacin exhibited antiviral activity against SARS-CoV-2 infection in human cell lines and lung airway organoid models. Treatment with indomethacin reduced SARS-CoV-2 viral RNA levels and infectious virus production. The anti-SARS-CoV-2 effect occurred at the post-entry stage of the viral life cycle. The EC
50
(half maximal effective concentration) of indomethacin against SARS-CoV-2 was 16.69 μM, with a selectivity index around 6, indicating a reasonable therapeutic window between antiviral activity and cytotoxicity. Combining indomethacin with other antivirals showed synergistic effects.
3 preclinical studies support the efficacy of indomethacin for COVID-19: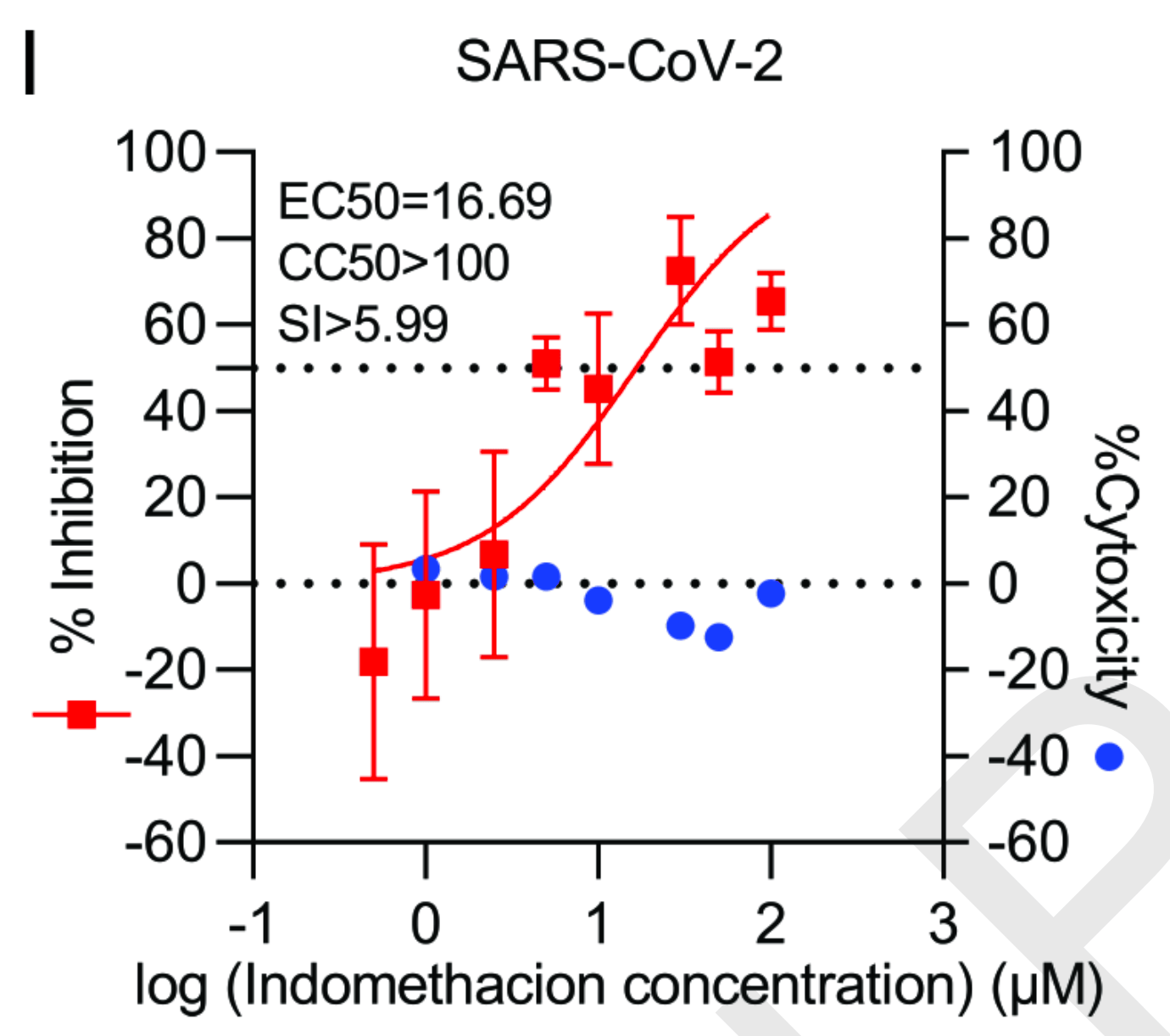 Wang et al., 15 Aug 2023, peer-reviewed, 10 authors.
Contact: q.pan@erasmusmc.nl.
In Vitro studies are an important part of preclinical research, however results may be very different in vivo.
Combating pan-coronavirus infection by indomethacin through simultaneously inhibiting viral replication and inflammatory response
iScience, doi:10.1016/j.isci.2023.107631
This is a PDF file of an article that has undergone enhancements after acceptance, such as the addition of a cover page and metadata, and formatting for readability, but it is not yet the definitive version of record. This version will undergo additional copyediting, typesetting and review before it is published in its final form, but we are providing this version to give early visibility of the article. Please note that, during the production process, errors may be discovered which could affect the content, and all legal disclaimers that apply to the journal pertain.
Author contributions Conceptualization, Y.W., and Q.P.; Methodology, Y.W., P.L., L.X., and W.W.; Resources, R.J.R., P.L., and D.E.K; Formal analysis, P.L., and Y.W.; Project discussion, M.B.C., R.J.R., DE.K., M.P.P., and A.C.V.; Writing-Original Draft, Y.W., and Q.P.; Funding acquisition, Q.P., and R.J.R.; Writing-Review & Editing, R.J.R., M.B.C., D.E.K., M.P.P., A.C.V., and Q.P. Declaration of interest The authors disclose no conflicts. Highlights • Indomethacin exerts pan-coronavirus antiviral activity • Indomethacin promotes interferon response through enhancing STAT1 phosphorylation • Indomethacin inhibits coronavirus-triggered inflammatory response
References
Amici, Di Caro, Ciucci, Chiappa, Castilletti et al., Indomethacin has a potent antiviral activity against SARS coronavirus, Antivir Ther
Ianevski, Giri, Aittokallio, SynergyFinder 3.0: an interactive analysis and consensus interpretation of multi-drug synergies across multiple samples