Prospective prophylaxis trial with 255 healthcare workers taking vitamin D and 2,827 controls, showing significantly lower influenza-like illness with treatment, and lower COVID-19 cases, without statistical significance. While the intervention and control groups were initially randomized, exclusions were only processed in the treatment arm.This is the
96th of 116 COVID-19 controlled studies
for vitamin D, which collectively show efficacy with
p<0.0000000001 (1 in 38 sextillion)
.
28 studies are RCTs
, which show efficacy with
p=0.0000081
.
risk of case,

97.5% lower

, RR 0.02, p = 0.07
, treatment 0 of 255 (0.0%), control 36 of 2,827 (1.3%), NNT 79, relative risk is not 0 because of continuity correction due to zero events (with reciprocal of the contrasting arm).
Effect extraction follows pre-specified rules prioritizing more serious outcomes. Submit updates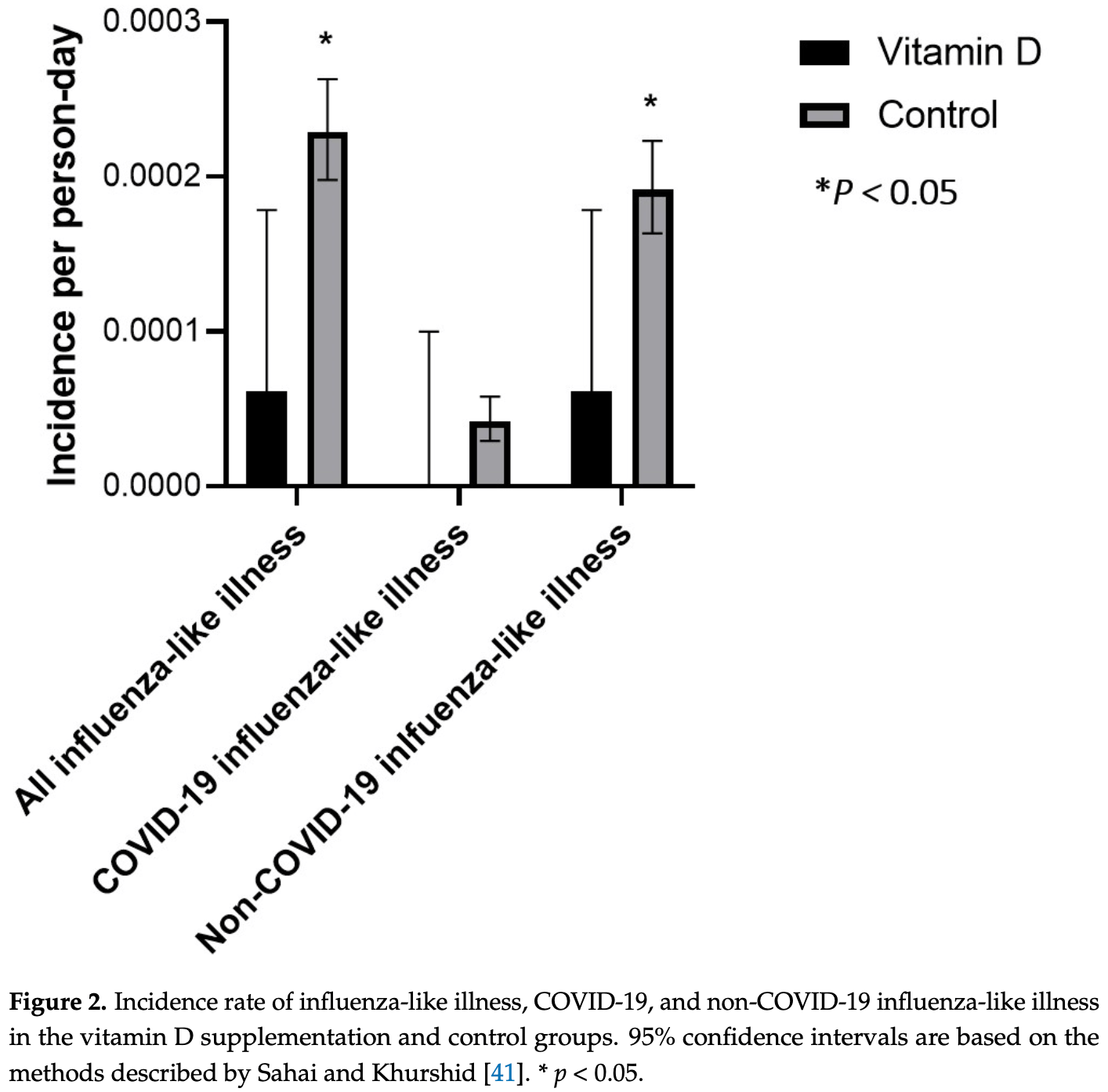 van Helmond et al., 17 Sep 2022, prospective, USA, peer-reviewed, 14 authors, study period 27 October, 2020 - 31 January, 2021, dosage 5,000IU daily, trial
NCT04596657
(history)
.
Contact: mitrev-ludmil@cooperhealth.edu, vanhelmond-noud@cooperhealth.edu.
Vitamin D3 Supplementation at 5000 IU Daily for the Prevention of Influenza-like Illness in Healthcare Workers: A Pragmatic Randomized Clinical Trial
Nutrients, doi:10.3390/nu15010180
Vitamin D supplementation has been shown to reduce the incidence of acute respiratory infections in populations at risk. The COVID-19 pandemic has highlighted the importance of preventing viral infections in healthcare workers. The aim of this study was to assess the hypothesis that vitamin D3 supplementation at 5000 IU daily reduces influenza-like illness (ILI), including COVID-19, in healthcare workers. We conducted a prospective, controlled trial at a tertiary university hospital. A random group of healthcare workers was invited to receive 5000 IU daily vitamin D3 supplementation for nine months, while other random healthcare system workers served as controls. All healthcare workers were required to self-monitor and report to employee health for COVID-19 testing when experiencing symptoms of ILI. COVID-19 test results were retrieved. Incidence rates were compared between the vitamin D and control groups. Workers in the intervention group were included in the analysis if they completed at least 2 months of supplementation to ensure adequate vitamin D levels. The primary analysis compared the incidence rate of all ILI, while secondary analyses examined incidence rates of COVID-19 ILI and non-COVID-19 ILI. Between October 2020 and November 2021, 255 healthcare workers (age 47 ± 12 years, 199 women) completed at least two months of vitamin D3 supplementation. The control group consisted of 2827 workers. Vitamin D3 5000 IU supplementation was associated with a lower risk of ILI (incidence rate difference: −1.7 × 10 −4 /person-day, 95%-CI: −3.0 × 10 −4 to −3.3 × 10 −5 /person-day, p = 0.015) and a lower incidence rate for non-COVID-19 ILI (incidence rate difference: −1.3 × 10 −4 /personday, 95%-CI −2.5 × 10 −4 to −7.1 × 10 −6 /person-day, p = 0.038). COVID-19 ILI incidence was not statistically different (incidence rate difference: −4.2 × 10 −5 /person-day, 95%-CI: −10.0 × 10 −5 to 1.5 × 10 −5 /person-day, p = 0.152). Daily supplementation with 5000 IU vitamin D3 reduces influenzalike illness in healthcare workers.
Supplementary Materials: The following supporting information can be downloaded at: https:// www.mdpi.com/article/10.3390/nu15010180/s1, Table S1 . CONSORT Checklist, Table S2 . Adverse events (AE) and relatedness among intervention group during 9-month study period
References
Clinic, Hypercalcemia
Cohen, Statistical Power Analysis for the Behavioral Sciences
Harris, Taylor, Minor, Elliott, Fernandez et al., The REDCap consortium: Building an international community of software platform partners, J. Biomed. Inf
House, Knapp, Informed consent. Trials that use Zelen's procedure should be acceptable, BMJ
Sahai, Khurshid, Statistics in Epidemiology: Methods, Techniques, and Applications
Çelebi, Pişkin, Çelik Bekleviç, Altunay, Salcı Keleş et al., Specific risk factors for SARS-CoV-2 transmission among health care workers in a university hospital, Am. J. Infect. Control