Retrospective 551 moderate to severe COVID-19 patients in Mexico showing vitamin D ≤12ng/mL independently associated with COVID-19 mortality. No association was found between vitamin D levels and the need for intubation. Vitamin D deficiency was more prevalent in women and patients with type 2 diabetes.This is the
55th of 184 COVID-19 sufficiency studies
for vitamin D, which collectively show higher levels reduce risk with
p<0.0000000001 (1 in 712 vigintillion)
.
risk of death,

52.6% lower

, RR 0.47, p = 0.006
, high D levels (≥12ng/mL) 95 of 494 (19.2%), low D levels (<12ng/mL) 21 of 57 (36.8%), NNT 5.7, adjusted per study, inverted to make RR<1 favor high D levels (≥12ng/mL).
Effect extraction follows pre-specified rules prioritizing more serious outcomes. Submit updates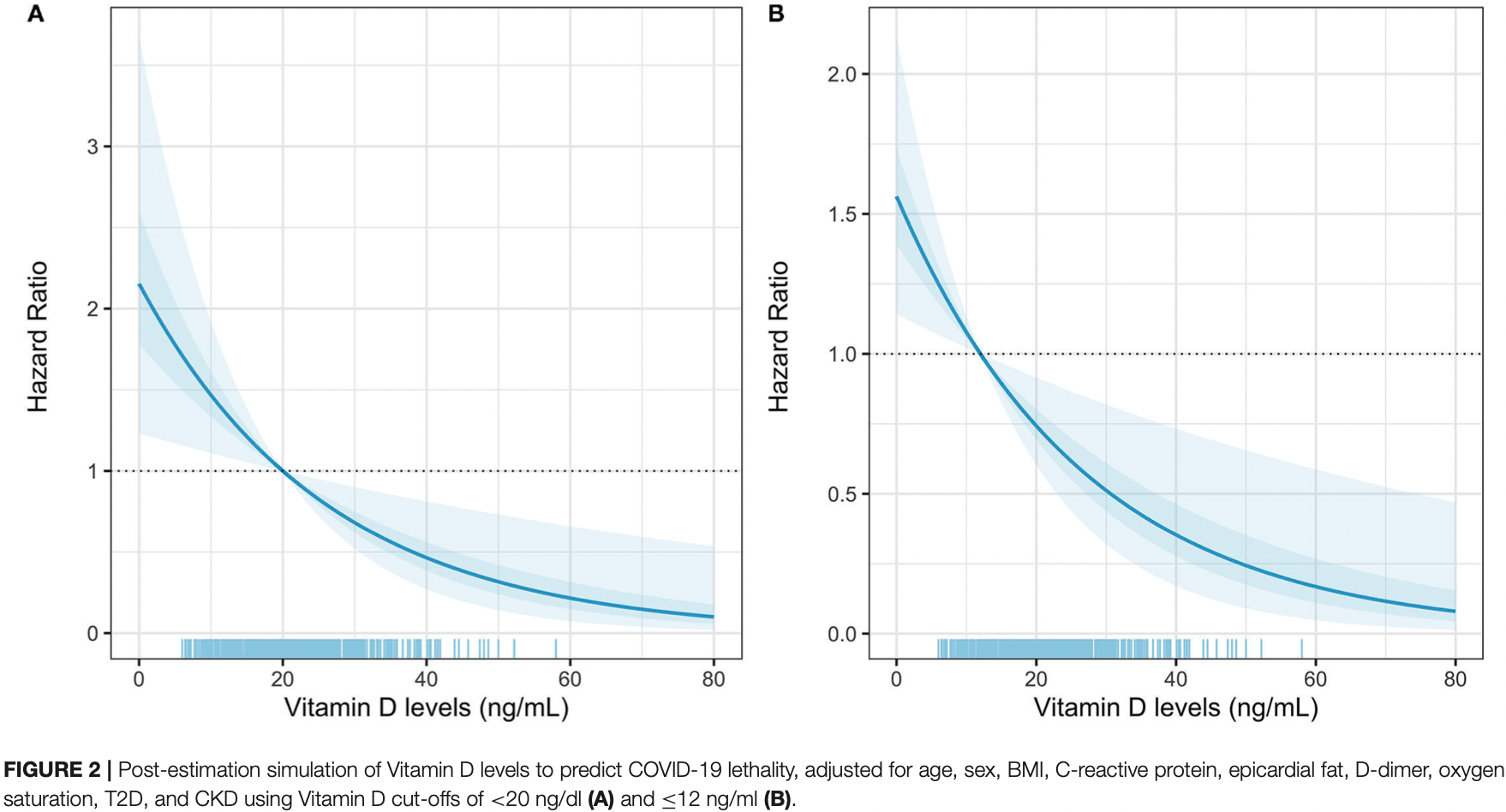 Vanegas-Cedillo et al., 14 Mar 2021, retrospective, Mexico, peer-reviewed, 15 authors.
Serum Vitamin D Levels Are Associated With Increased COVID-19 Severity and Mortality Independent of Whole-Body and Visceral Adiposity
Frontiers in Nutrition, doi:10.3389/fnut.2022.813485
Conclusion: Vitamin D deficiency (≤12 ng/ml or <30 nmol/L), is independently associated with COVID-19 mortality after adjustment for visceral fat (epicardial fat thickness). Low vitamin D may contribute to a pro-inflammatory and pro-thrombotic state, increasing the risk for adverse COVID-19 outcomes.
DATA AVAILABILITY STATEMENT The datasets presented in this study can be found in online repositories. The names of the repository/repositories and accession number(s) can be found at: https://github.com/ oyaxbell/covid_metabolism. ETHICS STATEMENT The studies involving human participants were reviewed and approved by Research and Ethics Committee of the INCMNZ (Ref 3383). Written informed consent for participation was not required for this study in accordance with the national legislation and the institutional requirements. AUTHOR CONTRIBUTIONS RM, OB-C, and CA-S: research idea and study design. RM, PV-C, NR-P, MJ-Á, CP, BR, JV-G, and CA-S: data acquisition. OB-C, RM, CA-S, NA-V, and AV-V: data analysis/interpretation. OB-C and NA-V: statistical analysis. RM, OB-C, NA-V, AV-V, and CA-S: manuscript drafting. RM, CA-S, AP, and JS-O: supervision or mentorship. All authors contributed important intellectual content during manuscript drafting or revision and accepts accountability for the overall work by ensuring that questions pertaining to the accuracy or integrity of any portion of the work are appropriately investigated and resolved. Conflict of Interest: The authors declare that the research was conducted in the absence of any commercial or financial relationships that could be construed as a potential conflict of interest. Publisher's Note: All claims expressed in this article are solely those of the authors and do not necessarily represent those of their affiliated..
References