Retrospective COVID-19 patients requiring CPAP, 21 treated with SLAB51 probiotics and 15 control patients, showing improved outcomes with treatment, despite significantly lower blood oxygenation at baseline in the treatment group.The immune effects of probiotics are strain-specific.
risk of death,

77.8% lower

, RR 0.22, p = 0.28
, treatment 1 of 21 (4.8%), control 3 of 14 (21.4%), NNT 6.0.
risk of miscellaneous,

77.8% lower

, RR 0.22, p < 0.001
, treatment 4 of 21 (19.0%), control 12 of 14 (85.7%), NNT 1.5, CPAP, day 7.
risk of miscellaneous,

9.5% lower

, RR 0.90, p = 0.51
, treatment 19 of 21 (90.5%), control 14 of 14 (100.0%), NNT 10, CPAP, day 3.
Effect extraction follows pre-specified rules prioritizing more serious outcomes. Submit updates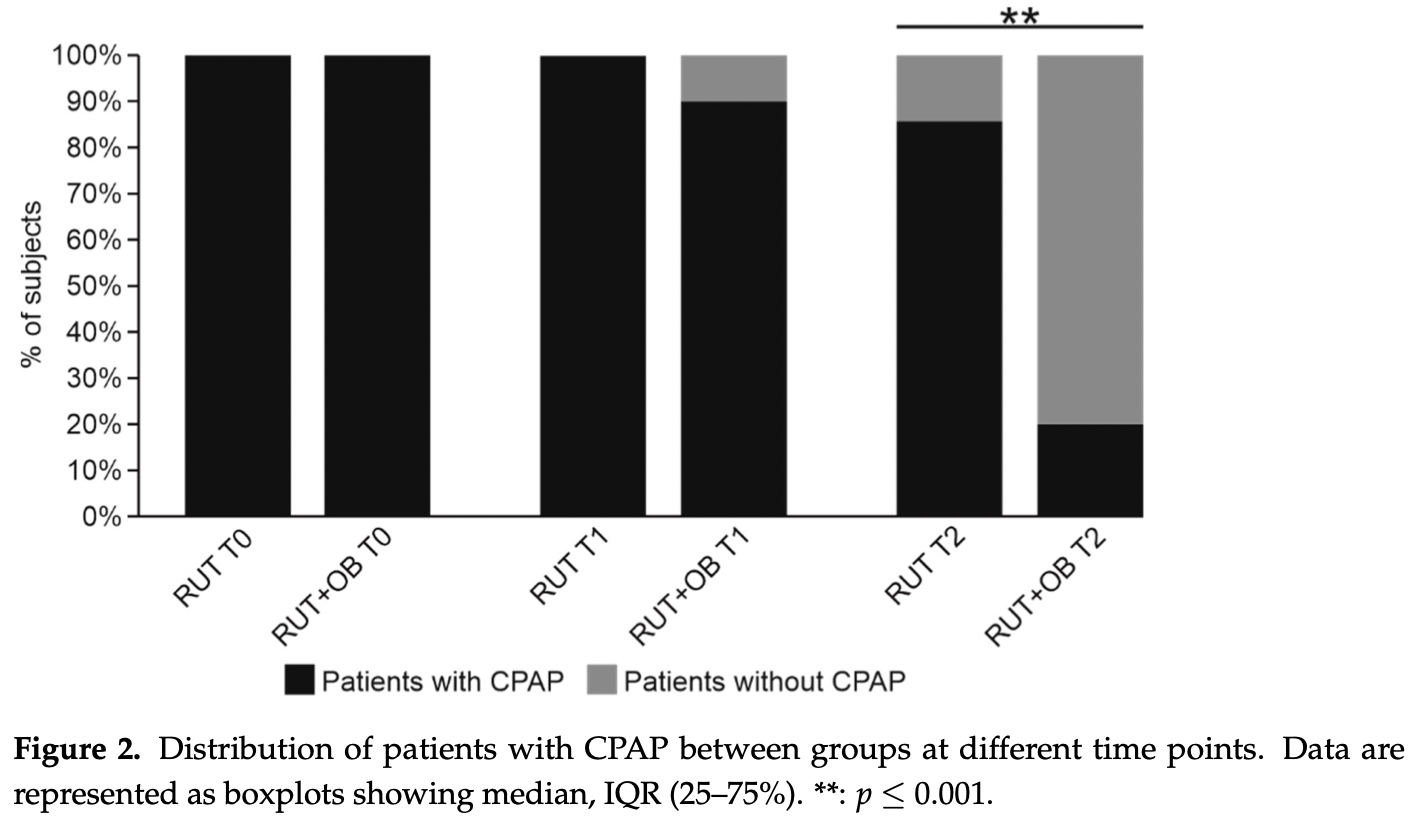 Trinchieri et al., 1 Aug 2022, retrospective, Italy, peer-reviewed, 10 authors, study period November 2020 - March 2021.
Contact: giancarlo.ceccarelli@uniroma1.it (corresponding author), vito.trinchieri@uniroma1.it, massimiliano.marazzato@uniroma1.it, letizia.santinelli@uniroma1.it, luca.maddaloni@uniroma1.it, paolo.vassilini@uniroma1.it, claudio.mastroianni@uniroma1.it, gabriella.dettorre@uniroma1.it, francesca.lombardi@univaq.it, alessandra.piccirilli@univaq.it.
Exploiting Bacteria for Improving Hypoxemia of COVID-19 Patients
Biomedicines, doi:10.3390/biomedicines10081851
Background: Although useful in the time-race against COVID-19, CPAP cannot provide oxygen over the physiological limits imposed by severe pulmonary impairments. In previous studies, we reported that the administration of the SLAB51 probiotics reduced risk of developing respiratory failure in severe COVID-19 patients through the activation of oxygen sparing mechanisms providing additional oxygen to organs critical for survival. Methods: This "real life" study is a retrospective analysis of SARS-CoV-2 infected patients with hypoxaemic acute respiratory failure secondary to COVID-19 pneumonia undergoing CPAP treatment. A group of patients managed with ad interim routinely used therapy (RUT) were compared to a second group treated with RUT associated with SLAB51 oral bacteriotherapy (OB). Results: At baseline, patients receiving SLAB51 showed significantly lower blood oxygenation than controls. An opposite condition was observed after 3 days of treatment, despite the significantly reduced amount of oxygen received by patients taking SLAB51. At 7 days, a lower prevalence of COVID-19 patients needing CPAP in the group taking probiotics was observed. The administration of SLAB51 is a complementary approach for ameliorating oxygenation conditions at the systemic level. Conclusion: This study proves that probiotic administration results in an additional boost in alleviating hypoxic conditions, permitting to limit on the use of CPAP and its contraindications.
Conflicts of Interest: The authors declare that the research was conducted in the absence of any commercial or financial relationships that could be construed as a potential conflict of interest.
References
Bonfili, Gong, Lombardi, Cifone, Eleuteri, Strategic Modification of Gut Microbiota through Oral Bacteriotherapy Influences Hypoxia Inducible Factor-1α: Therapeutic Implication in Alzheimer's Disease, Int. J. Mol. Sci
Ceccarelli, Borrazzo, Pinacchio, Santinelli, Innocenti et al., Oral Bacteriotherapy in Patients With COVID-19: A Retrospective Cohort Study, Front. Nutr
Dillon, Holtsberg, Ensor, Bomalaski, Clark, Biochemical characterization of the arginine degrading enzymes arginase and arginine deiminase and their effect on nitric oxide production, Med. Sci. Monit
Shen, Wang, Effects of hypoxia on platelet activation in pilots, Aviat. Space Environ. Med