Retrospective 70 hospitalized patients in Italy, 28 treated with probiotic Sivomixx, showing lower risk of respiratory failure and faster recovery with treatment.The immune effects of probiotics are strain-specific.
risk of death,

87.0% lower

, RR 0.13, p = 0.14
, treatment 0 of 28 (0.0%), control 4 of 42 (9.5%), NNT 10, relative risk is not 0 because of continuity correction due to zero events (with reciprocal of the contrasting arm).
risk of mechanical ventilation,

76.9% lower

, RR 0.23, p = 0.51
, treatment 0 of 28 (0.0%), control 2 of 42 (4.8%), NNT 21, relative risk is not 0 because of continuity correction due to zero events (with reciprocal of the contrasting arm).
respiratory failure,

88.4% lower

, OR 0.12, p = 0.01
, treatment 28, control 42, inverted to make OR<1 favor treatment, RR approximated with OR.
Effect extraction follows pre-specified rules prioritizing more serious outcomes. Submit updates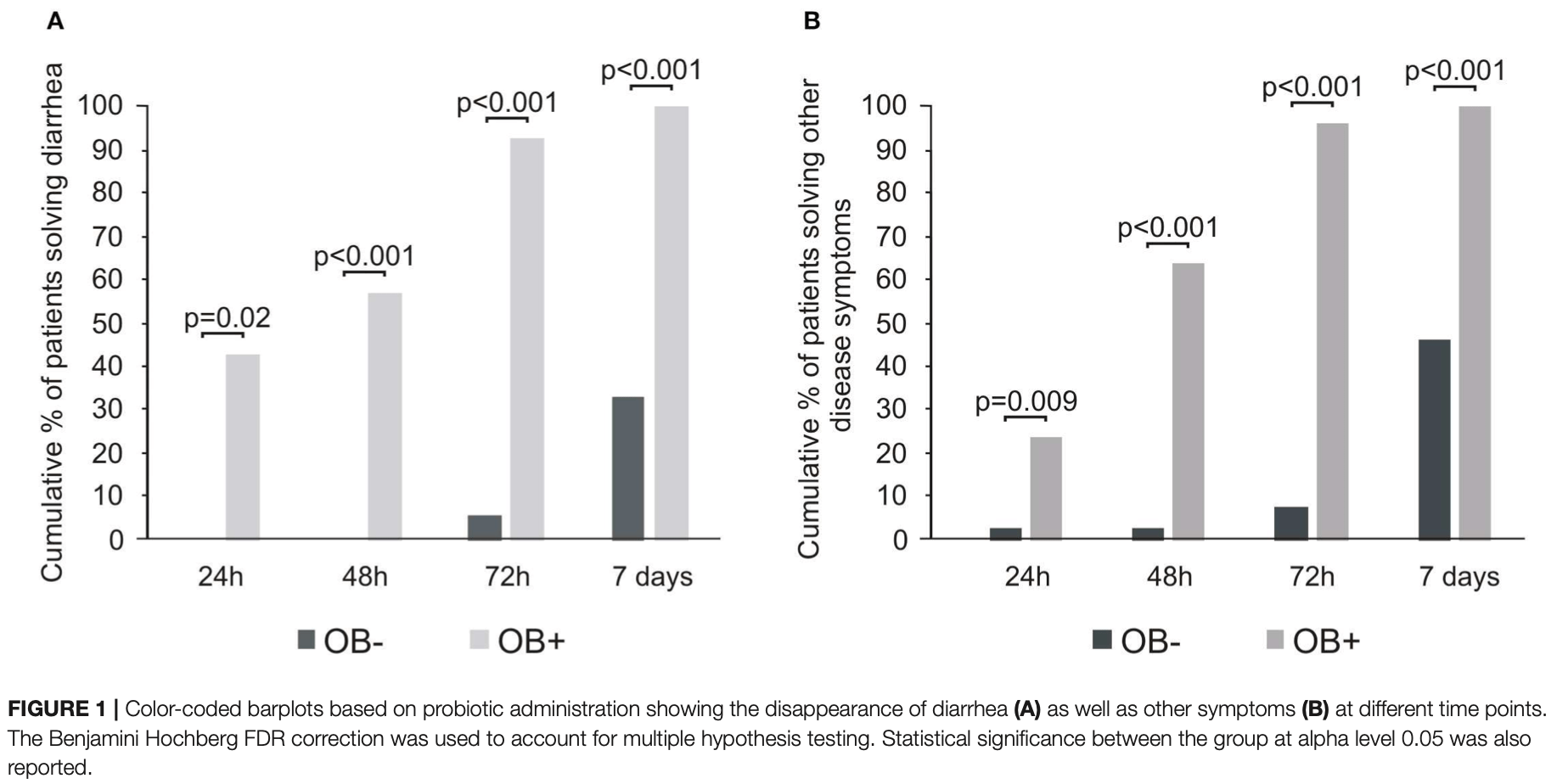 d'Ettorre et al., 7 Jul 2020, retrospective, Italy, peer-reviewed, 17 authors.
Challenges in the Management of SARS-CoV2 Infection: The Role of Oral Bacteriotherapy as Complementary Therapeutic Strategy to Avoid the Progression of COVID-19
Frontiers in Medicine, doi:10.3389/fmed.2020.00389
Background: Gastrointestinal disorders are frequent in COVID-19 and SARS-CoV-2 has been hypothesized to impact on host microbial flora and gut inflammation, infecting intestinal epithelial cells. Since there are currently no coded therapies or guidelines for treatment of COVID-19, this study aimed to evaluate the possible role of a specific oral bacteriotherapy as complementary therapeutic strategy to avoid the progression of COVID-19. Methods: We provide a report of 70 patients positive for COVID-19, hospitalized between March 9th and April 4th, 2020. All the patients had fever, required non-invasive oxygen therapy and presented a CT lung involvement on imaging more than 50%. Forty-two patients received hydroxychloroquine, antibiotics, and tocilizumab, alone or in combination. A second group of 28 subjects received the same therapy added with oral bacteriotherapy, using a multistrain formulation. Results: The two cohorts of patients were comparable for age, sex, laboratory values, concomitant pathologies, and the modality of oxygen support. Within 72 h, nearly all patients treated with bacteriotherapy showed remission of diarrhea and other symptoms as compared to less than half of the not supplemented group. The estimated risk of developing respiratory failure was eight-fold lower in patients receiving oral bacteriotherapy. Both the prevalence of patients transferred to ICU and mortality were higher among the patients not treated with oral bacteriotherapy. d'Ettorre et al. Bacteriotherapy in Treating COVID-19 Conclusions: A specific bacterial formulation showed a significant ameliorating impact on the clinical conditions of patients positive for SARS-CoV-2 infection. These results also stress the importance of the gut-lung axis in controlling the COVID-19 disease.
ETHICS STATEMENT The studies involving human participants were reviewed and approved by Ethics Committee of Policlinico Umberto I. The patients/participants provided their written informed consent to participate in this study. AUTHOR CONTRIBUTIONS Gd'E, GCe, and MM contributed substantially to the conception and design of the study and interpretation and wrote the manuscript. GCa, CP, FA, FR, GR, LC, CS, CM, VT, GER, and VM contributed substantially to the the acquisition of data and the analysis. GA, FP, and CMM drafted or provided critical revision of the article and provided final approval of the version to publish. GR contributed substantially to data interpretation. ACKNOWLEDGMENTS Authors wish to thank Prof. Claudio De Simone for suggesting the rationale of the study and the dosage of administered oral bacteriotherapy. We thank all those in the Intensive Care COVID-19 Study Group and in the Infectious Diseases COVID-19 Study Group of La Sapienza University of Rome who assisted in the care of the patients in this program. We express our solidarity with those who are or have been ill with COVID-19 the health care workers on the front lines of this pandemic. Conflict of Interest: The authors declare that the research was conducted in the absence of any commercial or financial relationships that could be construed as a potential conflict of interest.
References
Barr, Smith, Acute diarrhea, Am Fam Physician
Siaarti, Percorso assistenziale per il paziente affetto da COVID-19 Sezione 1 -Procedure area critica -versione 02
Wilson, Chotirmall, Bai, Rello, COVID-19: Interim Guidance on Management Pending Empirical Evidence