Dietary analysis of 95 adults in Poland, showing lower risk of COVID-19 with higher intake of polyphenols, lignans, and phytosterols. Results were statistically significant for total phytosterols, secoisolariciresinol, β-sitosterol, matairesinol, and stigmasterol. Authors suggest that beneficial effects on gut microbiota and immune function may contribute to the lower risk.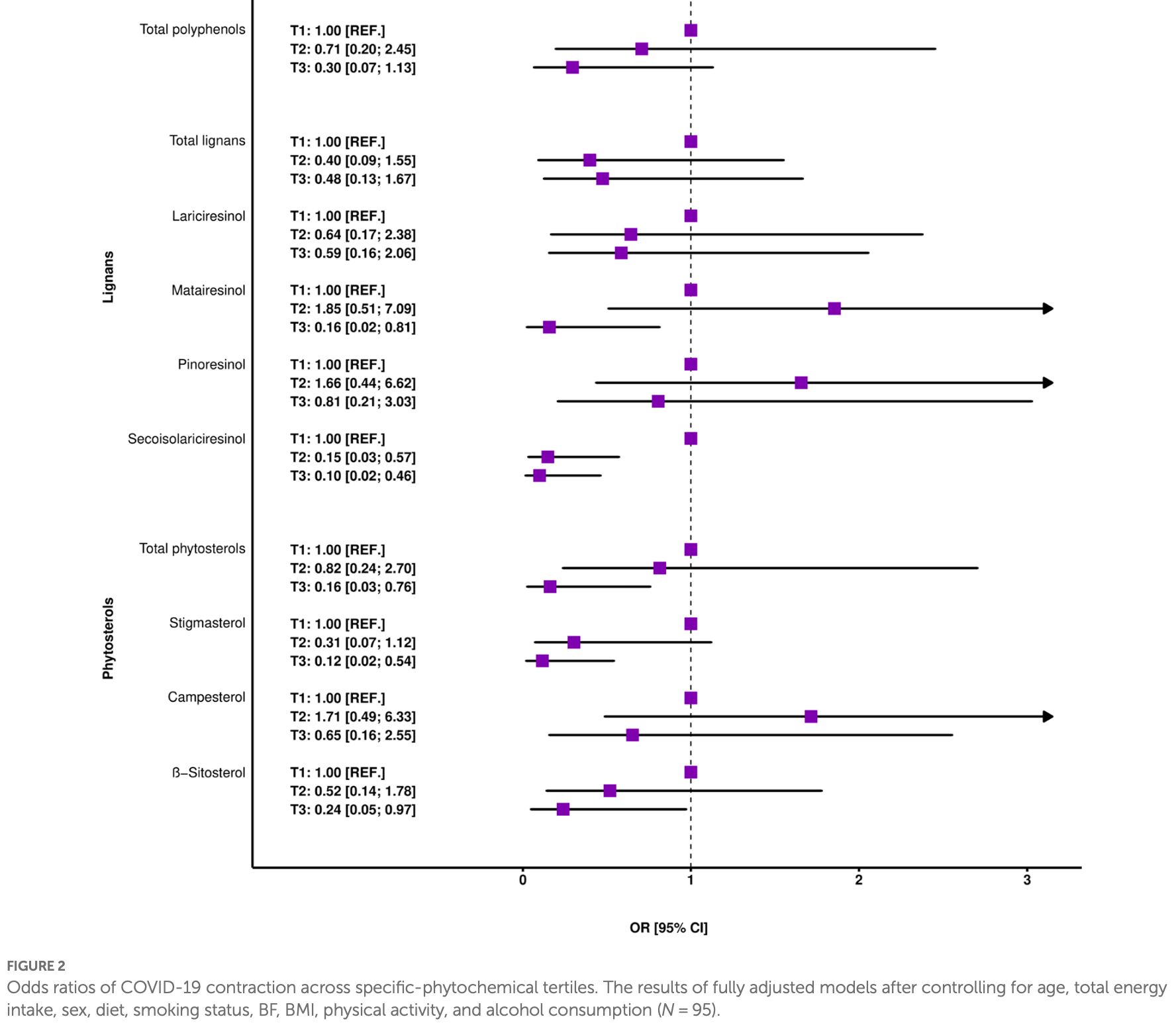 Micek et al., 3 Aug 2023, retrospective, Poland, peer-reviewed, survey, 8 authors, study period July 2020 - December 2020.
Contact: agnieszka.micek@uj.edu.pl.
Association of dietary intake of polyphenols, lignans, and phytosterols with immune-stimulating microbiota and COVID-19 risk in a group of Polish men and women
Frontiers in Nutrition, doi:10.3389/fnut.2023.1241016
Objectives: Devastating consequences of COVID-19 disease enhanced the role of promoting prevention-focused practices. Among targeted efforts, diet is regarded as one of the potential factors which can affect immune function and optimal nutrition is postulated as the method of augmentation of people's viral resistance. As epidemiological evidence is scarce, the present study aimed to explore the association between dietary intake of total polyphenols, lignans and plant sterols and the abundance of immunomodulatory gut microbiota such as Enterococcus spp. and Escherichia coli and the risk of developing COVID-19 disease. Methods: Demographic data, dietary habits, physical activity as well as the composition of body and gut microbiota were analyzed in a sample of 95 young healthy individuals. Dietary polyphenol, lignan and plant sterol intakes have been retrieved based on the amount of food consumed by the participants, the phytochemical content was assessed in laboratory analysis and using available databases. Results: For all investigated polyphenols and phytosterols, except campesterol, every unit increase in the tertile of intake category was associated with a decrease in the odds of contracting COVID-19. The risk reduction ranged from several dozen percent to 70 %, depending on the individual plant-based chemical, and after controlling for basic covariates it was statistically significant for secoisolariciresinol (OR = 0.28, 95% CI: 0.11-0.61), total phytosterols (OR = 0.47, 95% CI: 0.22-0.95) and for stigmasterols (OR = 0.34, 95% CI: 0.14-0.72). We found an inverse association between increased β-sitosterol intake and phytosterols in total and the occurrence of Escherichia coli in stool samples outside reference values, with 72% (OR = 0.28, 95% CI: 0.08-0.86) and 66% (OR = 0.34, 95% CI: 0.10-1.08) reduced odds of abnormal level of bacteria for the highest compared with the lowest tertile of phytochemical consumption. Additionally, there was a
Ethics statement The studies involving human participants were reviewed and approved by the Bioethics Committee of Jagiellonian University No. 1072.6120.5.2020 and 1072.6120.202.2019. The patients/participants provided their written informed consent to participate in this study. Author contributions AM, PJ, IB, and JG contributed to conception and design of the study. AM, IB, and JG wrote the first draft of the manuscript. AM performed the statistical analysis. PJ, AW, and AMW investigation. AM, IB, PJ, KK, AW, AMW, JP, and JG wrote sections of the manuscript. All authors contributed to manuscript revision, read, and approved the submitted version. Conflict of interest The authors declare that the research was conducted in the absence of any commercial or financial relationships that could be construed as a potential conflict of interest. Publisher's note All claims expressed in this article are solely those of the authors and do not necessarily represent those of their affiliated organizations, or those of the publisher, the editors and the reviewers. Any product that may be evaluated in this article, or claim that may be made by its manufacturer, is not guaranteed or endorsed by the publisher. Supplementary material The Supplementary material for this article can be found online at: https://www.frontiersin.org/articles/10.3389/fnut.2023.1241016/ full#supplementary-material
References
Gałecka, Basińska, Bartnicka, Znaczenie mikrobioty jelitowej w kształtowaniu zdrowia człowieka-implikacje w praktyce lekarza rodzinnego, Forum Medycyny Rodzinnej