Analysis of 259 hospitalized COVID-19 patients in the UK, showing a majority of patients had vitamin D deficiency/insufficiency, which was associated with poor outcomes. Both free and total 25(OH)D were analyzed with consistent results. ISRCTN66726260.This is the
98th of 175 COVID-19 sufficiency studies
for vitamin D, which collectively show higher levels reduce risk with
p<0.0000000001 (1 in 18 vigintillion)
.
risk of death,

68.4% lower

, RR 0.32, p = 0.005
, high D levels 68, low D levels 191, odds ratio converted to relative risk, >50nmol/l, multivariable, Supplementary Table 2, control prevalance approximated with overall prevalence.
risk of mechanical ventilation,

66.0% lower

, RR 0.34, p = 0.004
, high D levels 6 of 68 (8.8%), low D levels 61 of 191 (31.9%), NNT 4.3, odds ratio converted to relative risk, >50nmol/l, multivariable, Supplementary Table 2.
Effect extraction follows pre-specified rules prioritizing more serious outcomes. Submit updates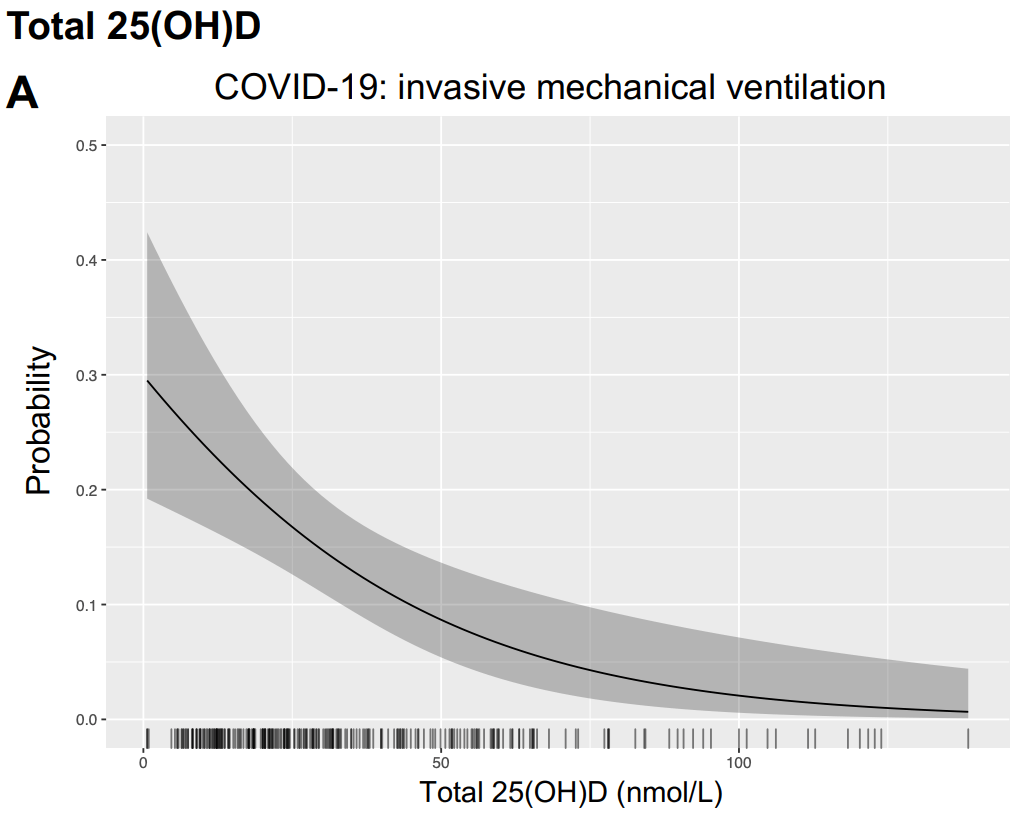 Hurst et al., 22 Oct 2021, prospective, United Kingdom, peer-reviewed, 23 authors.
Vitamin D insufficiency in COVID-19 and influenza A, and critical illness survivors: a cross-sectional study
BMJ Open, doi:10.1136/bmjopen-2021-055435
Objectives The steroid hormone vitamin D has roles in immunomodulation and bone health. Insufficiency is associated with susceptibility to respiratory infections. We report 25-hydroxy vitamin D (25(OH)D) measurements in hospitalised people with COVID-19 and influenza A and in survivors of critical illness to test the hypotheses that vitamin D insufficiency scales with illness severity and persists in survivors. Design Cross-sectional study. Setting and participants Plasma was obtained from 295 hospitalised people with COVID-19 (International Severe Acute Respiratory and emerging Infections Consortium (ISARIC)/WHO Clinical Characterization Protocol for Severe Emerging Infections UK study), 93 with influenza A (Mechanisms of Severe Acute Influenza Consortium (MOSAIC) study, during the 2009-2010 H1N1 pandemic) and 139 survivors of non-selected critical illness (prior to the COVID-19 pandemic). Total 25(OH)D was measured by liquid chromatography-tandem mass spectrometry. Free 25(OH)D was measured by ELISA in COVID-19 samples. Outcome measures Receipt of invasive mechanical ventilation (IMV) and in-hospital mortality. Results Vitamin D insufficiency (total 25(OH)D 25-50 nmol/L) and deficiency (<25 nmol/L) were prevalent in COVID-19 (29.3% and 44.4%, respectively), influenza A (47.3% and 37.6%) and critical illness survivors (30.2% and 56.8%). In COVID-19 and influenza A, total 25(OH) D measured early in illness was lower in patients who received IMV (19.6 vs 31.9 nmol/L (p<0.0001) and 22.9 vs 31.1 nmol/L (p=0.0009), respectively). In COVID-19, biologically active free 25(OH)D correlated with total 25(OH)D and was lower in patients who received IMV, but was not associated with selected circulating inflammatory mediators. Conclusions Vitamin D deficiency/insufficiency was present in majority of hospitalised patients with COVID-19 or influenza A and correlated with severity and persisted in critical illness survivors at concentrations expected to disrupt bone metabolism. These findings support early supplementation trials to determine if insufficiency is causal in progression to severe disease, and investigation of longer-term bone health outcomes.
Ethics approval Ethical approval for the ISARIC/WHO CCP-UK study (COVID- 19) was given by the South Central Oxford C Research Ethics Committee in England (13/SC/0149), the Scotland A Research Ethics Committee (20/SS/0028), and the WHO Ethics Review Committee (RPC571 and RPC572, 25 April 2013). Ethical approval for the MOSAIC study (influenza A) was given by the NHS National Research Ethics Service, Outer West London Research Ethics Committee (09/ H0709/52, 09/MRE00/67). Provenance and peer review Not commissioned; externally peer reviewed. Data availability statement Data are available upon reasonable request. Data generated by the ISARIC4C consortium is available for collaborative analysis projects through an independent data and materials access committee at isaric4c. net/ sample_ access. Supplemental material This content has been supplied by the author(s). It has not been vetted by BMJ Publishing Group Limited (BMJ) and may not have been peer-reviewed. Any opinions or recommendations discussed are solely those of the author(s) and are not endorsed by BMJ. BMJ disclaims all liability and responsibility arising from any reliance placed on the content. Where the content includes any translated material, BMJ does not warrant the accuracy and reliability of the translations (including but not limited to local regulations, clinical guidelines, terminology, drug names and drug dosages), and is not responsible for any error and/or omissions arising from translation and..
References
Bmj Open, None