Retrospective 437 mostly serious condition (85% hospitalized) patients in New York, showing vitamin D deficiency associated with increased likelihood of oxygen support, but no association with mortality and hospitalization. Multivariate analysis excluded variables with p > 0.2 in univariate analysis. Adjustment for factors correlated with vitamin D may obscure the effect of vitamin D levels.This is the
49th of 175 COVID-19 sufficiency studies
for vitamin D, which collectively show higher levels reduce risk with
p<0.0000000001 (1 in 18 vigintillion)
.
risk of death,

4.7% higher

, RR 1.05, p = 0.83
, high D levels 80 of 260 (30.8%), low D levels 52 of 177 (29.4%), >20ng/ml.
risk of death,

44.8% lower

, RR 0.55, p < 0.001
, high D levels 102 of 376 (27.1%), low D levels 30 of 61 (49.2%), NNT 4.5, >10ng/ml.
risk of oxygen therapy,

55.2% lower

, RR 0.45, p < 0.001
, high D levels 127 of 260 (48.8%), low D levels 116 of 177 (65.5%), NNT 6.0, adjusted per study, inverted to make RR<1 favor high D levels, >20ng/ml, multivariate.
risk of hospitalization,

3.6% lower

, RR 0.96, p = 0.41
, high D levels 218 of 260 (83.8%), low D levels 154 of 177 (87.0%), NNT 32, >20ng/ml.
Effect extraction follows pre-specified rules prioritizing more serious outcomes. Submit updates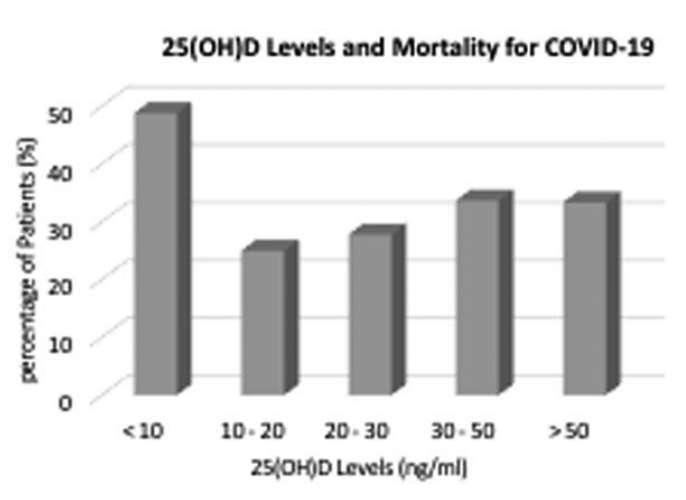 Gavioli et al., 19 Feb 2021, retrospective, USA, peer-reviewed, 4 authors.
An Evaluation of Serum 25-Hydroxy Vitamin D Levels in Patients with COVID-19 in New York City
Journal of the American Nutrition Association, doi:10.1080/07315724.2020.1869626
Aim: Deterioration of patients from COVID-19 is associated with cytokine release syndrome attributed to an elevation in pro-inflammatory cytokines. Vitamin D reduces proinflammatory cytokines, and has the possibility of reducing complications from respiratory tract illnesses. Method: This was a retrospective, observational, cohort study of patients with COVID-19 disease within a New York City Health System. Adult patients were included if they tested positive for SARS-CoV-2, and had a serum 25-hydroxy vitamin D level (25(OH)D) within the three previous months prior to their detected SARS-CoV-2 test. Patients were compared and evaluated based upon their 25(OH)D levels. The primary endpoints were hospitalization, need for oxygen support, and 90-day mortality. Results: 437 COVID-19 patients were included [67 (IQR: 56-79) years] within this cohort. Deficient plasma 25(OH)D levels (<20 ng/ml) were associated with an increased likelihood of oxygen support [OR:2.23 (95% CI: 1.46-3.44, p ¼ 0.0002)] from COVID-19. Deficient plasma 25(OH)D levels were not independently associated with 90-day mortality or risk of hospitalization. Hospitalization rates (98%), oxygen support (93%), and mortality rates (49%) were highest in patients who had 25(OH)D levels less than 10 ng/ml when compared to other 25(OH)D levels. Conclusion: Serum 25-hydroxy vitamin D levels may affect the need for oxygen support therapy in patients with COVID-19.
Disclosure statement The authors declare that they do not have a conflict of interest. Appendix A. Multivariate analysis between 25(OH)D levels and outcomes from COVID-19 infection
References
Mikami, Miyashita, Yamada, Risk factors for mortality in patients with COVID-19 in New York City