Report on the PROTECT vitamin D prophylaxis trial for healthcare workers, terminated after 34 patients and providing no results. Authors indicate the trial was terminated for low enrollment due to high use of vitamin D and a high concurrent vaccination rate. Vaccination was allowed post-enrollment, and the exclusion pre-enrollment could have been removed (it was not originally in the protocol, added in amendment 3).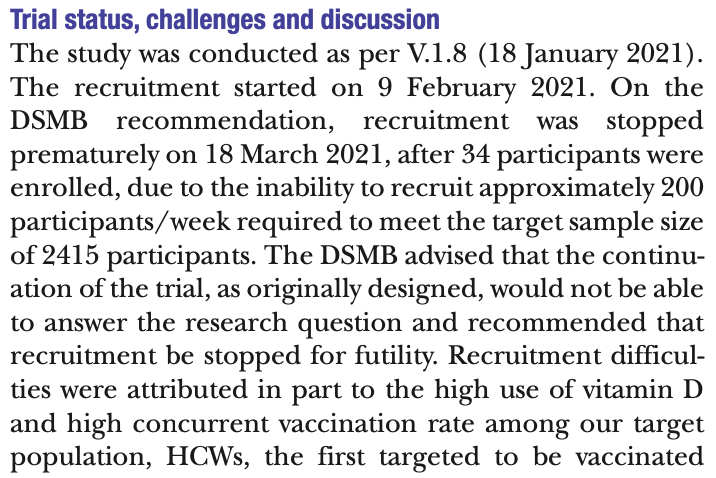 Ducharme et al., 25 May 2023, Randomized Controlled Trial, placebo-controlled, Canada, peer-reviewed, 10 authors, trial
NCT04483635
(history)
(PROTECT).
Prevention of COVID-19 with oral vitamin D supplemental therapy in essential healthcare teams (PROTECT): protocol for a multicentre, triple-blind, randomised, placebo-controlled trial
BMJ Open, doi:10.1136/bmjopen-2022-064058
Introduction In the COVID-19 pandemic, healthcare workers (HCWs) were at high risk of infection due to their exposure to COVID infections. HCWs were the backbone of our healthcare response to this pandemic; every HCW withdrawn or lost due to infection had a substantial impact on our capacity to deliver care. Primary prevention was a key approach to reduce infection. Vitamin D insufficiency is highly prevalent in Canadians and worldwide. Vitamin D supplementation has been shown to significantly decrease the risk of respiratory infections. Whether this risk reduction would apply to COVID-19 infections remained to be determined. This study aimed to determine the impact of high-dose vitamin D supplementation on incidence of laboratory-confirmed COVID-19 infection rate and severity in HCWs working in high COVID incidence areas. Methods and analysis PROTECT was a triple-blind, placebo-controlled, parallel-group multicentre trial of vitamin D supplementation in HCWs. Participants were randomly allocated in a 1:1 ratio in variable block size to intervention (one oral loading dose of 100 000 IU vitamin D 3 +10 000 IU weekly vitamin D 3 ) or control (identical placebo loading dose+weekly placebo). The primary outcome was the incidence of laboratory-confirmed COVID-19 infection, documented by RT-qPCR on salivary (or nasopharyngeal) specimens obtained for screening or diagnostic purposes, as well as self-obtained salivary specimens and COVID-19 seroconversion at endpoint. Secondary outcomes included disease severity; duration of COVID-19-related symptoms; COVID-19 seroconversion documented at endpoint; duration of work absenteeism; duration of unemployment support; and adverse health events. The trial was terminated prematurely, due to recruitment difficulty. Ethics and dissemination This study involves human participants and was approved by the Research Ethics Board (REB) of the Centre hospitalier universitaire (CHU) Sainte-Justine serving as central committee for participating institutions (#MP-21-2021-3044). Participants provided written informed consent to participate in the study before taking part. Results are being disseminated to the medical community via national/international conferences and publications in peer-reviewed journals. Trial registration number https://clinicaltrials.gov/ct2/ show/NCT04483635.
Open access Contributors FMD designed the study protocol, secured funding, and oversaw the overall conduct of the project. CT contributed to the protocol and amendments, directed the study implementation at the CHUM, and coordinated the prescription of study drug, pharmacy dispensation, as well as salivary sample reception and interpretation. SG conceived the statistical approach and sample size calculation and along with RWP, oversaw randomisation and statistical analysis. CL, JHW and CQ contributed to the study design and amendments. BH wrote the first manuscript draft. LGSM oversaw the safety assessment. DC is responsible for the work absenteeism analysis. All co-authors approved the manuscript. Authorship eligibility on resulting manuscripts will follow standard guidelines. Competing interests None declared. Patient and public involvement Patients and/or the public were involved in the design, or conduct, or reporting, or dissemination plans of this research. Refer to the Methods section for further details. Patient consent for publication Consent obtained directly from patient(s). Provenance and peer review Not commissioned; externally peer reviewed. Data availability statement Data are available upon reasonable request. After publication of the primary results, the data sets used and analysed during the current study will be made available by the corresponding author on reasonable request. Supplemental material This content has been supplied by the author(s). It has not..
References
Ducharme, Open access endocrine society position, BMJ Open
Gandy, Estimating the number of infections and the impact of nonpharmaceutical interventions on COVID-19 in 11 European countries
Ilie, Stefanescu, Smith, The role of vitamin D in the prevention of coronavirus disease 2019 infection and mortality