Small RCT 60 healthcare workers in Iran, showing lower cases with treatment but without statistical significance. Once daily oral synbiotic capsule (Lactocare®) containing 1 billion CFU L. (Lactobacillus) casei, L. rhamnosus, Streptococcus thermophilus, Bifidobacterium breve, L. acidophilus, Bifidobacterium infantis, L. bulgaricus, and Fructooligosacharide. IRCT-20101020004976N6.The immune effects of probiotics are strain-specific.
respiratory symptoms,

73.3% lower

, RR 0.27, p = 0.35
, treatment 1 of 29 (3.4%), control 4 of 31 (12.9%), NNT 11.
risk of case,

85.3% lower

, RR 0.15, p = 0.24
, treatment 0 of 29 (0.0%), control 3 of 31 (9.7%), NNT 10, relative risk is not 0 because of continuity correction due to zero events (with reciprocal of the contrasting arm).
Effect extraction follows pre-specified rules prioritizing more serious outcomes. Submit updates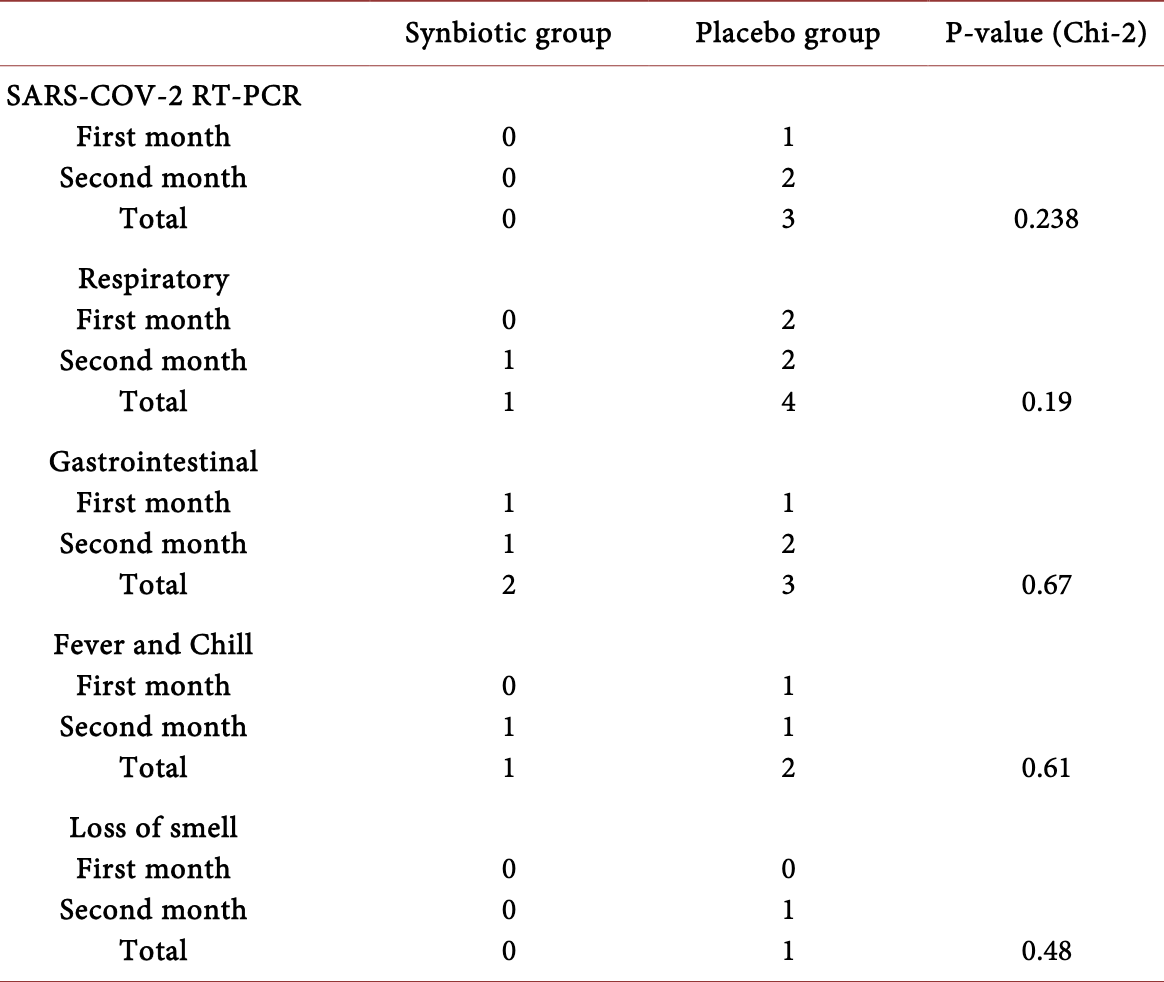 Ahanchian et al., 31 May 2021, Double Blind Randomized Controlled Trial, placebo-controlled, Iran, peer-reviewed, 14 authors.
Synbiotic for Prevention of SARS-Cov2 Infection in High Risk Hospital Staffs: A Randomized Controlled Trial
Open Journal of Nursing, doi:10.4236/ojn.2021.115025
Introduction: COVID-19 pandemic caused by the novel coronavirus SARS-CoV-2 increasingly involves people worldwide. Probiotics can improve immune system functions via different mechanisms. We proposed that Synbiotic Lactocare ® may also reduce SARS-Cov2 infection in high-risk medical staff working in COVID-19 hospital wards. Method: In a randomized, controlled trial, 60 hospital staff without any history of clinical or laboratory evidence of SARS-Cov2 infection were received either once-daily oral synbiotic capsule (Lactocare ® ) that contains 1 billion CFU/Cap of L. (Lactobacillus) casei, L.
Conflicts of Interest The authors declare no conflicts of interest regarding the publication of this paper.
References
Ahanchian, Synbiotics in Children with Cow's Milk Allergy: A Randomized Controlled Trial, Iranian Journal of Pediatrics
Antunes, Microbiota-Derived Acetate Protects against Respiratory Syncytial Virus Infection through a GPR43-Type 1 Interferon Response, Nature Communications
Farid, Effect of a New Synbiotic Mixture on Atopic Dermatitis in Children: A Randomized-Controlled Trial, Iranian Journal of Pediatrics
Jafari, Effects of Probiotics on Quality of Life in Children with Cystic Fibrosis; a Randomized Controlled Trial, Iranian Journal of Pediatrics
Kianifar, Probiotic for Irritable Bowel Syndrome in Pediatric Patients: A Randomized Controlled Clinical Trial, Electronic Physician
Moazzen, How to Boost Our Immune System against Coronavirus Infection?, Archives of Bone and Joint Surgery