Retrospective 118 healthcare workers in China, showing higher risk of COVID-19 with poor sleep quality. This study is excluded in meta analysis: results only provided with respect to continuous values.
risk of case,

66.3% lower

, HR 0.34, p < 0.001
, inverted to make HR<1 favor higher quality sleep, Cox proportional hazards, model 2.
Effect extraction follows pre-specified rules prioritizing more serious outcomes. Submit updates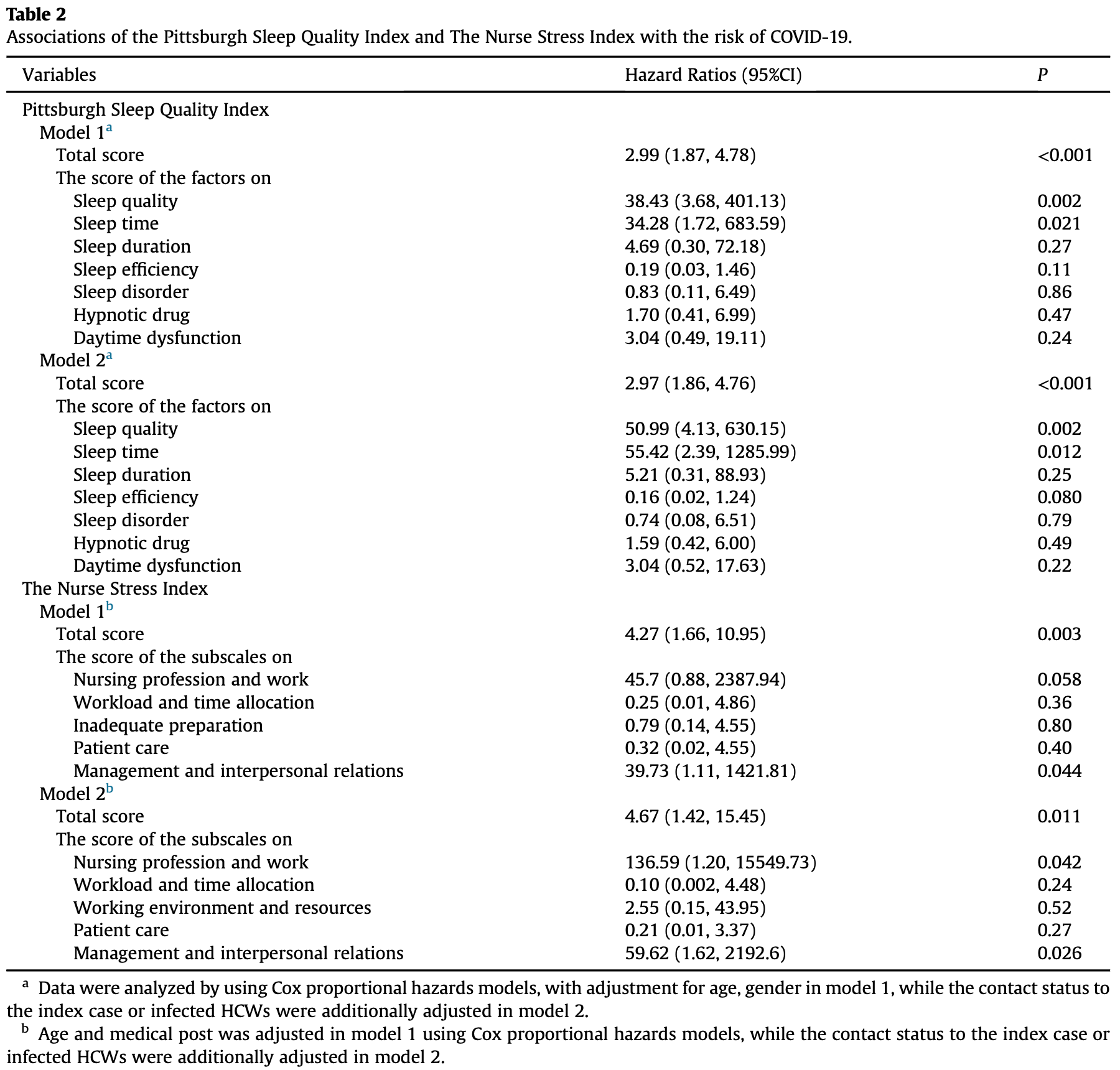 Wang et al., 31 Dec 2020, retrospective, China, peer-reviewed, survey, mean age 19.0, 14 authors, study period 6 January, 2020 - 8 January, 2020.
Contact: hyzhao750@sina.com, baiyansen6@hust.edu.cn.
Risk factors of SARS-CoV-2 infection in healthcare workers: a retrospective study of a nosocomial outbreak
Sleep Medicine: X, doi:10.1016/j.sleepx.2020.100028
Background: Healthcare workers (HCWs) are at the forefront of fighting against the COVID-19 pandemic. However, they are at high risk of acquiring the pathogen from infected patients and transmitting to other HCWs. We aimed to investigate risk factors for nosocomial COVID-19 infection among HCWs in a non-COVID-19 hospital yard. Methods: Retrospective data collection on demographics, lifestyles, contact status with infected subjects for 118 HCWs (including 12 COVID-19 HCWs) at Union Hospital of Wuhan, China. Sleep quality and working pressure were evaluated by the Pittsburgh Sleep Quality Index (PSQI) and The Nurse Stress Index (NSI), respectively. The follow-up duration was from Dec 25, 2019, to Feb 15, 2020. Results: A high proportion of COVID-19 HCWs had engaged in night shift-work (75.0% vs. 40.6%) and felt working under pressure (66.7% vs. 32.1%) than uninfected HCWs. SARS-CoV-2 infected HCWs had significantly higher scores of PSQI and NSI than uninfected HCWs (P < 0.001). Specifically, scores of 5 factors (sleep quality, sleep time, sleep efficiency, sleep disorder, and daytime dysfunction) in PSQI were higher among infected HCWs. For NSI, its 5 subscales (nursing profession and work, workload and time allocation, working environment and resources, patient care, management and interpersonal relations) were all higher in infected than uninfected nurse. Furthermore, total scores of PSQI (HR ¼ 2.97, 95% CI ¼ 1.86À4.76; P <0.001) and NSI (HR ¼ 4.67, 95%CI ¼ 1.42À15.45; P ¼ 0.011) were both positively associated with the risk of SARS-CoV-2 infection. Conclusion: Our analysis shows that poor sleep quality and higher working pressure may increase the risk of nosocomial SARS-CoV-2 infection among HCWs.
Ethics approval and consent to participate This study was approved by the institutional ethics board of Union Hospital, Tongji Medical College, Huazhong University of Science and Technology (No. 20200029), and all participants provided their informed consent. Consent for publication Consent for publication had been obtained from all studied participants. Credit author statement Xuan Wang; Conceptualization, Methodology, Software, Data curation, Writing -original draft, Xiaobing Jiang; Supervision, Conflict of interest The authors declare that they have no competing interests. The ICMJE Uniform Disclosure Form for Potential Conflicts of Interest associated with this article can be viewed by clicking on the following link: https://doi.org/10.1016/j.sleepx.2020.100028. Appendix A. Supplementary data Supplementary data to this article can be found online at https://doi.org/10.1016/j.sleepx.2020.100028.
References
Wang, Jiang, Huang, None, Sleep Medicine: X