Review of inhaled nitric oxide (iNO) as a therapy for COVID-19 and related respiratory and cardiovascular diseases. Nitric oxide is an important signaling molecule produced by nitric oxide synthases that regulates various physiological processes. SARS-CoV-2 can decrease nitric oxide production through several mechanisms, while iNO selectively dilates the pulmonary vasculature and may have antiviral effects against SARS-CoV-2 by inhibiting viral proteins. Some studies show iNO can improve oxygenation and reduce right heart strain in COVID-19 patients. iNO has also demonstrated benefits in some studies of acute respiratory distress syndrome, lung infections, and pulmonary hypertension.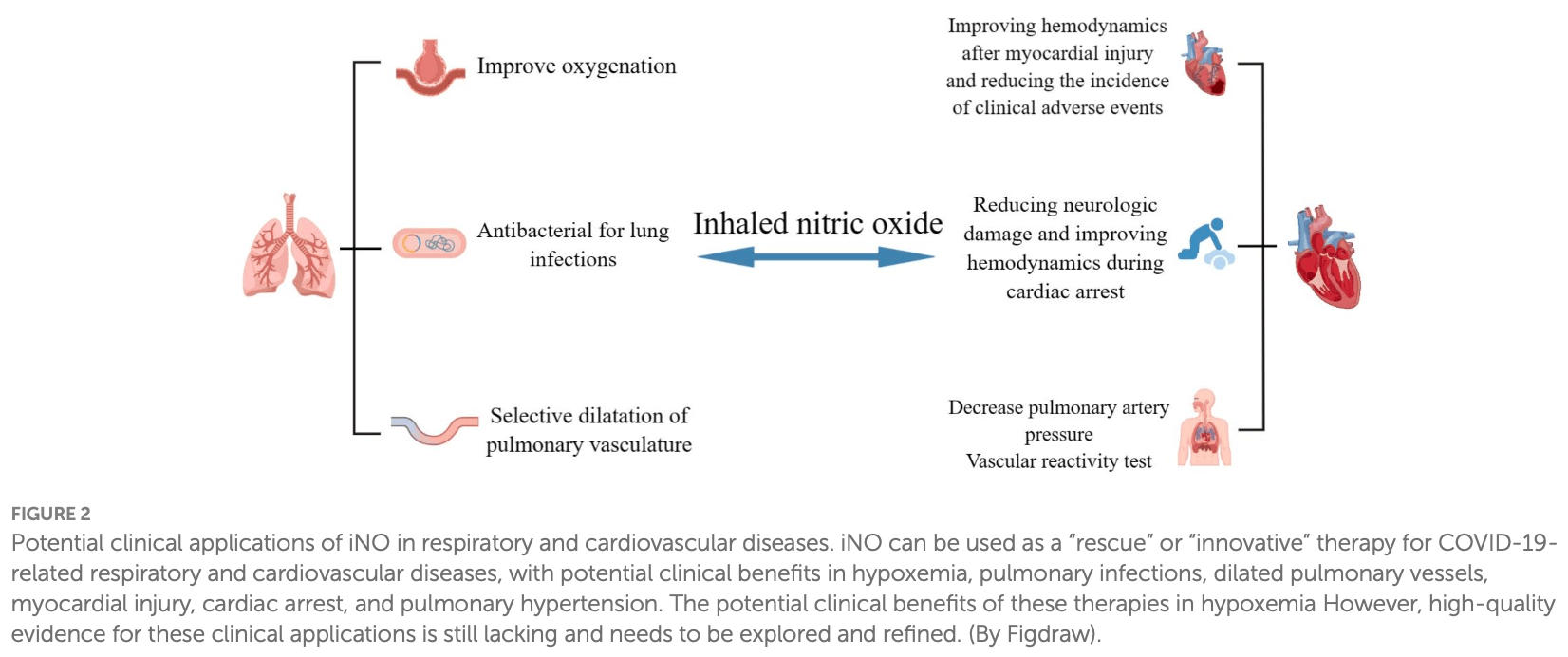 Zhao et al., 2 Oct 2023, peer-reviewed, 8 authors.
Contact: wangyg1982@jlu.edu.cn.
Inhaled nitric oxide: can it serve as a savior for COVID-19 and related respiratory and cardiovascular diseases?
Frontiers in Microbiology, doi:10.3389/fmicb.2023.1277552
Nitric oxide (NO), as an important gaseous medium, plays a pivotal role in the human body, such as maintaining vascular homeostasis, regulating immuneinflammatory responses, inhibiting platelet aggregation, and inhibiting leukocyte adhesion. In recent years, the rapid prevalence of coronavirus disease 2019 (COVID-19) has greatly affected the daily lives and physical and mental health of people all over the world, and the therapeutic efficacy and resuscitation strategies for critically ill patients need to be further improved and perfected. Inhaled nitric oxide (iNO) is a selective pulmonary vasodilator, and some studies have demonstrated its potential therapeutic use for COVID-19, severe respiratory distress syndrome, pulmonary infections, and pulmonary hypertension. In this article, we describe the biochemistry and basic characteristics of NO and discuss whether iNO can act as a "savior" for COVID-19 and related respiratory and cardiovascular disorders to exert a potent clinical protective effect.
Conflict of interest The authors declare that the research was conducted in the absence of any commercial or financial relationships that could be construed as a potential conflict of interest. Publisher's note All claims expressed in this article are solely those of the authors and do not necessarily represent those of their affiliated organizations, or those of the publisher, the editors and the reviewers. Any product that may be evaluated in this article, or claim that may be made by its manufacturer, is not guaranteed or endorsed by the publisher.
References
Zhao, None, Frontiers in Microbiology
Zhao, None, Frontiers in Microbiology